How Prophets Of Rage Screamed For Change On Their Debut Album
Furious yet thought-provoking, Prophets Of Rage's debut album took no prisoners, offering a shot of adrenaline for the body politic in uncertain times.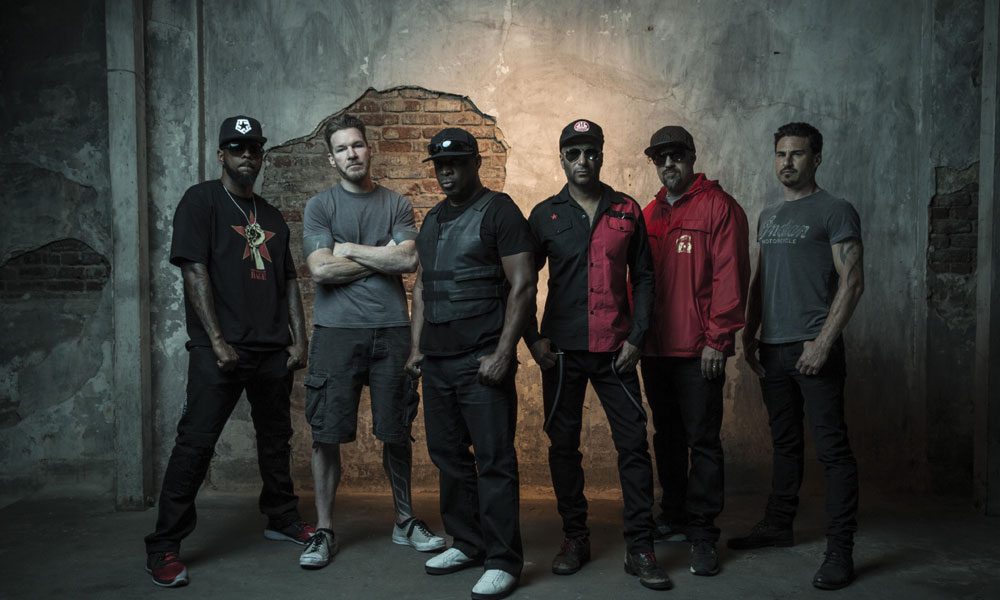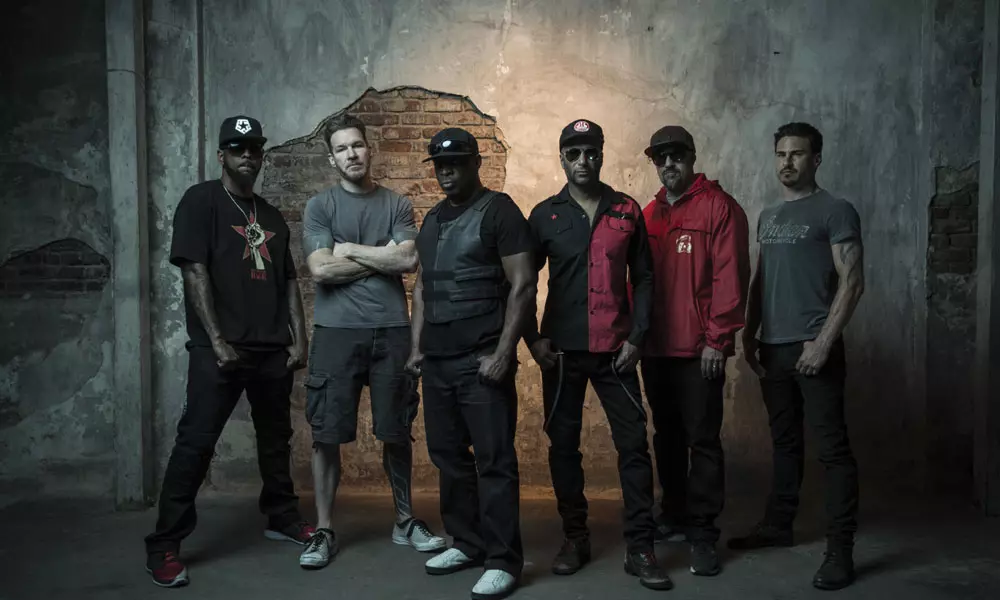 Comprising Rage Against The Machine's three instrumentalists (guitarist Tom Morello, drummer Brad Wilk, and bassist Tim Commerford), Public Enemy duo Chuck D and DJ Lord, and Cypress Hill's B-Real, Prophets Of Rage line-up like the rap-rock dream team. Yet, as their incendiary self-titled debut proved, the band don't see themselves as a supergroup, but as politically aware agents of change.
Guitarist Tom Morello elaborated on the band's mission statement when he explained to Rolling Stone that they were "an elite task force of revolutionary musicians" keen to confront the present-day US political turmoil "with Marshall stacks blazing".
Debut album Prophets Of Rage, released on September 15, 2017, revealed that Morello and company walk it like they talk it. Produced by Brendan O'Brien (Pearl Jam, Aerosmith, Red Hot Chili Peppers), the urgent, polemically-charged album was the culmination of a tumultuous 12 months during which the new outfit made headlines by staging guerrilla performances at the Republican National Convention, in July 2016, before embarking on a full-scale US tour.
The LA-based sextet's first release was an EP, The Party's Over, featuring reworked versions of key tracks from their collective back catalog, including Rage Against The Machine's "Killing In The Name" and Public Enemy's "Shut 'Em Down," but Prophets Of Rage – released through Fantasy and housed in a sleeve designed by iconic street artist Shepard Fairey – housed 12 defiant, freshly-penned protest songs, and its themes remain slap bang in the middle of now.
Prophets of Rage - Radical Eyes (Music Video)
"When we first got together, we were playing songs from our catalog, but we were also playing new grooves with everyone improvising," drummer Brad Wilk says, reflecting on the album sessions, which took just a month to complete. "That felt really good and soon there was a language that all of us spoke."
Trailed by its first single, the piledriving, anti-racist diatribe "Unf__k The World," Prophets Of Rage is angry, stark, and articulate. Unassailable on the mic, B-Real and Chuck D perform dexterous tag-team verbal duties throughout, frequently trading verses and finishing the other's lines as they address a variety of issues ranging from drone-related surveillance ("Take Me Higher") to the current US administration (the menacing "Hail To The Chief") and "Living On The 110," the latter painting a chilling, hyper-real portrait of homeless folk for whom "there's no end to the poverty stopping me".
Prophets of Rage - Living On The 110 (Official Music Video)
Crucially, the medium keeps pace with the message. Morello reveals the band assembled "to rock fools senseless", and, sure enough, the diverse Prophets Of Rage rocks with swagger to spare. The prowling grooves of "Radical Eyes," the monster, metal-imbued riffage of "Strength In Numbers" and Uplift Mofo Party Plan-era Chili Peppers funk of "Take Me Higher" all demonstrate why Morello, Wilk, and Commerford remain one of the most formidable engine rooms in rock, while the infectious "Legalize Me" and stomping, police corruption-related 'Hands Up' prove that impassioned polemic can still co-exist with radio-friendly accessibility.
Prophets Of Rage, then, takes no prisoners, and most of the time it goes up to 11 and beyond. A furious yet thought-provoking debut, it remains a much-needed shot of adrenaline for the body politic in these increasingly uncertain times.