Queen Love Songs: 10 Glorious, Heartfelt Tunes
No matter what stage of a relationship you're in, the famed band has a song for you.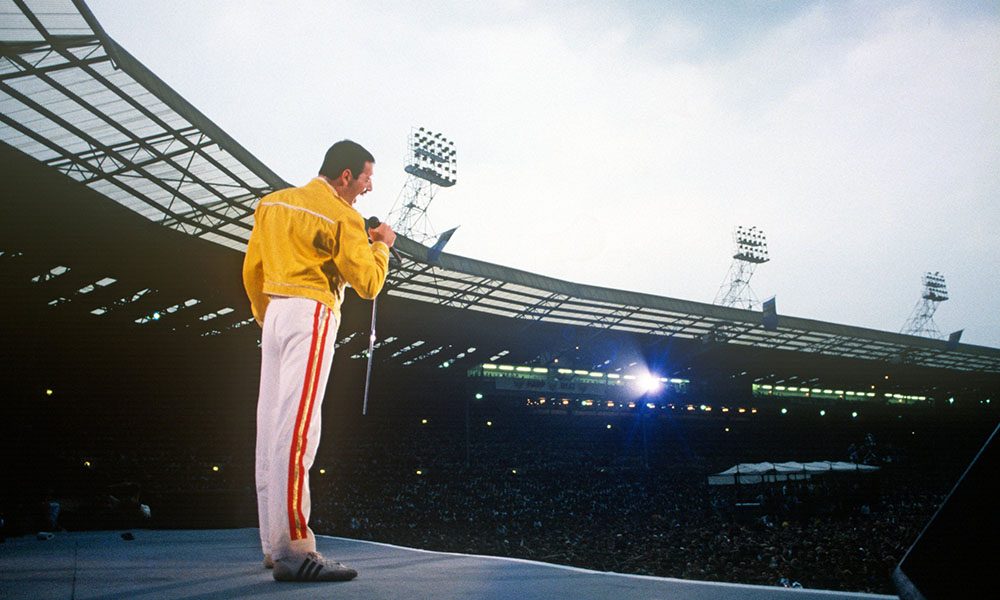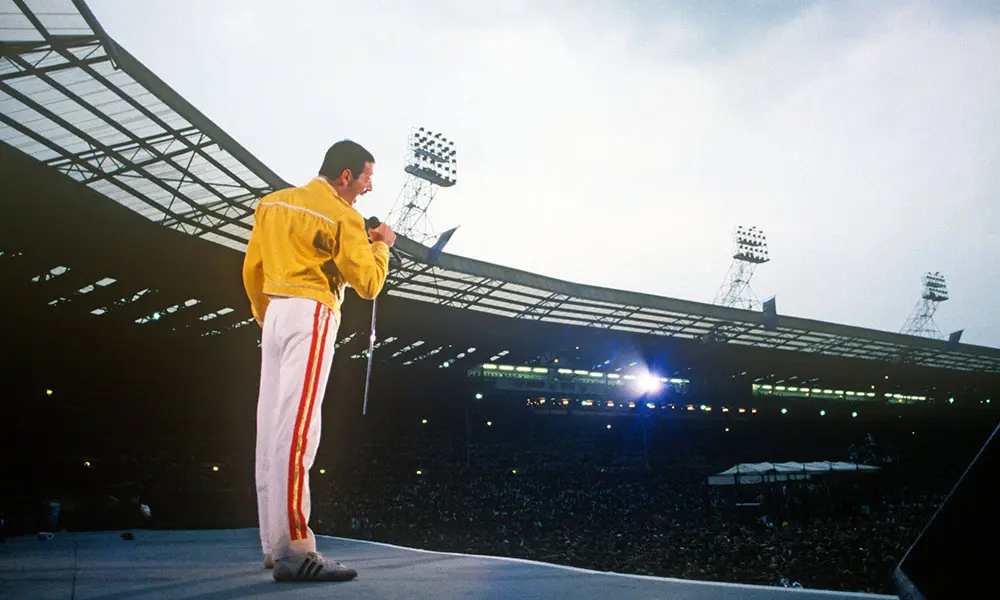 There are 15 Queen songs with "love" in the title, and it was a word that lead singer Freddie Mercury used all the time in conversation. "Most of the songs I write are love ballads and things to do with sadness and torture and pain, but at the same time, it's frivolous and tongue-in-cheek. That's basically my whole nature, I guess. I'm a true romantic," Mercury once said.
In honor of Valentine's Day, we've highlighted ten Queen love songs, including their global hits "Somebody to Love" and "Crazy Little Thing Called Love." These songs reveal the true spirit of the band and their wonderful frontman, a singer who was never afraid to show emotion and vulnerability through his work.
Funny How Love Is (1974)
Mercury's attitude to writing about love changed over the years, from the optimism of "Funny How Love Is" (from their second album Queen II) to the mid-1980s, when he was writing edgy songs about love being dangerous and referring in interviews to his own love life as similar to a game of Russian roulette.
"Funny How Love Is," though, was a sunny, optimistic reflection on how love is omnipresent ("love is anywhere you're bound to be"). It started out, in the first five takes, as a piano-led acoustic song, and evolved into a "wall of sound" track via Mercury's friend and producer Robin Cable. "That album was when we first really got into production, and went completely over the top," commented Taylor. "Funny How Love Is" was sung in demanding high-register vocals, which was the reason Mercury declined to sing the song in live shows. Although there are more famous Queen love songs, "Funny How Love Is" captures the innocence and optimism of the band at the start of their journey.
Queen - Funny How Love Is (Official Lyric Video)
You Take My Breath Away (1976)
Although Queen are renowned for their pulsating stadium rock hits, they're a band capable of subtlety, too. One of their most heartfelt love songs is the sparse "You Take My Breath Away" from 1976's A Day at the Races album. Mercury tried the song out before the recording session at London's Hyde Park in front of 200,000 people. "It's a very emotional, laid-back number. I didn't think my voice would come through," he recalled. He was so pleased with the crowd's response that he decided for certain the song would feature on the album.
When Mercury recorded it for the album, he left "You Take My Breath Away" as a straightforward piano-led song, multi-tracking himself on vocals. The simplicity worked a treat in a slow, haunting ballad about his need for affection. "You can be loved by so many thousands of people, yet still be the loneliest person," Mercury remarked about his affecting song.
Queen - You Take My Breath Away (Official Lyric Video)
Good Old-Fashioned Lover Boy (1977)
Part of the appeal of Queen's love songs are sometimes they're simply meant to be fun. Mercury and the band had a love of ragtime music and it inspired some of their best early music. The song, which is about the thrill of anticipating a night of romance, includes references to the famous lover and 1920's icon Rudolph Valentino, and to drinking wine at the iconic Ritz hotel in London. "Good Old-Fashioned Lover Boy" appeared on the A Day at the Races album and became a staple of their live shows in the late 1970s. The band were in such a good mood on the day it was recorded that they gave some additional lyric lines to producer Mike Stone.
Queen - Good Old Fashioned Lover Boy (Top Of The Pops, 1977)
One Year of Love (1986)
Bass guitarist John Deacon described himself as the "quiet one" of the band, yet his shy nature belied a powerful songwriting talent, which he demonstrated with the romantic song "One Year of Love." The song was originally composed as part of the soundtrack for the 1986 movie Highlander, later appearing on the album A Kind of Magic.
Guitarist Brian May did not play on this sweeping love song. Instead, Mercury's powerful vocals are accompanied by the saxophone playing of Steve Gregory, a musician who had appeared with The Rolling Stones, Geno Washington, and Georgie Fame. Mercury's whole-hearted delivery suited Deacon's romantic imagery, especially in potent lines such as "One sentimental moment in your arms/is like a shooting star right through my heart."
Queen - One Year Of Love (Official Lyric Video)
You're My Best Friend (1975)
Deacon also wrote the touching love song "You're My Best Friend," about his wife, Veronica Tetzlaff, a former trainee teacher from Sheffield. "John didn't write that many songs, but when he did, they were big, big hits. 'You're My Best Friend' became one of the most-played tracks on American radio," said May.
The single, which was released as the follow-up to "Bohemian Rhapsody," had a sweet Tamla Motown-style arrangement and brilliant harmonizing. It was a hit in the UK and later certified platinum in America, with more than one million copies sold. Roger Taylor's deft drumming, on bass, snare, and hi-hat, combined well with Deacon's Fender bass. Deacon also played the Wurlitzer EP-200 electric piano on the track, while May worked his usual magic with his famous Red Special guitar. There is a snappy two-minute version on Queen's live 1979 album Live Killers.
Queen - You're My Best Friend (Official Video)
Save Me (1980)
All four members of Queen wrote love songs. And that includes heartbreak songs too. Taylor, for example, penned the offbeat "I'm in Love with My Car" about a failed relationship ("cars don't talk back"), while May showed off his songwriting talents with the painful "Save Me," about a love affair that was nothing but "a sham." May also contributed a stirring guitar solo to the track, which appeared on the album The Game, adding to the poignancy of an affecting song dressed up as a soaring power ballad.
May said he penned the painful lyrics ("each night I cry/I still believe the lie") for a friend whose marriage had collapsed in bitterness. May later used the name of the song for his Save Me Trust, a charity organization that raises money for the cause of protecting wild animals.
Queen - Save Me (Official Video)
Love of My Life (1975)
"I go through torture and pain in terms of love. I think that's my natural gift, so that's all I want to do in my songs. I just want to put myself across in my songs in the best way I can," Mercury said, quoted in the book Freddie Mercury: A Life in His Own Words. One of his most haunting break-up songs was "Love of My Life," from the album Night at the Opera. It is believed to be about his former lover Mary Austin. "It's fair to say she was the love of Freddie's life," said May.
The studio version reflected Mercury's classical music influences and featured May on harp ("I remember thinking, 'I'm going to force him to play until his fingers drop off!'" Mercury later joked). The pair transformed the song for live versions, with Mercury often just singing solo with May playing a 12-string guitar. "Wherever we did 'Love of My Life,' the crowd instinctively knew that they had to sing it," said Mercury. "It's amazing to watch. I didn't have to tell them: they just automatically knew their role. I like an audience to respond like that."
Queen - Love Of My Life (Official Video)
I Was Born to Love You (1995)
Mercury said writing about love was "actually limitless" and he believed that two of his most treasured love songs – "I Was Born to Love You" and "Love Me Like There's No Tomorrow" – were from his 1985 solo album Mr. Bad Guy. He said they were both very personal songs, full of strong emotions. May agreed with Mercury's evaluation and said he was "obsessed" with creating a new Queen version of the former song after Mercury's death in November 1991.
In 1995, the remaining members of Queen re-worked "I Was Born to Love You" for the Made in Heaven album, adding new instrumental parts to the original vocals, and transforming the disco-influenced track into a hit rock song. "The Queen version was put together as a 'virtual' live track, using Freddie's spectacular vocal as the central thread," added May. "Roger, John, and I played our parts live, to a rearranged template I'd put together – complete with some additions to the arrangement, taking some liberties with the vocal, and even borrowing some choice Freddie ad-libs, to add to the feeling that it was a live band recording." Queen's "I Was Born to Love You" is a joyous reminder of Mercury's enthusiasm for life.
Queen - I Was Born To Love You (Official Video)
Somebody to Love (1976)
Queen's acrobatic vocal harmonies reached their apotheosis on the runaway hit "Bohemian Rhapsody" – although "Somebody to Love," from A Day at the Races, is a close second. Mercury said that he wanted to write a love song in the "Aretha Franklin mode," and the result was the gospel-infused "Somebody to Love," with the extravagant, sweeping lyrics layered over fast, rhythmic drums, piano, and bass.
"'Somebody to Love' is a big production number – very, very vocal-orientated, which is a very heavy aspect of Queen," said Mercury. "That's why 'Somebody to Love' is a killer to do live. I tell you, that is very nerve-racking, and the first time we did that song, we did it so fast because we just wanted to get it over with. Those kinds of tracks have to be arranged differently. I mean, how could you recreate a 160-piece gospel choir on stage?"
Queen - Somebody To Love (Official Video)
Crazy Little Thing Called Love (1979)
Mercury adored Elvis Presley and was particularly delighted when "Crazy Little Thing Called Love" went to No.1 in America. "Freddie was very fond of Elvis. It's Freddie's tribute to Elvis in a way," said May, who played electric guitar on the song, and joined in the handclaps with fellow band members Deacon and Taylor.
Mercury said the song took less than ten minutes to write, as he was taking a bubble bath at the Bayerischer Hof Hotel, in Munich. Later, after going for a walk around the Munich Beer Festival with producer Reinhold Mack, they went back to Musicland Studios and worked out a rough version for The Game album. When the rest of the band turned up, they loved the demo and within a couple of hours had laid down the final version of a sumptuous slice of 1950s-sounding pop music. "My songs are commercial love songs and I like to put my emotional talent into that. I write songs like that because basically what I feel very strongly about is love and emotion," said Mercury. "Crazy Little Thing Called Love" is a wonderfully uplifting song to get you dancing on Valentine's Day.
Queen - Crazy Little Thing Called Love (Official Video)
Think we missed one of the best Queen love songs? Let us know in the comments below.