reDiscover Freddie Jackson's 'Rock Me Tonight'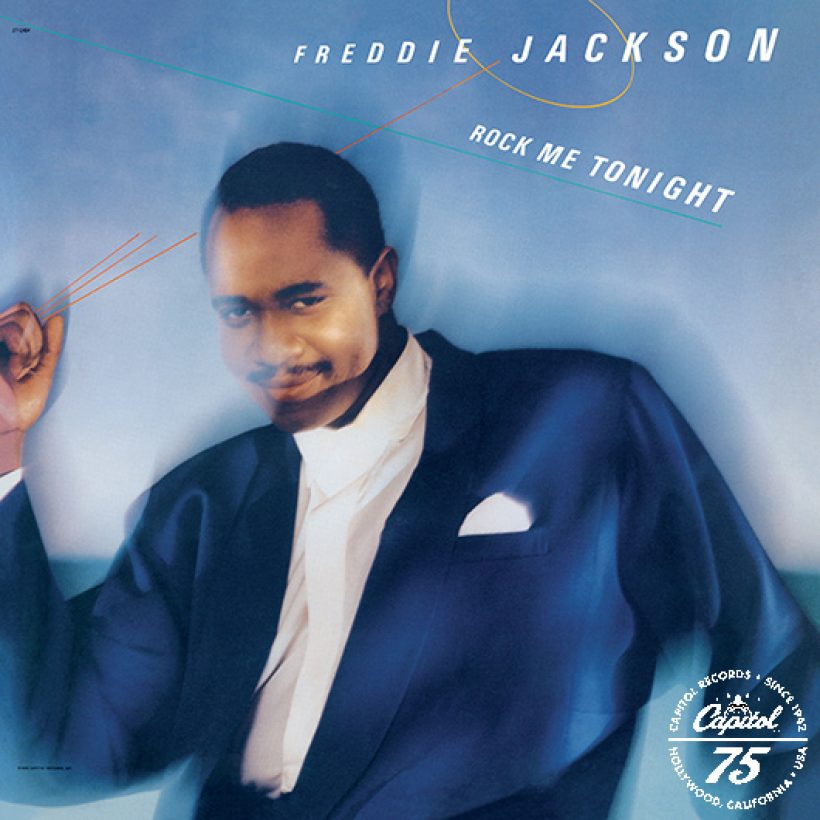 The mid-80s witnessed the rise of slick, machine-tooled smooth soul, and one of the genre's key male practitioners – alongside the likes of Luther Vandross and Alexander O'Neal – was Harlem-born crooner Freddie Jackson. Born in 1956 to a mother who was a singer (she went into labour with him while giving a concert at her local church), young Freddie was reared on a strict diet of gospel music, and sang his first solo, at age 13, as a choir member of Harlem's renowned White Rock Baptist Church. Just 16 years later he would have his first No.1 R&B album with his debut LP, Rock Me Tonight.
After leaving school, Jackson worked in a bank for a while but continued to harbour aspirations of being a professional singer. In 1982, he joined the funk-soul band Mystic Merlin (he appeared on their third and final Capitol LP, Full Moon). When they went belly-up, in 1983, Jackson got a full-time job as an office worker doing word processing, but in his spare time he sang background vocals for noted R&B singer Melba Moore, who was signed to Capitol Records via Hush Productions.
Hush's staff producer and songwriter, Paul Laurence, took Jackson under his wing and got the singer a deal with Capitol, helming his debut single, 'Rock Me Tonight (For Old Time's Sake)'. A sensuous slow jam highlighting Jackson's soulful pipes, it rocketed to No.1 in the US R&B charts (it was also a Top 20 hit in the UK) and spent six weeks there in the late spring of 1985.
Freddie Jackson - Rock Me Tonight
Jackson's debut album, also titled Rock Me Tonight, appeared shortly afterwards and soon found itself at the top of the US R&B albums chart, where it stayed for 14 weeks. While the title track demonstrated Jackson's prowess as a silky-throated balladeer, there were a clutch of uptempo songs – such as the effervescent 'He'll Never Love You (Like I Do)' (which was a Top 10 US R&B smash in early '86) and the chugging 'I Wanna Say I Love You' – that showed that Jackson could also cut the mustard as a master of get-on-down dancefloor grooves.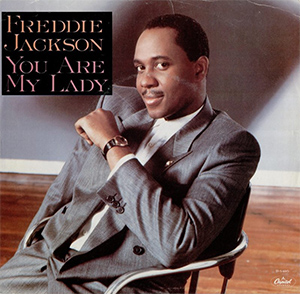 Even so, it was on ballads where Jackson could really show his vocal range and expressivity. The album's second single, 'You Are My Lady', written and produced by Barry Eastman, who helmed the majority of Rock Me Tonight, is a masterclass in 80s soul balladry, with Jackson's impassioned lead counterpointed by alluring female background vocals in a gospel-influenced call-and-response. It was Jackson's second R&B chart-topper.
Elsewhere, Showing that he could write as well as sing was the impressive midtempo cut 'Love Is Just A Touch Away', which was co-authored by Jackson with producer Eastmond. Its sleek, mesmeric groove, jazz-inflected chords, chunky synth bassline and sweetly sensual vocals epitomised the aesthetics of mid-80s R&B with its reliance on cutting-edge music technology. Rock Me Tonight's final track presented Jackson's take on 'Good Morning Heartache', a jazz standard co-written by the immortal Billie Holiday. Featuring a solo from veteran tenor saxophonist Stanley Turrentine, it offers listeners a glimpse of Jackson's versatility and finds him stretching out vocally with some virtuosic passages of extended melisma.
Musically, Rock Me Tonight was an impressive and varied debut, and its commercial success – it spent 63 weeks in the US R&B charts and penetrated that country's pop Top 10 – conferred instant star status on the previously unknown Freddie Jackson. It also gained him two Grammy nominations, while his penchant for romantic balladry also accrued legions of enthusiastic female fans who regarded the moustachioed, well-groomed Jackson as a heartthrob figure.
More No.1 singles and albums followed in the ensuing years for Jackson, who continued to rack up hits and chart entries in the States, the last one as recently as 2010. Now 60, Freddie Jackson is still in demand as a performer, but while he has 12 studio albums to his name, the one that people remember most is Rock Me Tonight. Though it is defined by mid-80s production values, it's an album that has aged well, largely because of the quality of its material and Freddie Jackson's sterling vocal performances. It remains a compelling touchstone of 80s R&B.
Rock Me Tonight is one of 75 classic albums picked to celebrate the milestone that is Capitol Records' 75th birthday, and can be purchased here.
Join the celebrations with the Through The Decades playlist.
Format:
UK English