When The Supremes Mourned The Great Sam Cooke
Within months of the great soul man's premature passing, the Motown trio paid tribute on disc.
As they conquered all before them in the mid-1960s, the Supremes certainly couldn't be accused of lacking versatilty.
True to Berry Gordy's vision of a trio of entertainers whose appeal could traverse every genre and demographic, a 1964-65 blizzard of three albums in just six months saw them address Beatlemania and the early British invasion (A Bit Of Liverpool), the Nashville scene (to a degree, at least, on The Supremes Sing Country, Western & Pop) and then the recent passing of a seminal soul man, on We Remember Sam Cooke.
Listen to We Remember Sam Cooke right now.
The great vocal stylist and songwriter died prematurely in December 1964, prompting the Supremes to go into the studio in the new year to cut a collection of Cooke's best-loved songs. They included 'You Send Me,' 'Chain Gang' and 'Wonderful World,' and amid the usual preponderance of lead vocals by Diana Ross, there was a chance for Florence Ballard to shine, as she stepped stage centre for the closing '(Ain't That) Good News.'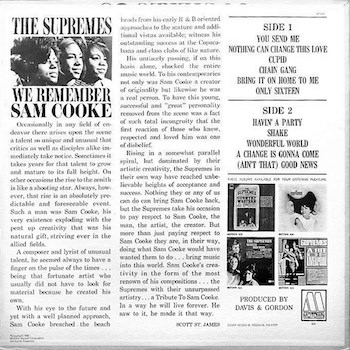 As the group continued to be marketed to the widest possible audience, We Remember Sam Cooke entered the US album chart — at a modest No. 139 — on 8 May 1965. This was even as they were soaring up the Hot 100, 66-38 that same week, with the song that would become their fifth consecutive No. 1 single, 'Back In Your Arms Again.' Meanwhile, Sam's music became part of their live set, including at the Copacabana in New York, where the Supremes At The Copa album was recorded, complete with a Cooke medley, in the summer of 1965.
We Remember Sam Cooke peaked only at No. 75 on Billboard's pop LP chart, but hit No. 5 on the R&B countdown. The magazine's review enthused that "the trio's salute to Cooke results in fine interpretations of his material and displays their versatility as they segue from the raucous 'Chain Gang' to the smooth rhythm of 'Only Sixteen,' to a wild, rocking version of 'Shake.'"
The tribute was a poignant one for the group, especially as they had met Cooke early in their Motown career, as they sought the success that proved initially elusive. In her autobiography Dreamgirls, Mary Wilson remembered them being introduced to Sam at Detroit's famous Flame Bar & Grill, where he "wished us luck and told us to keep up the good work. We were so thrilled."
We Remember Sam Cooke can be bought here.
Follow the official Diana Ross & the Supremes Best Of playlist.