'Tangled': Disney's Free-Flowing Fairy Tale Adaptation
Alan Menken's songs for 'Tangled' were a folk-rock departure for Disney, bringing the beloved Rapunzel story to life.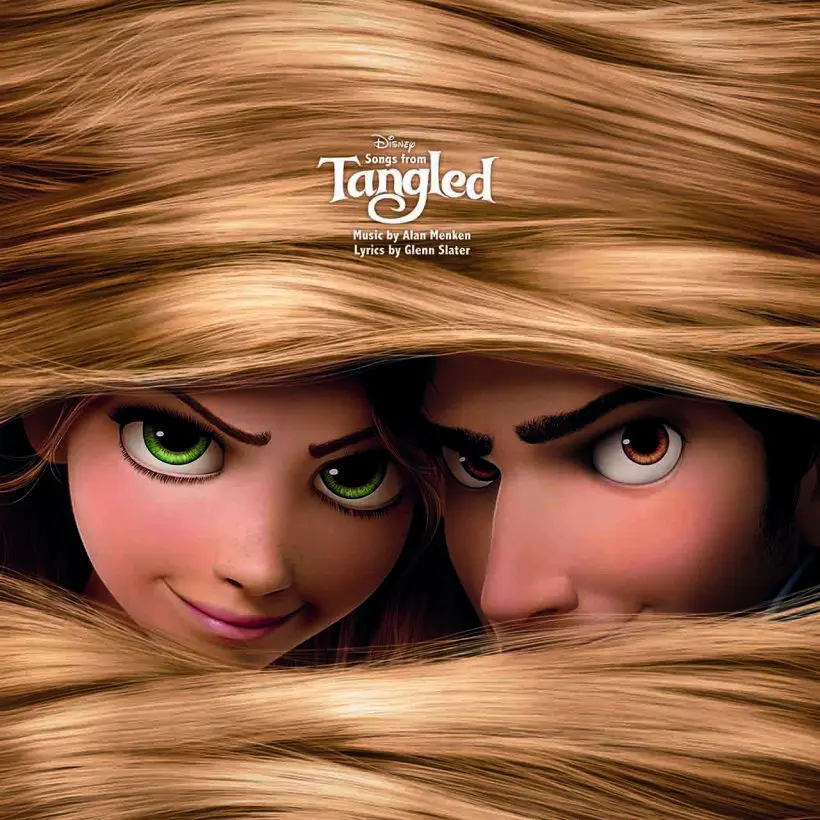 Disney's 50th animated feature film, Tangled, was another first for the constantly innovative studio. Tangled was the first fully CGI-animated musical feature film, with dazzling, state-of-the-art animation complemented by unforgettable songs from Disney veteran composer Alan Menken (The Little Mermaid, Aladdin, Beauty and the Beast) and Broadway lyricist Glenn Slater. But for all of the forward-thinking and ambition, Tangled was based on the Brothers Grimm fairy tale, Rapunzel, about a kidnapped princess whose long locks attract the attention of the prince who saves her – yet another example of Disney's brilliance at mixing the old and new.
Plans for a Disney animated movie based on Rapunzel were first mooted in the mid-90s and approved in 2001. After a few false starts, Nathan Greno and Byron Howard (Bolt) were brought in as co-directors. Immediately, music was at the forefront of their thoughts, as Greno told Deadline in 2010, "This is not a big Broadway kind of musical. We look at it as more in touch with classic Disney films of the '50s, where music is a key element in the storytelling."
Listen to the Disney Princess playlist on Spotify or Apple Music now.
Once he was on board, Menken worked fast, as he told Collider in 2010, "Rapunzel had been around for a long time, and I had no idea it was going to come my way… we started taking meetings and talking, and then I brought Glenn Slater on. Once we started, they really wanted to get this out fast. So the songs were all basically written in under a year… The last song to get written was the Incantation which runs throughout the movie. The first one that was written was 'When Will My Life Begin.'"
Tangled wasn't a straightforward telling of the fairy story. In this telling of Rapunzel, an old woman, Mother Gothel, has been secretly and selfishly using a magical flower with healing properties to stay young for centuries. The flower is discovered by soldiers from a nearby kingdom who take it to their king to save his ill and pregnant wife. The queen is cured and gives birth to a princess, Rapunzel. Mother Gothel breaks into the castle and discovers that the young princess's hair has the same powers as the flower and kidnaps the child. Gothel raises Rapunzel in a hidden tower deep in the woods and uses the child's hair to stay young.
Predictably, Rapunzel yearns for the outside world and is especially taken with the lanterns that light up the sky each year on her birthday. Unbeknownst to her, the lanterns are released by her parents in the hope they guide her home. When a handsome thief, Flynn Rider, chances upon the tower while on the run, Rapunzel's life is turned upside down and the pair embark upon an adventure of self-discovery.
In keeping with the fresh take on the ancient story, Alan Menken crafted a new kind of soundtrack for Tangled. Firstly, he knew the sound had to be different to the Broadway-ready musicals he'd written for Disney before. Menken was drawn towards a whole new sound for a Disney musical, as he told the Los Angeles Times in 2010, "'On a gut level, '60s folk rock felt like a fresh, interesting place to go to. I ran it by Disney to see how that interested them… We discussed it against other musical choices, but at the end of the day we decided to try the opening number in that style. Joni Mitchell, Cat Stevens, Jackson Browne – that's all music that I love, and it was a bit of that mix.'
Mandy Moore - When Will My Life Begin? (From "Tangled"/Sing-Along)
Rapunzel was a Disney princess with a difference – she doesn't actually know that she is a princess until the end of the film. She is a whipsmart, sassy teenager who is independent and bohemian, even if she is not yet worldly-wise. The opening song, the lilting and pastoral "When Will My Life Begin" introduces her to the audience. Where this would usually be a place for a classic Disney "I want" song, here the circumstances were different, as Menken told Entertainment Weekly, "For Rapunzel, she's essentially brainwashed at the top of the movie into thinking that her tower is just fine. And her attitude is 'What more could I need than being in this tower?' So the song has to create in us a desire for her to leave the tower."
While "When Will My Life Begin" establishes Rapunzel's predicament, "Mother Knows Best" explains it. It's sung by Mother Gothel after Rapunzel tells her she wants to leave the castle to see the lanterns on her 18th birthday. The dark and dramatic number finds Gothel listing all of the potential dangers waiting for Rapunzel in the outside world ("Ruffians, thugs, poison ivy, quicksand, Cannibals, and snakes, the plague") while painting herself as a victim ("I only bathed and changed and nursed you, go ahead and leave me, I deserve it") and attacking Rapunzel to undermine her ("Gullible, naïve, positively grubby, ditzy… plus, I believe, getting kinda chubby"). In short, Mother Gothel is a piece of work.
Donna Murphy - Mother Knows Best (From "Tangled"/Sing-Along)
Menken saw writing for Gothel as a new challenge, as he told the LA Times, "The whole creation of this movie I was concerned whether or not young audiences could absorb Mother Gothel as a Disney villain, or whether she will she just induce nightmares. She's such a dangerously manipulative woman. But Disney films were always dark. You have people saying that Disney means light and for kids, and it does not mean that at all. It means fantasy and storytelling on a very classic level. It appeals to kids, but Disney can be very adult at its core."
Elsewhere, "I've Got A Dream" is Tangled's comedic gem – a bunch of intimidating thugs revealing their unexpected true selves ("Tor would like to quit and be a florist, Gunther does interior design"). And the Oscar-nominated "I See The Light" is the movie's romantic centerpiece, a light, grandstanding ballad that comes at a time of new horizons in life and love opening up for Rapunzel and Flynn.
Mandy Moore, Zachary Levi - I See the Light (From "Tangled"/Sing-Along)
Tangled became a huge box office hit and inspired a spin-off Disney Channel series. Again, Disney's commitment to innovation and excellence had paid off, with a little help from some unforgettable songs.
Listen to the Disney Princess playlist on Spotify or Apple Music now.