'Picture To Burn': Portrait Of Taylor Swift As A One-Woman Powerhouse
The fourth single from Taylor Swift's debut album, 'Picture To Burn' lit a fire in her fans, with a sentiment that remains as strong as ever.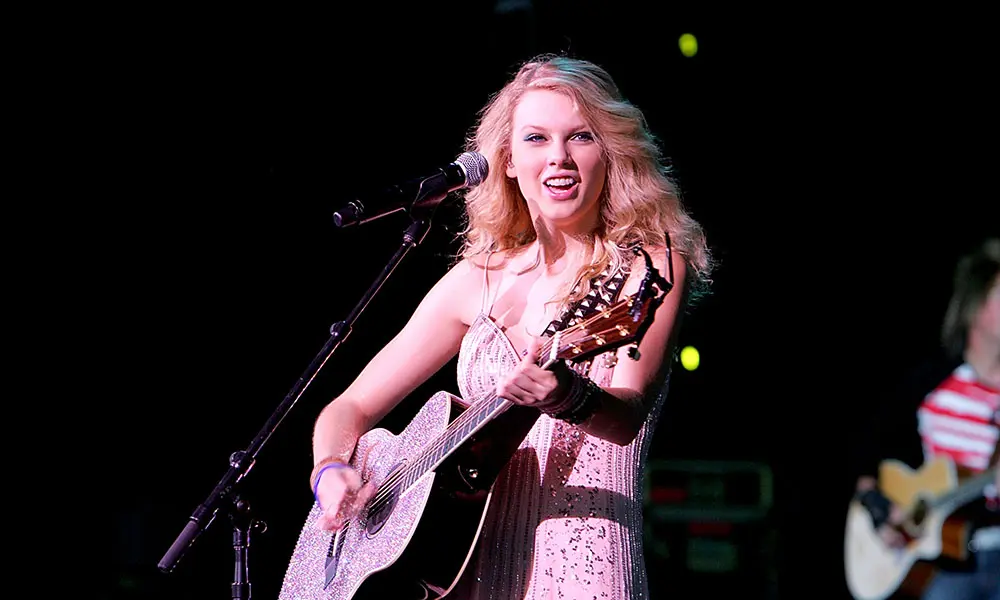 When it comes to trends, Taylor Swift is the type of artist that outpaces them. Case in point: the long-overdue #MeToo movement, which has revolutionized dialogue about women's vulnerability and abuse in the most likely – and unlikely – of circumstances. Taylor's voice in the wider debate of exploitation and control has long been clear and determined, as proven by her 2008 song "Picture To Burn."
Taylor Swift - Picture To Burn
Searing honesty
The song's lyrics, about a past relationship – rumored to have been with a classmate – speak loudly of her frustration around how some men can behave. The Taylor of today may approach the same situation differently, but there's a searing honesty in her frustrated reaction – something millions of young women with similar vulnerabilities can still empathize with.
The country-rock hit, co-written with once-regular collaborator Liz Rose, captures the absurdity of tedious machismo wrapped up in the frustration of a redneck boyfriend who won't share his other passion – a cherished truck. It's the sort of simple narrative hook that can create a classic, and "Picture To Burn" is remarkable for three key things.
A one-woman powerhouse
First, the emotional punch it carried. "Picture To Burn" hadn't been earmarked for any special attention when it first appeared on Swift's self-titled debut album in 2006, but fans reacted wildly when it was played live. After such a strong response, the song became the set opener for a run of dates that Swift did with Rascal Flatts in 2008, and it was quickly accelerated to the front of the queue when it came time to pick a new single.
Second, it's the first clear sign that Taylor could roughen the edges of her classic southern charm. "Picture To Burn" is still a country song but, with its bolder vibe and Taylor's more contemporary look, it offers the first evidence that she could move beyond her first core market.
The song's video casts two Taylors: the witty but vulnerable teenager and the spikier pop starlet brandishing her guitar… but is this the first time she might be thinking about it as a weapon? Heady stuff for a young country act still on her first album.
Directed by the ever-reliable Trey Fanjoy, the video aided the song's single release on February 3, 2008. Taylor was rumored to have reservations about the pyrotechnics, but the effect is dazzling, lifting the energy of the performance-based sequences. "Picture To Burn" made solid progress up the Billboard Hot 100, peaking just inside the Top 30. On the country chart, it continued the strike rate of Taylor Top 10s, making No.3.
Third, Taylor was demonstrating the spirit that would come to define her: an empathetic everywoman who wasn't going to be pushed around, no matter how vulnerable (false) first appearances might be. If her message wasn't quite the provocative call-to-arms one had come to expect from the likes of Madonna, "Picture To Burn" had more maturity and real-life context than the jingo-loaded rhetoric of "Girl Power," however successful a slogan it was. Taylor was a one-woman powerhouse in the making.
Something truly special
Alongside other hits from the Taylor Swift album, such as "Tim McGraw," "Teardrops On My Guitar" and "Our Song," "Picture To Burn" now stands as one of the 11-track collection's highlights.
In hindsight, debut albums can be hard to define. The songs are often fresh and uncluttered, demonstrating an artist's raw genius; sometimes the collection is a hint of greater things to come. Swift's debut is a little of both, but "Picture To Burn" is certainly the song that suggests this artist had something truly special.
Swift believes there's something special in us all, but it's episodes such as the one in this song – the ex-boyfriend's stark, ugly actions – that undermine that strength, and it's for us all to root that bad behavior out. In the 70s, women were encouraged to burn their bras. By this century, the advice was more nuanced, so why not burn that picture, after all? The sentiment behind her message remains as strong as ever.
Listen to the best of Taylor Swift on Apple Music and Spotify.