The Who Make American Album Chart Debut
They made the countdown for the first time in May 1967, but only after a delayed release and a title change.
The American market wasn't fully ready for The Who when they made their album debut with My Generation at the end of 1965. Second time around, they cracked it, winning their first appearance on the US album chart on 20 May 1967 — but only after a delayed release and a title change.
With the US release of the band's second LP A Quick One coming five months after the UK, The Who's American label, Decca, decided that it should be renamed there for their song that was climbing the Hot 100 at the time. 'Happy Jack' had been a top three UK hit in January, but wasn't included on A Quick One. That wouldn't do for Decca, who removed the album's one cover — a nod back to their soul and R&B roots with Martha Reeves & the Vandellas' 'Heat Wave' — and replaced it with 'Happy Jack,' which would become the first US top 30 hit for The Who in early June.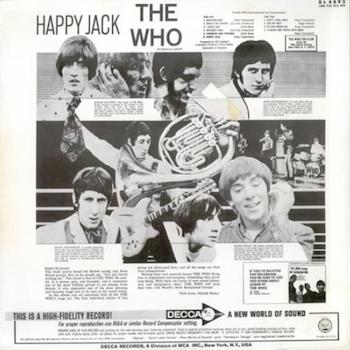 The album also featured one of John Entwistle's best-loved songs, 'Boris The Spider' (a title that he and Rolling Stones bassist Bill Wyman came up with after a night out drinking). There were two Keith Moon compositions, 'I Need You' (his first-ever song for the band) and the highly percussive 'Cobwebs and Strange,' and a mod favourite that The Who revived on their Who Hits 50 anniversary tour, 'So Sad About Us.'
After A Quick One reached No.4 in the UK in January, the Happy Jack version opened on Billboard's Top LPs at No. 184, in between albums by Jimmy Ruffin and Dean Martin. It climbed steadily for the next nine weeks, peaking at No. 67 on the Billboard LP chart in June.
Follow the 60s playlist for more transatlantic hits from the 60s, including other British Invasion heroes like The Beatles and Cream.