'Walking on Sunshine': The Story Behind Katrina And The Waves' Hit
Katrina and the Waves solidified their international legacy with this inescapable tune.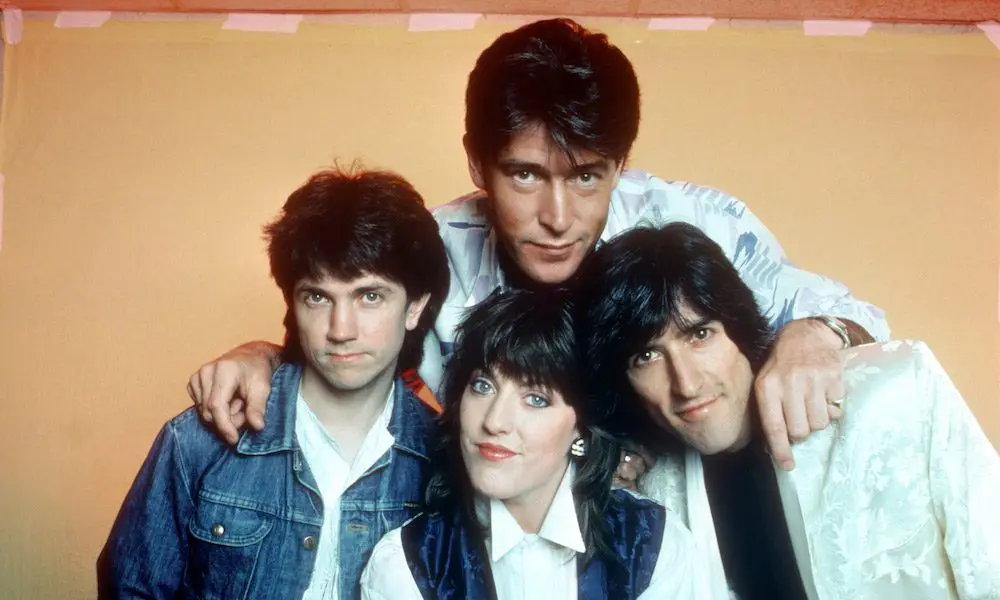 The 80s were filled with vibrant, chart-dominating hits, and Katrina and the Waves had one of the best. The band was originally formed in 1975 in Cambridge, England with guitarist Kimberley Rew and drummer Alex Cooper. Three years later, the pair joined Kansas-born vocalist Katrina Leskanich (who was stationed at an American military base) and bassist Vince de la Cruz in Mama's Cookin'. The pop band covered artists like Heart, Foreigner, Linda Ronstadt, and ZZ Top.
In 1985, the band was officially renamed Katrina and the Waves and released its eponymous debut album. A catchy mix of New Wave, pop, and rock, the album shot to international success thanks to its lead single: "Walking on Sunshine." Originally meant to be a ballad, the song was later transformed into a sparkling, uptempo anthem.
"I'd love to say 'Walking on Sunshine' relates to a significant event in my life, like walking out of my front door, seeing a comet, and being inspired. But it's just a piece of simple fun, an optimistic song, despite us not being outstandingly cheery people," Rew, who wrote the song, told The Guardian in 2015. "We were a typical young band, insecure, and pessimistic. We didn't have big hair and didn't look anything like a Motown-influenced group. We didn't have any credibility or a fanbase in awe of our mystique. We were a second-on-the-bill-at-a-festival-in-Germany pop band. But we had this song."
Katrina & The Waves - Walking On Sunshine (Official Music Video)
"Walking on Sunshine" – from its bouncy melody to Leskanich's exclamatory vocals ("And don't it feel GOOD!") – instantly created, well, waves worldwide. The constant radio rotation made it the band's first Top 40 hit, hitting No. 9 on the Billboard Hot 100. The song also peaked at No. 8 in the UK and No. 4 in Australia, and earned the band a Grammy nomination for Best New Artist.
"Walking on Sunshine" has also doubled as a pop culture staple for almost four decades. The song has appeared in dozens of commercials and films like American Psycho, High Fidelity, and Ella Enchanted. The Muppets covered the tune in 1993, Dolly Parton sang a country version for 1996's covers album Treasures, and pop duo Aly & AJ gave it a modern twist for their debut album Into The Rush in 2005.
Unfortunately, Katrina and the Waves were dropped by Capitol Records following their 1986 album. "They thought we were the new Monkees, The Beach Boys," Leskanich said in 2010. "But we weren't even that kind of band. We were cooler. I thought I was Nico from The Velvet Underground. Black turtlenecks, eyeliner, no smiling in photographs …"
The band went on to release eight more albums, concluding with 1997's Walk on Water. The album featured the lead single "Love Shine a Light," which hit No. 3 in the UK and won the 1997 Eurovision Song Contest. The band later disbanded in 1999 after struggling to replace Leskanich, who left the year prior. But Katrina and the Waves' legacy remains strong thanks to their ubiquitous, sunny hit.
Katrina and the Waves' "Walking on Sunshine" appeared on 2008's NOW That's What I Call The '80s (Deluxe Edition), alongside other classics like The Go-Go's "We Got The Beat" and The Romantics' "What I Like About You."
Looking for more stories behind music's biggest hits? Check out the Now! That's What I Call Music page.