John Lennon – Some Time In New York City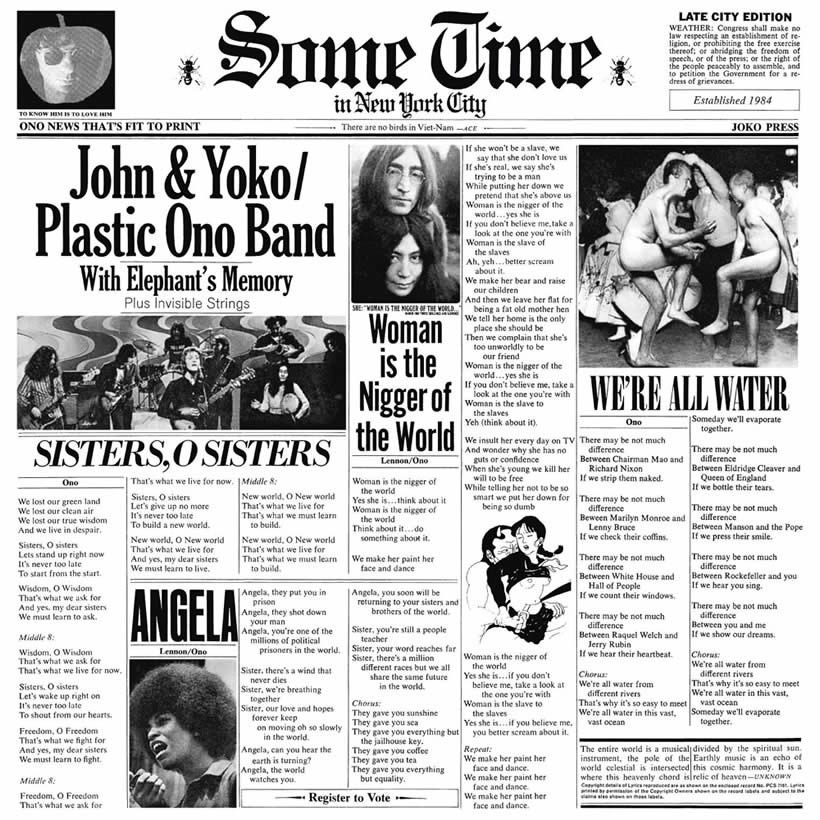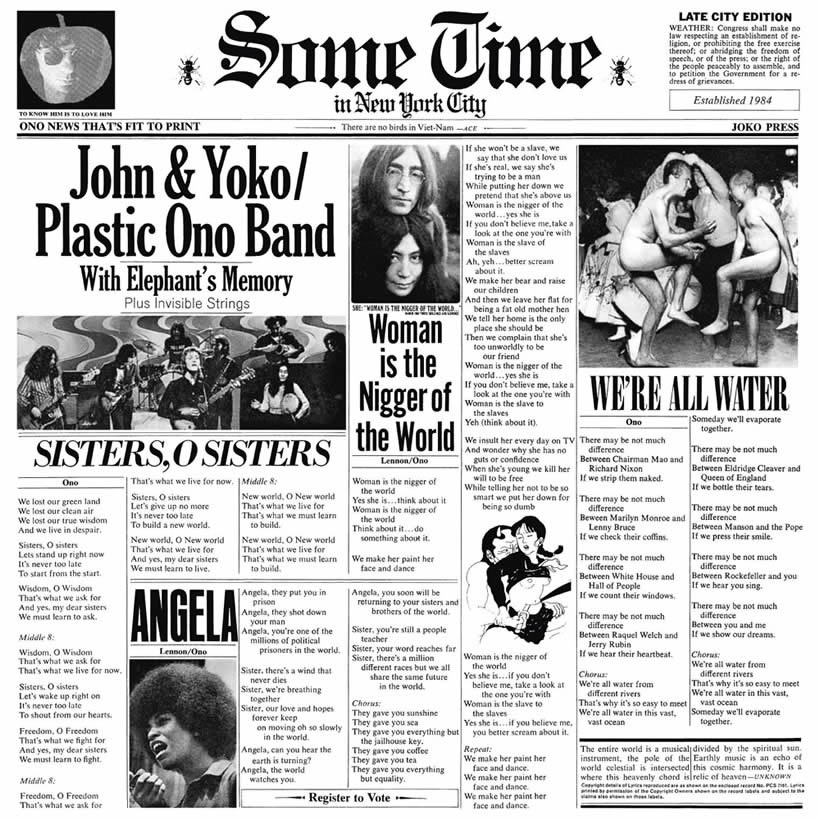 Is pop and rock music art? Of course, it is, and it is arguably the most admired art form in the world. John Lennon and Yoko Ono thought so too and their 1972 album, Some Time in New York City was a genuine and heartfelt attempt to make the art of popular music vital and meaningful in a way that few contemporary artists attempt to do. It was their notion that music should be like a newspaper, reporting and commenting on contemporary issues and to get their music heard in a way that drove the narrative and made a difference.
This album is John and Yoko unbridled, challenging – attacking, even – and it is a whole lot better than critics and fans said it was during the summer of '72 upon its release. If John Lennon/Plastic Ono Band was a soul laid bare, and Imagine was some more of the same, with "chocolate coating" then Some Time in New York City is pure politics, with almost no one spared the Lennons' wrath.
Now all this makes it sound like a serious record, and it is, but it is also a record that has great tunes, half of which are written by John and by Yoko together. And it is one that is to be explored and in turn, may well have you exploring the themes that it espoused. There's female oppression (Woman is the N—er of the World), women's solidarity (Sisters, O Sisters), prison riots (Attica State), class and oppression (Born in Prison), The Northern Ireland situation (Sunday Bloody Sunday and The Luck of The Irish), drugs and police corruption (John Sinclair), The Black Panthers (Angela) and equality (We're All Water).
'Woman is the N—er of the World' was released as a single in April 1972, ahead of the album's release and proved highly controversial with radio stations refusing to play it. It lost DJ Elliot Mintz his job at his radio station and had TV show host Dick Cavett threatened with the same after John and Yoko played it live on his TV show. Before the Cavett show was aired on 11 May, bosses at the ABC television station had decided to cut the performance of the song from the broadcast, fearing that it might upset some viewers. To his credit, Cavett objected insisting that the song remain and, prior to the telecast of the programme, he recorded a brief videotape explaining why the song must be shown.
'New York City' is the one song on the album that is not political, and it is also the story of the album itself – arguably 'The Ballad of John & Yoko' part 2. It is John's homage to the city to which he and Yoko had moved, having left England at the time of the release of the Imagine album in September 1971 to take an apartment in Greenwich Village. For John, it felt like his new spiritual home – as he told Jann Wenner in 1970, "I should have been born in New York, man. I should have been born in the Village! That's where I belong! Why wasn't I born there? Like Paris was in the eighteenth century or whatever it was, London I don't think has ever been it."
The John Lennon Sketchbook
The studio recordings for the album started in mid-February and ended on 8 March 1972 and for John and Yoko the ethos was to capture their songwriting soon after it was completed and then get their record released as quickly thereafter as possible. Some Time in New York City came out in the US in early June, less than three months after recording was complete. The concept of 'in the now' gained further traction through the album's cover art that was modeled on the front page of the New York Times.
Among their early friends in NYC were the activists Jerry Rubin and Abbie Hoffman who persuaded John and Yoko to appear at a rally for John Sinclair, who had been jailed for possession of two marijuana joints. John's song of the same name was written at the St Regis Hotel where they stayed when they first arrived in Manhattan. Along with 'New York City', it is one of the two songs that are solely his creation. 'New York City' is classic Lennon, clever, witty, and it rocks in tribute to those he would pay homage to on his Rock N' Roll album a few years hence. But above all else it is reportage and tells a (partial) story of John and Yoko's move.
"The Statue of Liberty said, Come!" – John from the lyrics 'New York City'.
Aside from these two John solo compositions, Yoko wrote 'Sisters, O Sisters', 'Born in Prison' and 'We're All Water'. Unless you look at the credits you might think that John was involved in writing them, as they seem to have his DNA all over them, and that, of course, is what makes this album and its two predecessors work so well – that John and Yoko are so telepathically a team, a partnership, a ying and yang and completely as one.
It's also why this album is credited to John & Yoko/Plastic Ono Band. But the musicians are not those that had hitherto made up the P.O.B.. John and Yoko met Elephant's Memory soon after they arrived in New York. The band had been together in various guises since 1967 when saxophonist and singer, Stan Bronstein and Rick Frank Jr, a drummer formed the group. The whole band, who were themselves politically active was recruited for the recording and they were augmented by John's old friend Jim Keltner on drums.
Much of the album's sound is raw and visceral – and so it should be, given the subjects they sang about – there was little or no room for "chocolate coating" here. Perhaps it is this that has kept some at bay from properly appreciating the record.
Some Time in New York City finally was released in the UK in September 1972 following a dispute with Northern Songs over the songs that John and Yoko had written together. Critical reception in America had been harsh in the extreme with Rolling Stone saying, "the Lennon's should be commended for their daring", before going on to say, "incipient artistic suicide". Rolling Stone didn't get Punk either, and Yoko's 'We're All Water' makes the case for Yoko as the godmother of Punk.
So far this concentrates on the first of the two long-playing records that made up the double album that was released in 1972. The second is two live performances, on side 1 of the LP is 'Cold Turkey' and 'Don't Worry Kyoko' that were recorded in London at the Lyceum on 15 December 1969, for a UNICEF charity concert. Aside from John and Yoko the band included Eric Clapton, Jim Gordon, George Harrison, Nicky Hopkins, Bobby Keys, Keith Moon, Billy Preston, and Klaus Voormann. The second side of the second LP features four tracks including 'Well (Baby Please Don't Go)', a cover of the 1958 Olympics' single, recorded live at Fillmore East on 6 June 1971. John and Yoko perform with Frank Zappa and The Mothers having been encouraged to do so by DJ Howard Smith and artist Andy Warhol. John and Yoko saw the second LP as very much a 'free bonus' record to accompany the studio recordings.
"The price of that kind of fun was too high. It was almost five years before our battle with the Nixon government was over (presuming it is over)." – John Lennon
Five months after the release of Some Time in New York City things came to something of a head for John and Yoko. Meeting Jerry Rubin and Abbie Hoffman had been the beginning of John and Yoko's difficulties with the FBI that began when the two American activists told Rolling Stone that John and Yoko would be playing a Yippie protest show at the same time as the 1972 Republican Convention in San Diego. The Nixon administration began a campaign to deport Lennon, and for years after John and Yoko found themselves fighting to stay in the city they loved. On 7 November 1972 Nixon won one of the largest landslide election victories in American history, John was so depressed that he got blind drunk and a darker period began. Nixon's victory marked the close of their political period as they fought to stay in America and keep out of trouble.
There may be flaws in this album, but they are genuine, heartfelt flaws of conviction. It is a record born of a conviction to try to make music that was vital and important to two artists that have never been afraid to use music as a medium for their message. And as a bonus, there are some really great tracks that you will find yourself coming back to again and again.
Format:
UK English