Bach's 'St Matthew Passion': A Guide To The Sacred Masterpiece
Discover the story behind Bach's 'St Matthew Passion' widely regarded as one of the greatest masterpieces of classical sacred music.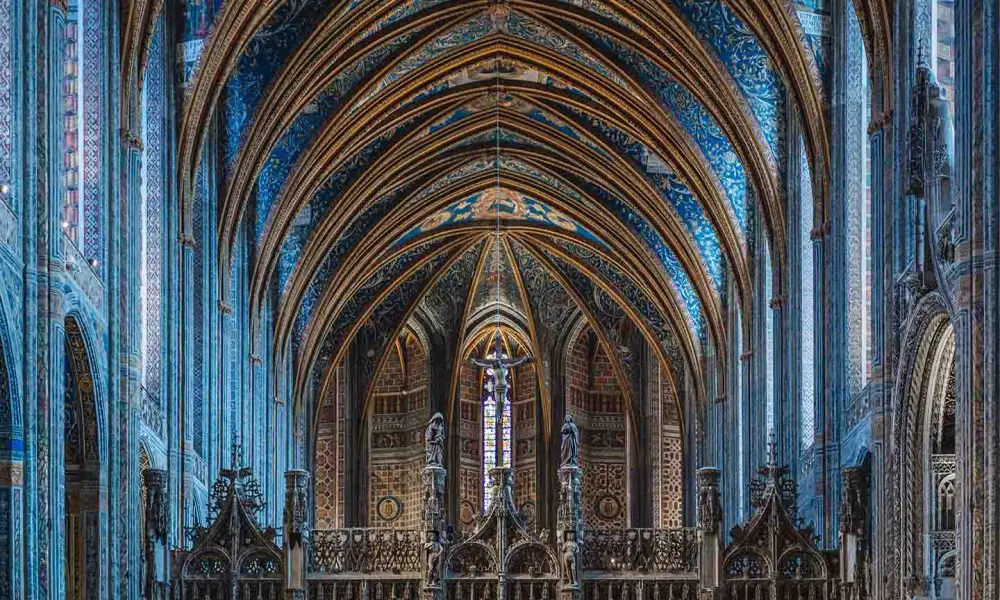 In the early 1820s, the director of the Berlin Singakademie, Carl Zelter, got hold of a copy of Bach's St Matthew Passion and rehearsed some of the choral movements in private. By great good fortune, two of his singers were Fanny and Felix Mendelssohn. In April 1829, despite strong opposition from some quarters, the twenty-year-old Mendelssohn, with the help of Zelter and his friend the actor Eduard Devrient, mounted the work's first modern performance, albeit in an abbreviated form, given to mark what was then thought to be the centenary of its first performance. This Easter-time Berlin presentation was a stunning success and was followed by others. These led directly to a complete reassessment and revival of interest in all of Bach's music for, baffling as it seems nowadays, Johann Sebastian Bach had fallen into near obscurity since his death nearly 80 years earlier.
Listen to John Eliot Gardiner's benchmark recording of Bach's St Matthew Passion on Apple Music and Spotify and scroll down to discover the story behind the sacred masterpiece.
Bach's 'St Matthew Passion': A Guide To The Sacred Masterpiece
There had already been a long history of Passion music – that is musical settings telling the story of the final, short period in the life of Jesus. ('Passion' is derived from the Latin verb 'patior' meaning 'to suffer' or 'endure', from which we also get 'patience' and 'patient'.) Every year for Good Friday Vespers, a Passion would be performed in one of Leipzig's two principal (Lutheran) churches, St. Thomas and St. Nicholas. These performances would mark the high point of the church's year.
J.S. Bach: Matthäus-Passion, BWV 244 / Erster Teil - No. 6 "Buß und Reu"
Features two orchestras and two choruses
We know Bach wrote an earlier setting when he was the ducal concertmeister in Weimar (1714-1717) though this has not survived. In 1725, two years after he took up his appointment of cantor at St. Thomas's, he wrote the Passion According To St. John. What followed two years later was an altogether grander, more magnificent setting. For instance, whereas the St John Passion had a mere continuo accompaniment (harpsichord or organ), its successor had an orchestra with Christ's words accompanied by strings (an effect that has been compared to a halo around the Saviour's head). And not just one orchestra – but two. In Bach's time, St Thomas's had two organ lofts – the larger of the two accommodating the musicians for Sunday services throughout the year, the smaller loft used for the additional numbers needed for the music at Christmas and Easter. Bach wrote his Passion to use both these performance spaces. Thus, the score is laid out for Chorus 1 and Orchestra 1, Chorus 2 and Orchestra 2.
Bach did not act as his own librettist for the St Matthew Passion. The story was arranged by Christian Friedrich Henrici, a postal official in the city who wrote verses using the pseudonym of Picander. A local Lutheran preacher, Salomon Deyling, supervised the writing of the text, using the 26th and 27th chapters of St Matthew's Gospel (in his manuscript, Bach underlined the words of the Scripture with red ink). The speeches of various characters – Commentator (soprano), Evangelist (tenor), Christ (bass), Peter (bass), Judas (bass), and so forth – are represented by various solo singers.
In addition to the Bible story and Picander's texts for the recitatives, arias, and other sections, Bach interspersed the work with his own harmonizations of old chorale melodies and texts. These would have been well-known to the congregation of St Thomas's, the oldest dating back to the early 16th century. The best known of these, often referred to as the Passion Chorale, is 'O Haupt Voll Blut Und Wunden', usually sung in English to the words 'O Sacred Head Sore Wounded'. It's a melody originally written by one Hans Leo Hassler (1562-1612). Bach uses it no less than five times in the course of the St Matthew Passion, each time presenting it in a new way, with different words, keys, and harmonizations (he also used it – twice – in the Christmas Oratorio and in several cantatas).
It is a theatrical concept, a drama
Thus, the whole work is structured as a repeated pattern of Biblical narrative, comment, and prayer. It is a theatrical concept, a drama. It is even written in two Parts (or two 'Acts') with an interval (indeed, for the work's first performance a sermon was preached between the two Parts) – and that is one reason why its first performance in Leipzig met with decidedly mixed reactions. This was an unorthodox way of presenting religious history and not the kind of thing that the more devout members of the congregation / audience felt was appropriate for a church, the feeling being that the work was too 'operatic'.
Highlights to look out for are the alto aria 'Buss Und Reu' ('Penance And Remorse'), one for soprano, 'Blute Nur, Du Liebes Herz! ('Bleed Now, Loving Heart!'); the sublime alto aria with violin obligato 'Erbame, Dich' ('Have Mercy'), a second soprano aria 'Aus Liebe Will Mein Heiland Sterben' ('Out Of Love My Saviour Is Willing To Die'); the blood-curdling moment when the mob calls for Barrabas to be freed and Christ to be crucified; and the final number in the Passion, the double chorus 'Wir Setzen Uns Mit Tränen Nieder' (usually translated as 'In Tears Of Grief').
J.S. Bach: Matthäus-Passion, BWV 244 / Zweiter Teil - No. 39 "Erbarme dich"
Until 1975, it was held that the first performance of Bach's St Matthew Passion was on Good Friday 1729. Scholars now agree that an early version was first heard two years earlier, a second version in 1729, a further revised version in 1736 and a final one – the one we hear today – in 1742.
One of his most complex and profound creations of Western music
It is almost miraculous that the complete renaissance of Bach's music which took place after 1829 was due to the performance of a work that had been quite forgotten yet is regarded today as one of his most complex and profound creations of Western music. It is also, as Mendelssohn himself noted wryly, somewhat ironic that "it took an actor and the son of Jew to revive the greatest Christian music for the world!"
Recommended Recordings
German language
John Eliot Gardiner's benchmark Archiv recording of Bach's St Matthew Passion, recorded in 1989, is a masterstroke that remains a milestone in the catalogue. Sir John's approach to the work is as celebrated as his first-class soloists, his great Monteverdi Choir, and the splendid English Baroque Soloists.
"What makes Gardiner's St Matthew Passion stand out in the face of stiff competition is, more than anything, his vivid sense of theatre. Bach's score is, after all, a sacred drama and Gardiner interprets this aspect of the work with lively and colorful conviction …Singing and playing of this caliber deserve to win many friends …" noted Gramophone.
English language
Sir David Willcocks' 1978 recording for Decca is the only version currently available in English. In his notes for the original LP set, Sir David justified his deliberate departures from 'the so-called authentic type of performance', despite advances in Bach scholarship and a plethora of top-notch period performances. Willcocks's comments still hold good and this superb recording justifies them on purely musical grounds, with noticeably brisk tempi, lending a welcome light and nimble touch to proceedings.
"As Sir David points out …Bach might well have approved of making the 'fullest use of the resources available to him' …The crowd choruses are vividly characterized, the chorales sung with unaffected naturalness," noted Gramophone.
John Eliot Gardiner's benchmark recording of Bach's St Matthew Passion can be bought here.
---
Format:
UK English