Best Classical Music Gifts For Christmas
Our selection of this year's best classical music Christmas gifts include piano classics, opera favourites, movie themes and Christmas songs.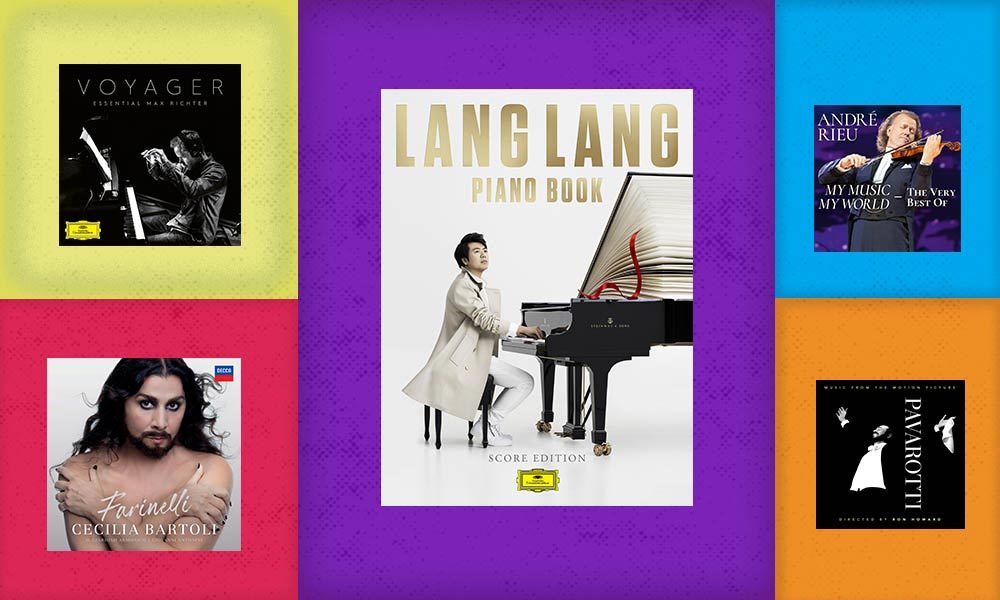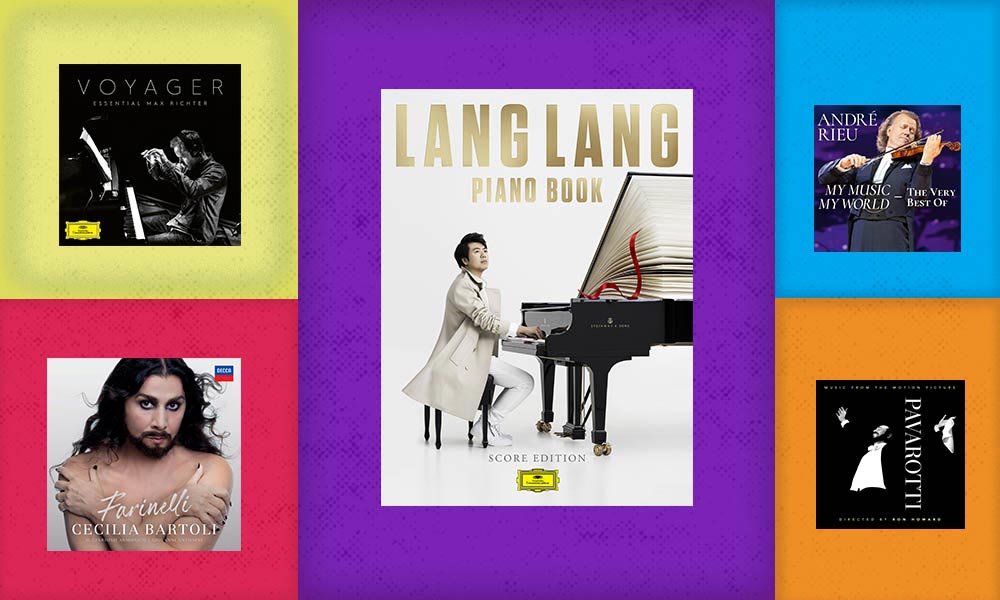 Our recommended classical music Christmas gift guide features a selection of the best releases this year from artists including Lang Lang, Ludovico Einaudi, Pavarotti, Bing Crosby, John Williams and Anne Sophie Mutter, Max Richter, Andrea Bocelli, Andris Nelsons, André Rieu and Cecilia Bartoli. Piano classics, opera favourites, movie themes and Christmas songs are included in our selection of the best classical music Christmas gifts that every classical music fan would love Santa to bring them this Christmas.
Lang Lang: Piano Book: Score Edition
Piano Book, a collection of pieces that first inspired Lang Lang to play the piano as a child and led him on his path to international stardom, is the best-selling classical album worldwide released this year. The album features many of the miniatures that generations of amateur pianists have grown up with, which Lang Lang holds in the highest regard, believing them to be classics in their own right. Lang Lang's Score Edition of Piano Book contains the double album and full piano scores annotated by Lang Lang. "I want to take every music lover on a journey through my favourite piano pieces. I hope to inspire as well as motivate every piano student to remain focused during daily practice, and to play and understand these essential pieces for what they really are: true masterpieces," said Lang Lang. "I dedicate this album to my wonderful piano students and all my friends around the world who love the piano as much as I do."
Lang Lang – Beethoven: "Für Elise" Bagatelle No. 25 in A Minor, WoO 59
Einaudi: Seven Days Walking box set
Ludovico Einaudi's Seven Days Walking 7-CD box set includes the composer and pianist's Seven Days Walking albums which were released over seven consecutive months. From the plaintive beginnings of the No. 1 UK Classical Chart album 'Seven Days Walking: Day 1′, which became the fastest-streamed album ever from a classical composer in its first week of release, evolve emotive musical themes of contemplation, introspection and reflection. The first album focuses on several main themes which then recur in different forms on the following albums – seven variations following the same imaginary itinerary. Or the same itinerary retraced seven different times. Einaudi's Seven Days Walking project was originally inspired by a winter's walk in the Italian Alps in 2018. He explained, "In January last year I often went for long walks in the mountains, always following more or less the same trail. It snowed heavily, and my thoughts roamed free inside the storm, where all shapes, stripped bare by the cold, lost their contours and colours. Perhaps that feeling of extreme essence was the origin of this project."
Ludovico Einaudi - Einaudi: Ascent (Day 7)
Bing Crosby: Bing At Christmas
Bing At Christmas features fourteen classic Bing Crosby Christmas songs including his biggest hit, the 1942 Decca recording of 'White Christmas'. This track is not only the epitome of Christmas in song, but the world's best-selling single, with sales in excess of 50 million copies worldwide and, more recently, achieving over 1.8 billion streams. Bing Crosby's utterly distinctive original vocals have been set to newly-recorded orchestral arrangements, performed by the UK's most prestigious orchestra, The London Symphony Orchestra, on an album that breathes new life into the best Christmas songs in existence. Kathryn Crosby explained, "Hearing Bing's voice with these completely new, beautifully recorded, orchestral accompaniments makes it seem as though he's back after all these years. It's magic."
Bing Crosby, Pentatonix, London Symphony Orchestra - White Christmas (Lyric Video)
Pavarotti: Music From The Motion Picture
Pavarotti: Music From The Motion Picture, the official soundtrack to Ron Howard's Pavarotti documentary, draws from Pavarotti's rich recorded catalogue and follows the arc of the film. It features selections from operas including Turandot, La Bohème, Aida, and Tosca as well as Italian songs and collaborations with friends including Plácido Domingo, José Carreras, U2, Brain Eno and Passengers. The soundtrack also includes the complete recording of Puccini's 'Donna Non Vidi Mai', which Pavarotti dedicated to Princess Diana. Also featured are a previously unreleased song with Andrea Bocelli and Pavarotti's 'Ave Maria' duet with Bono, available for the first time commercially, which was recorded live during the 2003 Pavarotti & Friends For SOS Iraq benefit concert in Modena, Italy. As Bono comments in the documentary, "The reason why he is so great is because he lived those songs."
PAVAROTTI - Official Trailer - HD
John Williams And Anne Sophie Mutter: Across The Stars
Legendary film composer John Williams and superstar violinist Anne-Sophie Mutter's album, Across The Stars, features Williams conducting new arrangements of some of his iconic movie themes including pieces written for the Star Wars and Harry Potter movies. Across The Stars was recorded at the historic Sony Pictures Scoring Stage in Hollywood, where many great film soundtracks of the past were recorded, including The Wizard Of Oz, Gone With The Wind, Singin' In The Rain, Lawrence Of Arabia, and ET. John Williams explained that for this project he revisited themes from many of his existing scores and completely transformed them. "Presented on the violin, they become a different emotional experience," he said. The music ranges from Star Wars motifs such as 'Yoda's Theme', from The Empire Strikes Back, to more recent pieces such as 'Sayuri's Theme' from Memoirs Of A Geisha.
Anne-Sophie Mutter - Yoda's Theme / From "Star Wars: The Empire Strikes Back"
Max Richter: Voyager: Essential Max Richter
Voyager: Essential Max Richter, curated by Max Richter, is the first ever collection of the acclaimed British composer's work. The anthology is comprised of original compositions from Richter's catalogue of successful solo albums, and his iconic TV and movie themes and soundtracks. The 33 tracks feature works from Richter's studio albums including 2004's acclaimed The Blue Notebooks, 2012's Recomposed By Max Richter: Vivaldi – The Four Seasons, and 2015's ground-breaking, eight-and-a-half-hour magnum opus Sleep. A selection of Richter's numerous film and TV scores including 2014's The Leftovers, which garnered the International Film Music Critics Award for Best Original Score For A Television Series, 2017's Taboo, nominated for an Emmy for Outstanding Music Composition For A Series, and last year's Mary Queen Of Scots, which earned him the Hollywood Music in Media Award, are also featured.
Andrea Bocelli: Si Forever: The Diamond Edition
Andrea Bocelli's Si Forever: The Diamond Edition is an extended special edition of his million selling No. 1 album Si featuring five new songs including new duets. BRIT Award-winning, Grammy-nominated British singer-songwriter Ellie Goulding is featured on 'Return To Love' and Hollywood actress Jennifer Garner sings for the first time on 'Dormi Dormi Lullaby'. These two new duets add to the star-studded line-up on the original album which featured Ed Sheeran, Dua Lipa, Josh Groban and Andrea's son Matteo Bocelli on 'Fall on Me'. Three brand new solo tracks from Andrea Bocelli are also included on Si Forever: The Diamond Edition. 'Alla Gioia' was recorded to commemorate the 250th anniversary of Beethoven's birth in 2020, 'Ragazzo Mio' is based on the traditional Irish tune 'Danny Boy' and 'Il Mare Calmo Della Sera' is the song that first brought Andrea to prominence 25 years ago at the Sanremo Music Festival.
Andrea Bocelli, Ellie Goulding - Return To Love ft. Ellie Goulding
Andris Nelsons: Beethoven: Complete Symphonies
Andris Nelsons, the leading conductor of his generation, has recorded all nine Beethoven symphonies with the Vienna Philharmonic. Their cycle promises to reveal the compelling partnership between the conductor and the most renowned Beethoven orchestra in the world. Beethoven: Complete Symphonies, is presented in a deluxe box set featuring five CDs and a single Blu-ray Audio disc in TrueHD sound quality. The release marks the start of Deutsche Grammophon's celebration of the 250th anniversary of Beethoven's birth next year. "There are so many amazing recordings of the Beethoven symphonies from the past, but I believe his music always has something to say about the present day," Nelsons observed ."Being able to perform and record these works of genius again and again allows musicians to emphasise just how real they are for their own generation and for future generations. It's music for our time and all time."
Beethoven: Symphony No. 5 in C Minor, Op. 67 - I. Allegro con brio
André Rieu: My Music My World – The Very Best of André Rieu
To celebrate his 70th birthday in October this year André Rieu, the "King Of The Waltz" and one of the most famous violinists of our time, released his first ever greatest hits collection. This 2CD extravaganza features André greatest hits, waltzes, operas, musical and movie themes, 20th century defining songs and the song 'Happy Birthday' (previously only released physically in Australia). The collection includes the favourites 'The Blue Danube', possibly the most famous waltz of all time, 'And The Waltz Goes On', written by the actor Sir Anthony Hopkins, and 'The Second Waltz' the work that suddenly shot Rieu's career meteoric overdrive in 1995.
The Second Waltz, Op. 99a
Cecilia Bartoli: Farinelli
Mezzo-soprano Cecilia Bartoli's album Farinelli commemorates the life and career of the most famous opera singer of the eighteenth century: the castrato Farinelli. The record includes arias by Farinelli's older brother Riccardo Broschi, and his teacher and mentor Nicola Porpora. A new recording of 'Alto Giove' from Porpora's Polifemo, which celebrates Farinelli's unique capacity to sing long musical phrases and extraordinary high notes, is also featured. Cecilia Bartoli performs with the period ensemble Il Giardino Armonico and its conductor Giovanni Antonini, with whom she first collaborated on her Grammy award-winning Vivaldi album, and again on Sacrificium, her first castrati album from 2009, which also won the Grammy for Best Classical Vocal Performance.
Porpora: Polifemo - Nell' attendere mio bene (Ed. Sanderson)
More great classical music gifts can be found here.
See the rest of our 2019 exclusive gift guides.
Format:
UK English