Bruce Liu, Winner Of Chopin Competition 2021, Announces Live Album
Bruce Liu, winner of the International Fryderyk Chopin Piano Competition 2021, will release live recordings made during the competition.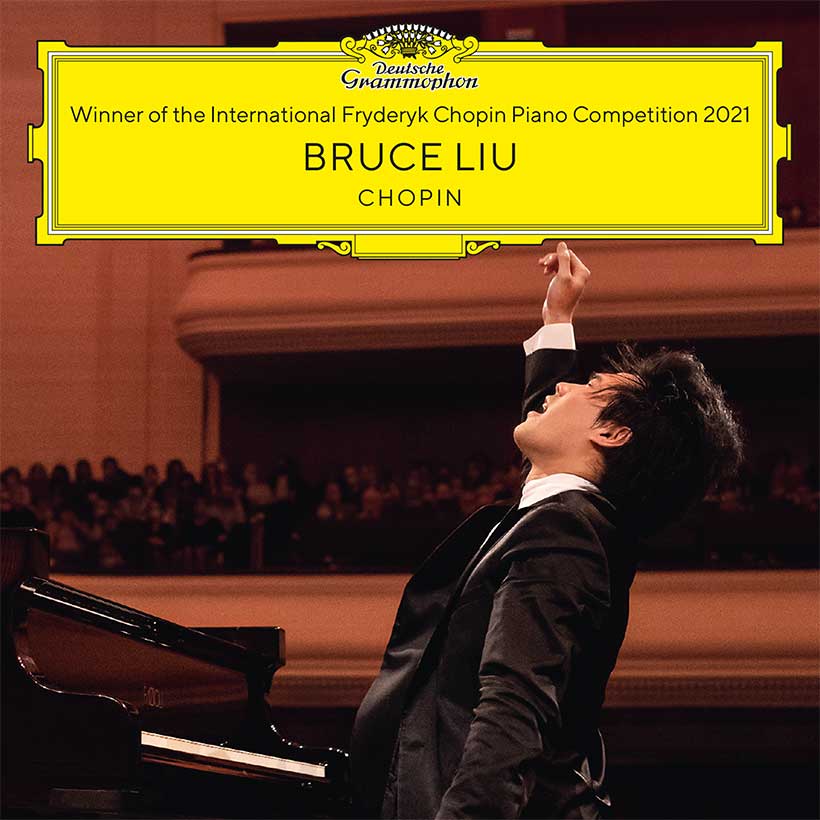 Bruce Liu, the newly crowned winner of the 18th International Chopin Piano Competition, has announced that Deutsche Grammophon will release an album of his live recordings, made during the various stages of the world's most prestigious competition for classical musicians, on 19 November 2021. The jury awarded the top prize to the 24-year-old Canadian pianist immediately after the final round of the 2021 Chopin Competition at Warsaw's National Philharmonic on 20 October. The first single from Bruce Liu's new album, Chopin's Étude in C sharp minor Op. 10 No. 4, is out now.
Chopin: Études, Op. 10 - No. 4 in C Sharp Minor "Torrent" (Live)
"I'm truly honored for this award"
Bruce Liu said, "Being able to play Chopin in Warsaw is one of the best things you can imagine, of course, so I'm truly honored for this award, of course, and for this jury's trust and for all the warmth I have received in recent days."
Bruce Liu is a graduate of the Montreal Conservatoire, where he studied under Richard Raymond, and is currently a student of Dang Thai Son who won the Chopin Competition in 1980. He has performed with major ensembles including the Cleveland Orchestra, Israel Philharmonic Orchestra, Montreal Symphony Orchestra and Orchestra of the Americas, and has toured with the China NCPA Orchestra in North America. Liu has won prizes at international piano competitions in Sendai, Montreal, Tel Aviv and Viseu.
The release of Bruce Liu's live recordings from the Chopin Competition marks a renewed collaboration between Deutsche Grammophon and the Fryderyk Chopin Institute, organisers and hosts of the Chopin Competition since 2010, who are jointly committed to promoting the work of exceptional interpreters of Chopin's music.
"One of the classical world's rising stars"
"We're delighted to partner with the Chopin Institute once again and to celebrate one of the classical world's rising stars," said Dr Clemens Trautmann, President Deutsche Grammophon. "Music-lovers around the world have been captivated by each stage of this year's International Chopin Piano Competition. I know that everyone will join us in congratulating Bruce Liu for his revelatory interpretations during the last few weeks. The powerful emotions and extraordinary beauty of Chopin's art speak deeply to young musicians, which is why we believe it is so important to share these recordings from the Chopin Competition."
Deutsche Grammophon has collaborated with the Chopin Institute on major events in the past, notably 'Chopin Year' in 2010 and the acclaimed 'Chopin and his Europe' festivals in Warsaw. In 2015 Deutsche Grammophon arranged the immediate release of Seong-Jin Cho's debut recording, drawn from the winner of the 17th International Chopin Piano Competition's recital rounds and finals, which topped the pop charts in his native South Korea and led to him signing with the label.
The International Chopin Piano Competition was first held in 1927 and had taken place every five years since 1955 however the 18th edition, originally scheduled for October 2020, was postponed by the pandemic.
Previous winners of the prestigious Chopin Competition include superstar pianists Maurizio Pollini, Martha Argerich, Krystian Zimerman, Rafał Blechacz and Seong-Jin Cho. Performances by these and other legendary artists are included on the recently released Chopin Masters limited-edition box set (28 CDs, also available digitally), featuring rare recitals and award-winning bestsellers.
Bruce Liu's Chopin album will be released on 19 November 2021 and can be pre-ordered here.
Do you want to be the first to hear the latest news from the classical world? Follow uDiscover Classical on Facebook and Twitter.
---
Format:
UK English