Pianist Ruth Slenczynska, 97, Signs Global Record Deal With Decca
Ruth Slenczynska has returned to Decca after six decades and her new album, 'My Life In Music', celebrates her remarkable life and career.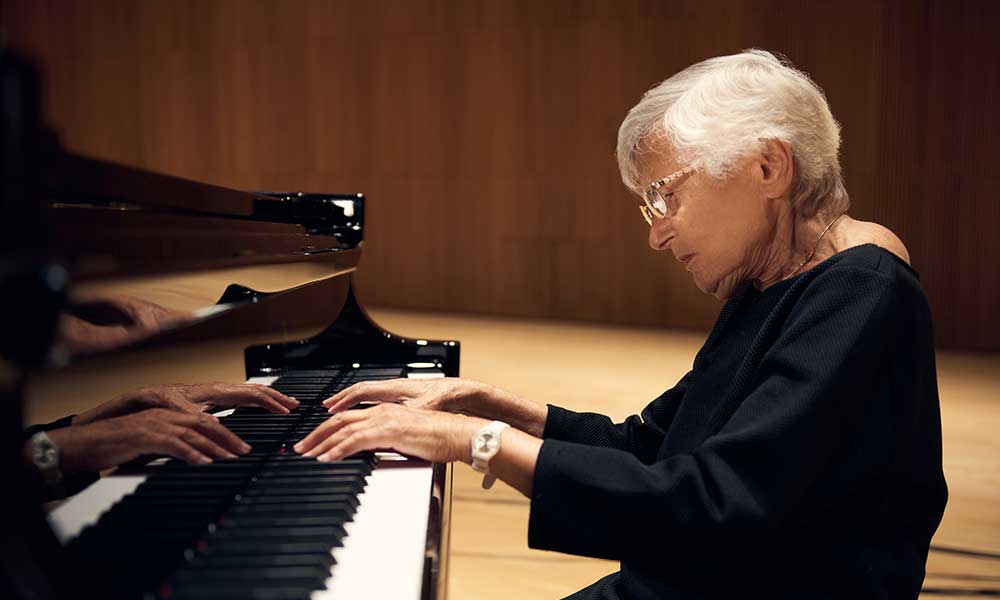 Legendary pianist Ruth Slenczynska, who celebrates her 97th birthday tomorrow (15 January), has re-signed to Decca Classics and will release her new solo piano album My Life In Music on 18 March 2022.
Having recorded for the Decca Gold Label in the 1950s and 60s, Ruth Slenczynska is delighted to return to the label nearly 60 years later. Her new album, My Life In Music, celebrates her remarkable life and performing career which began as a child prodigy in the 1920s and continues nine decades later.
Ruth Slenczynska - My Life In Music (album trailer)
"Whoever heard of a pianist my age making another album?"
"Unbelievable! Whoever heard of a pianist my age making another album?" said Ruth Slenczynska. "I'm grateful if they like the music. Music is meant to bring joy. If mine still brings joy to people, then it is doing what it is supposed to do."
Few pianists can claim such a long career and extraordinary life as Ruth Slenczynska. She was born in 1925 in Sacramento, California, to Polish immigrants, gave her concert debut at the age of four, and 92 years later she still performs for audiences around the world. During her career Ruth Slenczynska has performed for President Reagan, President Kennedy, President Carter and Michelle Obama, and has even played duets with President Truman and the (now former) Empress Michiko of Japan (with whom she is friends).
Ruth Slenczynska is Rachmaninoff's last living pupil
As a child Ruth Slenczynska was taught by some of the most celebrated pianists in history. She is the last living pupil of the great Russian composer-pianist Sergei Rachmaninoff, and even stepped in for him at the last minute when he was unable to perform. The pair would often drink tea together and, to this day, Slenczynska wears a Fabergé egg necklace Rachmaninoff gave to her while she was studying with him.
My Life In Music is inspired by Ruth Slenczynska's personal connections with Rachmaninoff, as well as American composer Samuel Barber, who was her fellow student and friend. Slenczynska heard Barber's now world-famous Adagio for Strings in the classroom, before it even had its title. Barber once said to her, "When you play in front of the public, I want you to show them how beautiful the music is, not how well you play." Slenczynska noted, "It was the best music lesson I ever had."
Ruth Slenczynska also explores the music of Chopin throughout her new album, including a piece she performed at the memorial service of Vladimir Horowitz, one of the greatest pianists of all time and a life-long friend. She always appreciated her Polish roots and Chopin holds a prized place in her repertoire. During her childhood her father made her play the 24 Études before breakfast every day and she went on to earn a reputation as one of the most celebrated Chopin interpreters. The album also features pieces by Debussy, Grieg and Bach which conjure personal memories of some of her great piano mentors: Egon Petri, Alfred Cortot and Josef Hoffman.
Laura Monks and Tom Lewis, Co-Presidents of Decca Label Group, said, "It's remarkable to think that Ruth made her concert debut before the birth of colour movies, and around the same time as the birth of television! The fact that she is still at the top of her game over nine decades later is extraordinary. It's very hard to think of anyone, in any profession, who has achieved such a sustained period of excellence."
Dominic Fyfe, Label Director of Decca Classics, added, "We are privileged to have Ruth record for Decca again, some sixty-six years since she first recorded for the label in New York. One of her earliest producers was Thomas Frost and we were delighted to unite her with Thomas' son David, the multi Grammy award-winning producer, for this new album. Decca has a long-cherished history of bringing great pianists back to the studio, from Shura Cherkassky to Jorge Bolet. Ruth was friends with them both and her pianism is one of the last living links to that golden era."
Ruth Slenczynska's new album, My Life In Music, will be released on 18 March 2022. Listen to the first single, Rachmaninoff's 'Prelude in G major', now.
Do you want to be the first to hear the latest news from the classical world? Follow uDiscover Classical on Facebook and Twitter.
---
Format:
UK English