Bill Evans Riverside Collection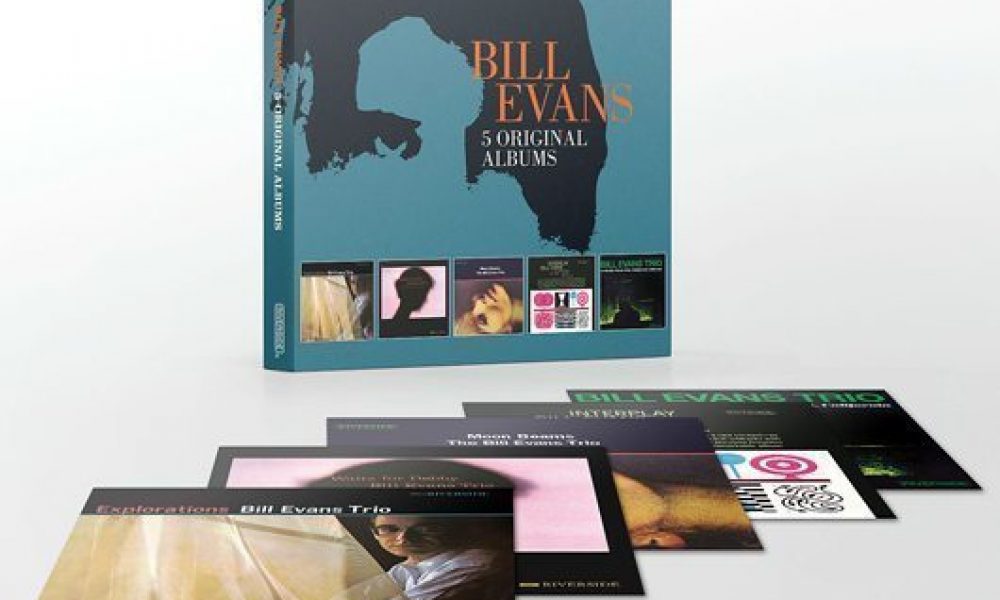 Bill Evans recorded his debut solo album as a leader for Riverside Records in the Fall of 1956 and recorded five more albums over the next three years, mostly for the label founded by Orrin Keepnews and Bill Grauer. By 1961 he really hit his stride as a leader when he recorded Explorations for Riverside in February of that year, with Scott LaFaro (bass) and Paul Motian (drums). It was the beginning of an extremely fruitful period that is celebrated in this CD collection.
Explorations was the second album the pianist recorded with LaFaro and Paul Motian and Evans considered it one of his favorites from this period. Born out by the fact that the album won the Billboard Jazz Critics Best Piano LP poll for 1961
Four months later Evans, LaFaro and Motian were appearing at The Village Vanguard in New York City and the second album that was released from their 25 June 1961 engagement was the wonderful, Waltz For Debby. Tragically LaFaro was killed, aged twenty-five, in a car accident, ten days after the Vanguard sessions, Evans was devastated and withdrew from public life. The album, the title track of which is a musical portrait of Evans' niece, is one of the greatest jazz recordings of all time.
By the end of 1961 Evans was slowly returning to recording and in May and early June 1962 he recorded Moon Beams, his first trio album since LaFaro's passing, with Motion and new bass player, Chuck Israels. It is a beautiful ballad-filled album that really does have a dreamlike quality to it, and although it is less well regarded than some of his other albums it is a gem.
A month after recording Moon Beams, Evans was back in the studio recording an album that was released as, Interplay. It's a departure from the trio format as it features, Freddie Hubbard (trumpet) Jim Hall (guitar) Percy Heath (bass) and Philly Joe Jones (drums). It's an album with a more blues-based approach to playing. Jim Hall's guitar is brilliant, swinging defiantly on both ballads and up-tempo numbers. Hubbard's playing too is a revelation as he plays with a mute on the majority of the numbers.
The fifth and final album in the box set is another live recording, this time at Shelly's Manne-Hole in Hollywood that was recorded over two dates in May 1963 by a trio featuring, Chuck Israels (bass) and Larry Bunker (drums). It was Evans's last recording for Riverside as he had already made a switch to Verve Records. The club on North Cahuenga Boulevard was part owned by drummer Shelly Manne and was a popular West Coast haunt for visiting musicians. While this trio has not got the reputation of his earlier bands it is a wonderful record full of sensitive playing that makes for a delightful album.
Format:
UK English