Classic Art Blakey and The Jazz Messengers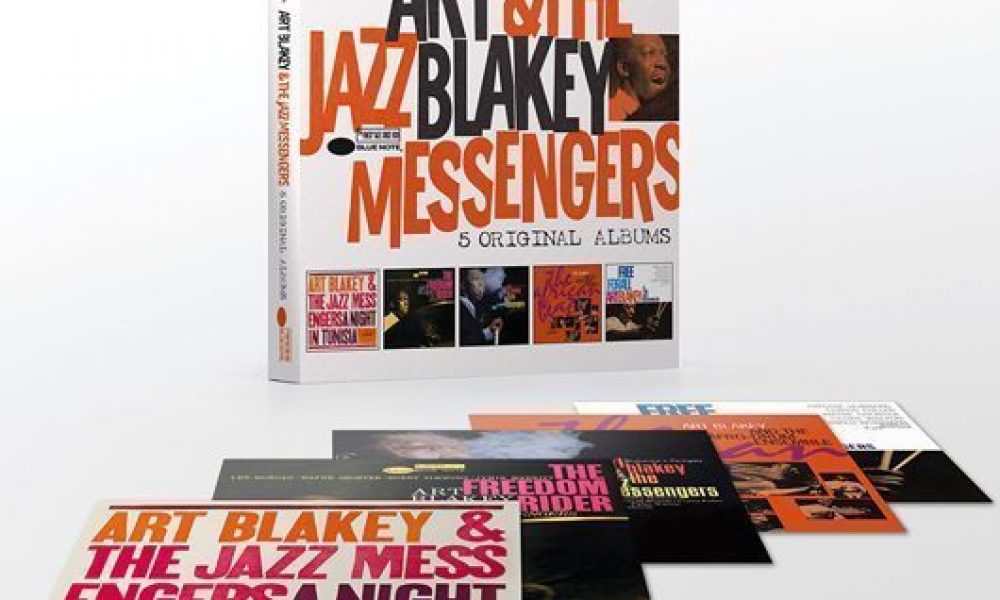 These five Art Blakey albums were recorded between 1960 and 1964, a period of intense creativity for the brilliant drummer and the Jazz Messengers.
A Night In Tunisia was recorded over two dates at Rudy Van Gelder Studio, Englewood Cliffs studio and features what is for many their favourite Messenger line-up – Lee Morgan (trumpet) Wayne Shorter (tenor sax) Bobby Timmons (piano) Jymie Merritt (bass) and of course Art Blakey on drums . As Barbara J. Gardner's liner notes said at the time of the original release, "This album is a prime example of Blakey's expressed desire to showcase his young talent. Not only is there extended solo room for the musicians; further, all but the title tune were written and arranged by the talented junior jazz citizens in his group." Throughout the whole album the Messengers take the boundaries of hard bop and blues to the limit .
Six months later the same line up were back at Van Gelder's to begin recording, The Freedom Rider, and they completed it in May of 1961. This was the last album by this edition of the Jazz Messengers, having been together for 18 months. Blakey's drum solo on the title track is excellent, as is Shorter's playing on 'El Toro'.
By November 1961 and the recording of, Buhaina's Delight, Morgan had been replaced by a young Freddie Hubbard, and in addition to Merritt, and Wayne shorter this new version of the Messengers included, Curtis Fuller (trombone) and Cedar Walton (piano). There are some who would argue that this is the finest Messenger line-up and it would be splitting hairs to argue this version as opposed to the Lee Morgan era band.
For 1962's The African Beat was all change in more ways than one. This was Blakey's first opportunity to work with drummers from Africa, in a blend of American jazz with the traditional rhythms. The album includes compositions by African and American musicians, all based on aspects of West African music. Yusef Lateef is featured on oboe, tenor sax, flute, cowbells and thumb piano, with Billboard describing this as, "An exciting and imaginative set" in their review from 1 December 1962
1964's Free For All is the same line-up as Buhainia's delight, with the exception of Reggie Workman on bass. It is a classic record, one of Blakey's finest; as Nat Hentoff says in the original liner notes, "There are times when Art is so much on fire that he almost drives you off the stand."
Irresistible, passionate, energetic, and intense could all be used to describe this album, which was recorded the day after the Beatles made their debut on Ed Sullivan's TV show and changed the musical landscape of America forever. This was the last Blue Note album on which Freddie Hubbard appeared with the band. As Billboard said of the album in August 1965, "The Messengers wail through four originals with an abandon typical of Blakey's driving drumming and leadership…this jazz is very up to the moment"
These fabulous Art Blakey and the Jazz Messengers albums will be released on 21 October and are available now to preorder
Format:
UK English