Gov't Mule Start 'Revolution' With New Album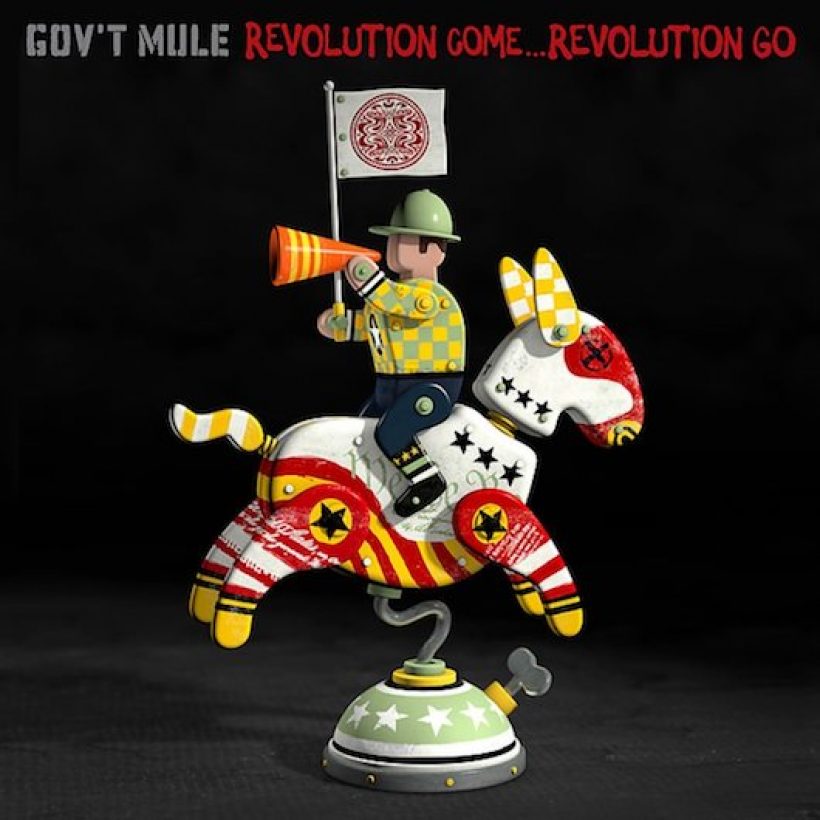 Southern rock staples Gov't Mule will return with the new album Revolution Come…Revolution Go on Fantasy Records, via Concord Music Group, on 9 June. It's their 10th full-length studio release, the follow-up to 2013's Shout!, and a record that frontman and guitar figurehead Warren Haynes says reflects the times we live in.
"It was very poignant that we went into the studio in Austin, Texas, to begin recording on Election Day [last November]," notes Haynes."Like most people, we really had no idea that the election was going to turn out the way it did. That changed everything – from a lyrical perspective. It's not a political record, per se, but there are political connotations.
"There are also love songs, relationship songs, and songs about working together to make this a better planet. It covers a lot of ground, but it definitely starts and ends as a rock 'n' roll record. It's all within the realm of what we do, but it explores a lot of territory and, in some cases, territory we've never explored before."
Six tracks were co-produced, with Haynes, by longtime collaborator Gordie Johnson, and there's a guest vocal appearance on 'Burning Point' by Jimmie Vaughan. "When I first wrote 'Burning Point,' it had more of a New Orleans feel to it," notes Haynes. "But when we got into the studio in Austin to record it, it took on more of a Texas vibe, and Jimmie really added to that."
The quartet, originally formed in 1994 as a jam band spinoff from the Allman Brothers Band, features Haynes along with keyboardist-guitarist Danny Louis, bassist Jorgen Carlsson and drummer Matt Abts. "One of our missions has always been to stay together as a band long enough to bring all of these different influences to the surface," adds Haynes. "Blues, funk and soul are a part of what we do.
"In the late '60s and early '70s, the umbrella of rock music had room for so many different stylistic approaches – bands that were worlds apart were still considered 'rock' bands. We've always taken a cue from that. And although I've said it previously about other Gov't Mule releases, this is probably the most diverse record we've ever made. That's really important to us."
A number of tracks have been released digitally ahead of the album, including 'Dreams & Songs,' one of two tracks (along with 'Pressure Under Fire') co-produced by Haynes with the ever in-demand Don Was.
Also available digitally is 'Sarah, Surrender,' "the last song written for the project," as Haynes explains. "It was recorded in New York City in January, after the Austin sessions were done. It seemed like the missing piece to the puzzle."
The other lead song is 'Stone Cold Rage,' which, says Haynes, "represents the divide that's going on in our country right now. Even though it was written before the election, it was written knowing that whichever way the results went, we were going to have close to fifty percent of the nation very angry. Musically, it's an aggressive up-tempo rock song that reflects the anger of the lyrics, but with a sense of sarcasm and humour."
Seemingly never far from the road, Gov't Mule are currently completing some US dates before travelling to Europe, for gigs beginning at the Music Legends Festival in Bilbao, Spain on 3 June. They resume North American touring at the end of June, and have further European shows booked in October and November.
Pre-order Revolution Come…Revolution Go here. 
Format:
UK English