Krall Albums Regain Their Verve On Vinyl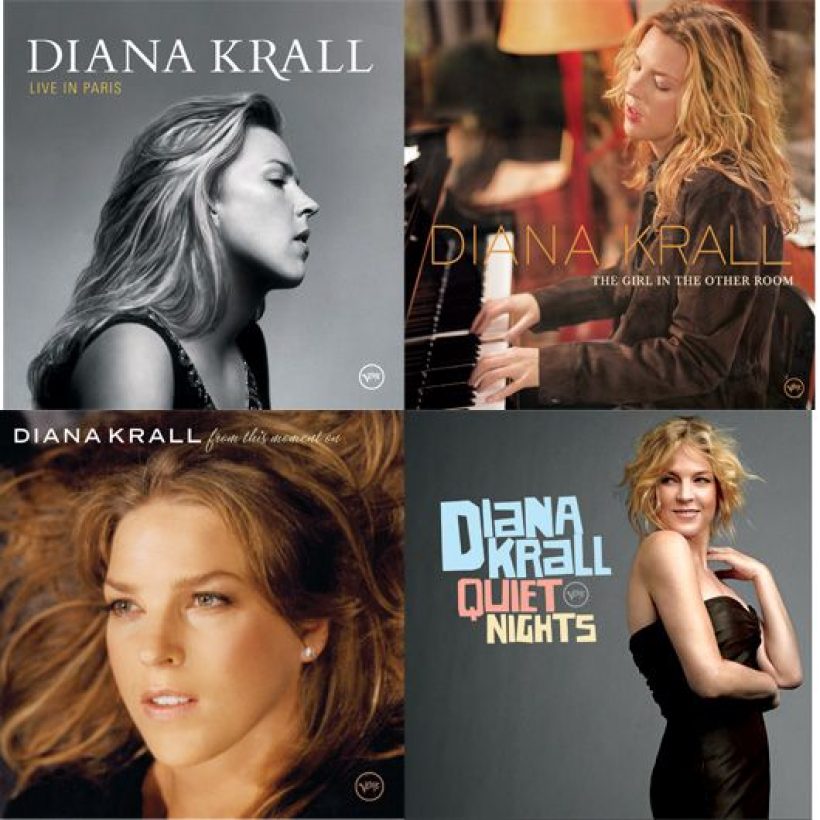 A versatile pianist and singer, Diana Krall has cut a singular path through the pop and jazz worlds, proving herself as comfortable singing Great American Songbook standards as she is performing live with Paul McCartney or duetting on record with Ray Charles. In the two decades she's spent on the Verve label, Krall has released everything from full-length tributes to Nat King Cole (1996's All For You: A Dedication To The Nat King Cole Trio) to a collection that focused more heavily on her own original songs, co-written with her husband, Elvis Costello (2004's The Girl In The Other Room).
Twenty years on from the release of her Nat King Cole outing, and as part of Verve Records' 60th-anniversary celebrations, eight of Krall's finest albums are being reissued on 180g 2LP vinyl, on 15 July. Showcasing a true talent, they are also a fitting reminder of the unbridled creativity that Verve has fostered in its six-decade history.
Scroll down to find out more about each of the albums…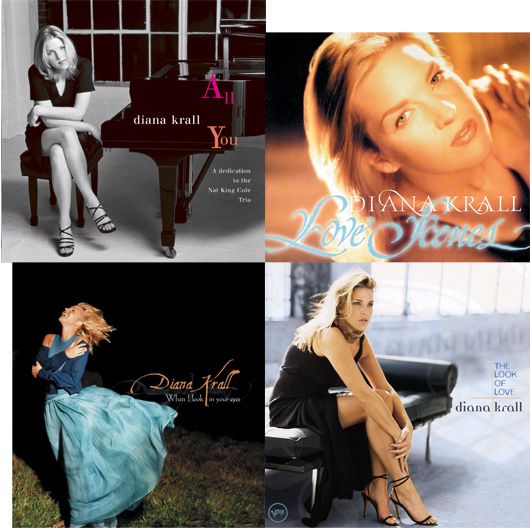 All Of You: A Dedication To The Nat King Cole Trio (1996)
Teaming up with guitarist Russell Malone and bassist Paul Keller, Krall is in full command as the head of her own trio, paying tribute to one of the finest jazz vocalists of all time. 'Boulevard Of Broken Dreams', 'Hit That Jive Jack' and 'I'm An Errand Girl For Rhythm' are among the gems on offer.
Love Scenes (1997)
With Christian McBride replacing Paul Keller on bass, Krall leads her new-look trio though 13 of her favourite love songs, among them 'How Deep Is The Ocean (How High Is The Sky)', 'They Can't Take That Away From Me' and 'Peel Me A Grape'. The album marked her first appearance on the charts, making the Top 40 in France and reaching No.47 in her homeland of Canada.
When I Look In Your Eyes (1999)
Finding Krall fully confident with a large ensemble, including an orchestra conducted by Oscar-winning composer and arranger Johnny Mandel, When I Look In Your Eyes is a collection of standards, from 'Let's Face The Music And Dance' to 'I've Got You Under My Skin'. It earned Krall a Best Jazz Vocal Performance Grammy and also became the first jazz record in 25 years receive an Album Of The Year Grammy nomination.
The Look Of Love (2001)
Building on the success of its predecessor, The Look Of Love was another highly personal collection of love songs, including the title track, 'Love Letters' and 'Cry Me A River'. This time backed by the superlative London Symphony Orchestra, Krall achieved her first ever No.1 at home and entered the Top 10 in the US charts.
Live In Paris (2002)
While on tour in support of The Look Of Love, Krall performed a sold-out run at Paris' iconic Olympia Music Hall. Issued the following year, Live In Paris captures all the magic of a Diana Krall live show, proving her a master of the stage.
The Girl In The Other Room (2004)
For her seventh studio album, Krall revealed that she was as confident a songwriter as she was an interpreter, teaming with her husband, Elvis Costello, for an album that focused largely on original material for the first time in her career. She was rewarded with her highest-charting album yet: another No.1 in Canada, and a Top 5 entry throughout the US, UK and Europe.
From This Moment On (2006)
In returning to the Great American Songbook, Krall tapped back into some of her formative influences – Irving Berlin, Cole Porter, George and Ira Gershwin – and earned herself a her 10th Grammy nomination, for Best Jazz Vocal Album.
Quiet Nights (2009)
Krall's 10th studio album was another across-the-board smash that sat comfortably in the upper echelons of charts around the world. Yet another Grammy-winner (for Claus Ogerman's arrangements), the album was a glorious trawl through 60s pop-soul ('Walk On By'), bossa nova ('The Boy From Ipanema') and showtunes ('I've Grown Accustomed To His Face'): further affirmation of Krall's astounding versatility as a pianist, vocalist and interpreter.
Format:
UK English