Little Steven Van Zandt Debuts New Solo Album 'Soulfire'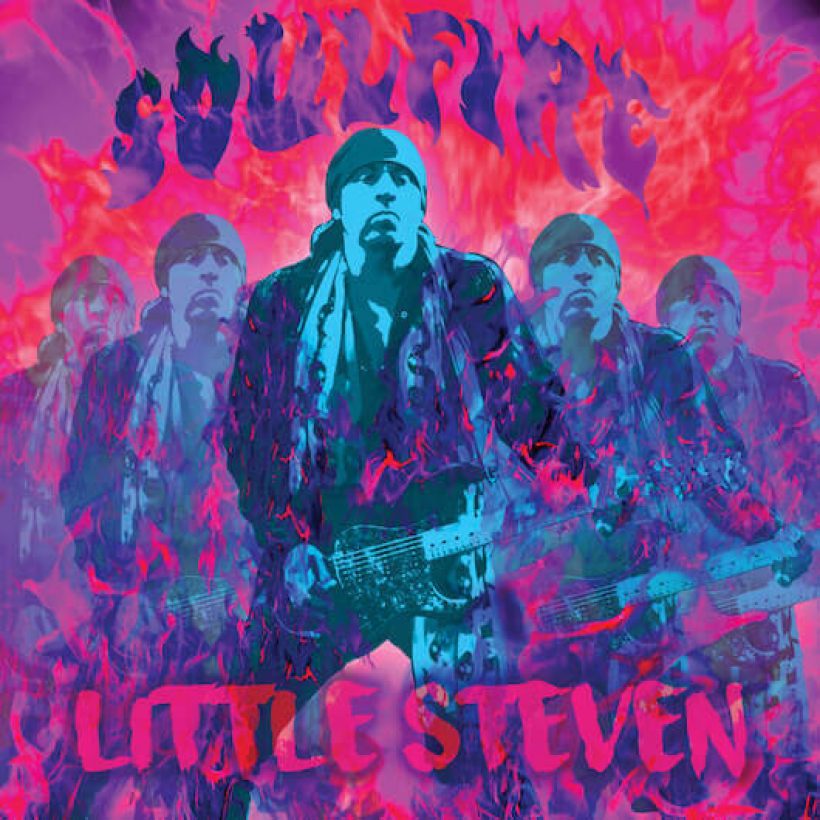 It's not enough touring all over the world as one of the legendary members of Bruce Springsteen's E Street Band, Steven Van Zandt juggles more musical obligations than most artists in a lifetime.
As host and unofficial rock 'n' roll custodian on Sirius XM's syndicated radio show "Little Steven's Underground Garage", the former Sopranos star is a human encyclopaedia of music and flexes his creative muscles composing the score for all three seasons of the TV series Lilyhammer in which he stars in and works as a producer and songwriter.
After hinting at an album back in February, the Rock and Roll Hall of Famer made the news official with the announcement of SOULFIRE, his first solo album in nearly two decades. The album represents a collection of songs that span his artistic career and his signature soul horns meets garage rock from his Asbury Jukes days.
"I felt a bit guilty about having walked away from Little Steven the artist," Van Zandt said. "I left that part of myself behind and I shouldn't have done that. I let the material down by not continuing to perform it. I didn't give up on the material – there were a lot of other factors – but I do have a sense of wanting some redemption for it".
SOULFIRE is set to arrive on 19 May and will be available on CD, digitally and on vinyl as a double LP. Pre-order begins today, 7 April, that includes an instant download of the recently unveiled single 'Saint Valentine's Day'. Additional downloads for pre-orders include the fiery title track, 'Soulfire' will be released in the coming weeks.
After a brief hiatus from touring with E Street, Little Steven rounded up an "ever-changing group of misfits, rogues, and roustabouts" to resurrect his former solo band the Disciples of Soul that included three backing vocalists and a full horn section currently featuring original Asbury Jukes/Miami Horns saxophonists Stan Harrison (tenor) and Eddie Manion (baritone) and a 15-piece big band. After a splashy debut at London's BluesFest 2016, Van Zandt figured, "Well, we've already learned 22 songs. Maybe we should make an album."
Flush with excitement from his new band, Little Steven headed to his own Renegade Studios in New York City to arrange and produce the record. He was joined by Grammy Award-winner Geoff Sanoff who co-produced and by music director Marc Ribler.
Having accomplished so much working behind the scenes, the album represents some of his best songwriting from over the years as well some new tracks.
"I've always been very thematic with my work, very conceptual", Van Zandt said. "I need a big picture, I can't just do a collection of songs, that doesn't work for me. In this case, the concept became me. Who am I? I'm kind of my own genre at this point. So I tried to pick material that when you added it all up, really represented me. So there are a couple of covers, a couple of new songs, and some of what I feel are the best songs I've written and co-written over the years. This record is me doing me".
Little Steven and the Disciples of Soul will be hitting the road along with their 15-piece band to perform SOULFIRE on a North American and international tour, kicking off 22 April where the New Jersey icon will return to the historic Paramount Theatre in Asbury Park, New Jersey.
SOULFIRE is out on 19 May via Wicked Cool/Big Machine/UMe records will be available on CD, digitally and on vinyl as a double LP. Scroll down to read the full tracklisting and order the album here.
Tracklist
1. Soulfire
2. I'm Coming Back
3. Blues Is My Business
4. I Saw The Light
5. Some Things Just Don't Change
6. Love On The Wrong Side of Town
7. The City Weeps Tonight
8. Down and Out In New York City
9. Standing In The Line Of Fire
10. Saint Valentine's Day
11. I Don't Want To Go Home
12. Ride The Night Away
Format:
UK English