Mark Knopfler Announces 'Tracker' — Exclusive Quotes & Pre-Order Here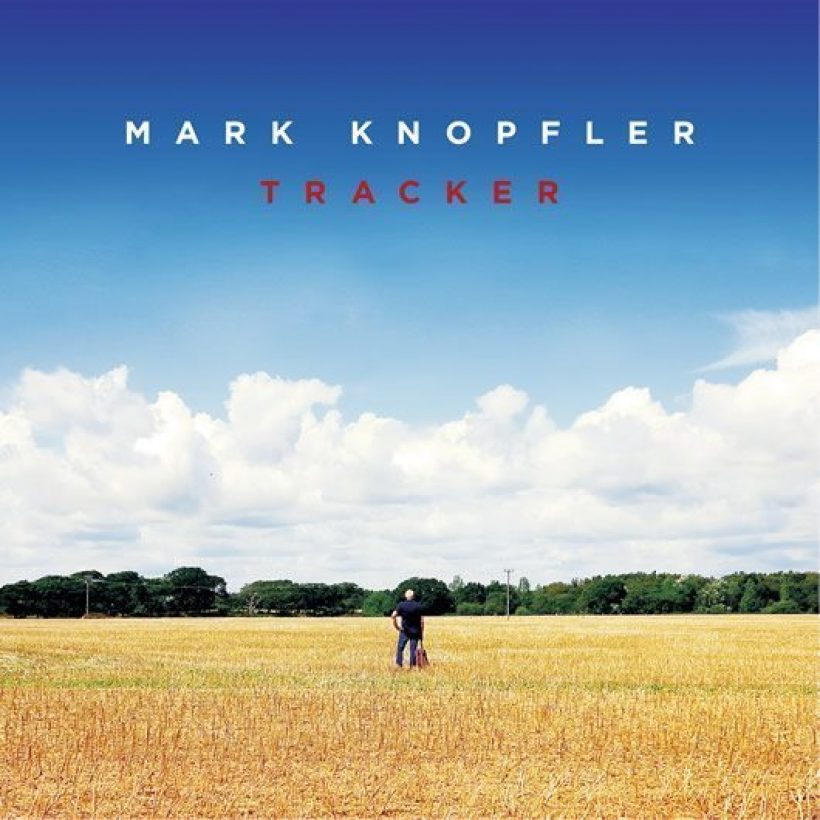 Limited edition deluxe boxset now available to pre-order from the uDiscover store here.
Mark Knopfler's eagerly-anticipated eighth solo album, titled 'Tracker,' will be released on Virgin EMI on March 16. The follow-up to 2012's Europe-wide top ten set 'Privateering,' it was recorded as usual at the celebrated singer-guitarist's British Grove Studios in west London, and produced by Knopfler with his longtime collaborator Guy Fletcher.
With Knopfler on all guitars and Fletcher playing all keyboards, the album features a stellar core band of Glenn Worf on bass, Ian 'Ianto' Thomas (drums), John McCusker (fiddle) and Mike McGoldrick on whistle and flute. Additional contributors include Nigel Hitchcock on saxophone, Phil Cunningham on accordion, Tom Walsh on trumpet and Ruth Moody, leader of Canadian roots trio the Wailin' Jennys on vocals. Moody duets on the 11-track album's closing duet 'Wherever You Go.'
Subject matter on the record is drawn from characters and situations, both real life and imagined, in Knopfler's own experiences. 'Basil' is inspired by the poet Basil Bunting, whom Mark encountered when he was a teenage copy boy working on the Newcastle Evening Chronicle, and 'Beryl' is about the Liverpudlian writer Beryl Bainbridge.
In comments revealed first today on uDiscover, Knopfler explains the title of the album by saying: "You're involved in tracking down subject matter, tracking down an idea, investigating the whole thing. Sometimes you're not exactly sure what it is you're tracking, and you find out as you're circling it, and getting closer to it. That's part of the thrill."
Of Ruth Moody, he says: "I came across Ruth through hearing her singing with the Wailin' Jennys. They always sounded great, and I saw Ruth singing on 'The Transatlantic Sessions.' Then I realised that, of course, she was making her own records, and that they were beautiful. There's just something celestial about her voice."
The track listing of the album features 'Laughs and Jokes and Drinks and Smokes,' 'Basil,' 'River Towns,' 'Skydiver,' 'Mighty Man,' 'Broken Bones, 'Long Cool Girl.' 'Lights of Taormina,' 'Silver Eagle,' 'Beryl' and 'Wherever I Go,' featuring Ruth Moody. A double heavyweight vinyl edition has the album over four sides, and a vinyl Deluxe edition adds four bonus tracks, '.38 Special,' 'My Heart Has Never Changed,' 'Terminal of Tribute To' and 'Heart of Oak.'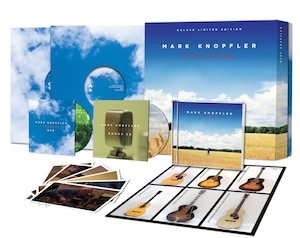 The lavish box set edition, pictured above, has six extra tracks (the four above-named plus 'Time Will End All Sorrow' and 'Oklahoma Ponies'). The box contains the CD, a 12-inch LP, the six-track bonus disc, a DVD containing an exclusive video and interviews, a numbered art print and six photographic prints. All of these editions can be pre-ordered now from the uDiscover Deluxe Audio Store: click here for the CD, here for the Deluxe CD, here for the vinyl LP and here for the box set.
As ever, immediately following an album release, Knopfler and his band will embark on an extensive European tour. Dates begin on May 15 in Dublin, and their seven-date UK and Ireland itinerary is followed by a huge 40-date European trek that continues until July 31.
"As soon as there's a soundcheck or a rehearsal, and the band's there, you're putting it all together, and I feel very at home," Knopfler tells us. "It's something I can do.'
Explore our dedicated Mark Knopfler Artist Page
Update: Please note that due to unprecedented demand, the initial planned run of the limited edition box sets has been increased in quantity to allow more fans to get hold of them. It remains limited however and fans are advised to order soon to be sure of securing a set!
Format:
UK English