Sinatra Spans The Globe On 'World On A String'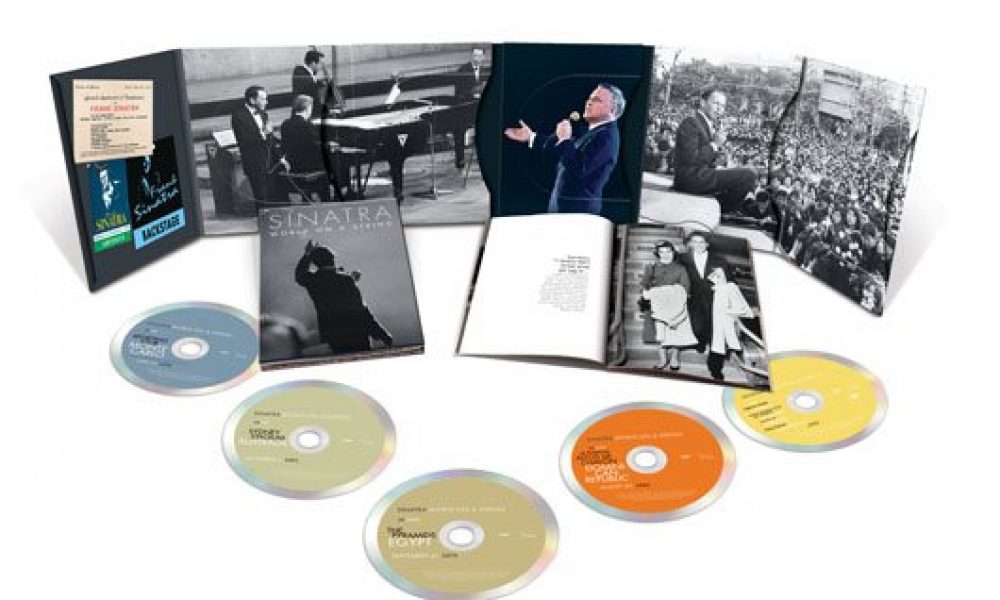 Frank Sinatra may be most often associated with New York or Las Vegas but, truth is, he was a star with global appeal to rival even the world's biggest names: the Stones, Beatles and Elvis among them. Following acclaimed box sets that have focused on his live performances in New York, or his studio sessions in London, World On A String, due for release on 21 October via UMe and Frank Sinatra Enterprises, presents The Chairman's finest performances around the world, taking in concerts from such far flung places as Monte Carlo, Australia and the Dominican Republic. There's even a concert held at Great Pyramid Of Giza, in Egypt – capturing what happened when one of the wonders of the music world visited one of the Seven Wonders Of The Ancient World.
Across four CDs and a DVD, World On A String collects three decades' worth of performances, from 1953 to 1982, most of which are being made available for the first time. Tracing Sinatra's development as a live performer, they also capture how his music spread around the world, and highlight one of the lesser-known aspects of Sinatra's life: his charity work. Many of the performances included in the set were held as benefits for local children, contributing to the more than $1 billion that Sinatra raised for charity in his lifetime.
"I really don't know what jet lag is – I don't understand it!" Sinatra once exclaimed, adding, "Luckily, it never bothered me." As if a testament to that, the recordings on World On A String reveal that Sinatra's voice never tired over the years; each show finds him in perfect form.
Well, what else would you expect from the man they called The Voice?
World On A String is out on 21 October. Scroll down to read the full tracklisting, and purchase the box set here:
The full World On A String tracklist is:
CD1
Sporting Club, Monte Carlo (14 June 1958)
'Introduction By Noel Coward'
'Clarke Street' [Play On]
'Come Fly With Me'
'I Get A Kick Out Of You'
'I've Got You Under My Skin'
'Where Or When'
'Moonlight In Vermont'
'On The Road To Mandalay'
'When Your Lover Has Gone'
'April In Paris'
'All The Way'
'Monique'
'Bewitched'
'The Lady Is A Tramp'
'(Love Is) The Tender Trap' [Play Off]
'You Make Me Feel So Young'
'(Love Is) The Tender Trap' [Bows]
Bonus Tracks: RAI Radio Club, Italy (20 May 1953)
'Radio Club Introduction'
'Welcome And Greetings'
'September Song' [Frank Sinatra]
'Presentation And Announcements'
'Laura' [Frank Sinatra]
'Baseball Segment'
'Ninna Nanna' [Domenico Modugno]
'Night And Day' [Frank Sinatra]
'Closing Remarks'
CD2
Sydney Stadium, Australia (2 December 1961)
'Introduction By Tommy Hanlon Jr'
'I've Got The World On A String'
'I Concentrate On You'
'Night And Day'
'Moonlight In Vermont'
'In The Still Of The Night'
'I'll Be Seeing You'
'Day In, Day Out'
'The Moon Was Yellow (And The Night Was Young)'
'You're Nobody 'Til Somebody Loves You'
'Monologue'
'Come Fly With Me'
'April In Paris'
'A Foggy Day'
'Without A Song'
'Imagination'
'The Second Time Around'
'Young At Heart'
'Witchcraft'
'Embraceable You'
'The One I Love (Belongs To Somebody Else)'
'My Funny Valentine'
'My Blue Heaven'
'Angel Eyes'
'One For My Baby (And One More For The Road)'
'The Lady Is A Tramp'
CD3
The Pyramids, Egypt (27 September 1979)
'Mrs Sadat's Comments'
'The Song Is You'
'Where Or When'
'The Lady Is A Tramp'
'Someone To Watch Over Me'
'Something'
'My Kind Of Town'
'All The Way'
'Bewitched'
'I've Got You Under My Skin'
'The Gal That Got Away'/'It Never Entered My Mind' [Medley]
'Monologue'
'Try A Little Tenderness'
'Strangers In The Night'
'Street Of Dreams'
'April In Paris'
'Theme From New York, New York'
'My Way'
'Bows (My Way)'
'Closing Comments By Frank Sinatra'
CD4
Altos De Chevon, La Romana, Dominican Republic (20 August 1982)
'I've Got The World On A String'
'I Get A Kick Out Of You'
'Come Rain Or Come Shine'
'When Your Lover Has Gone'
'The Lady Is A Tramp' [Reprise]
'The House I Live In'
'Searching'
'My Kind Of Town'
'Something'
'The Best Is Yet To Come'
'Strangers In The Night'
'All Or Nothing At All'
'Introduction Of Musicians'
'The Gal That Got Away'/'It Never Entered My Mind' [Medley]
'I've Got You Under My Skin'
'Send In The Clowns'
'Quiet Nights Of Quiet Stars (Corcovado)'
'I Won't Dance'
'Buddy Rich Band Introduction'
'Theme From New York, New York'
'Bows (Theme From New York, New York)'
DVD
Hibya Park, Japan (21 April 1962)
'Introduction'
'Too Marvelous For Words'
'Imagination'
'Moonlight In Vermont'
'Day In, Day Out'
'Without A Song'
'The Moon Was Yellow (And The Night Was Young)'
'I've Got You Under My Skin'
'I Get A Kick Out Of You'
'At Long Last Love'
'My Funny Valentine'
'In The Still Of The Night'
'Embraceable You'
'Night And Day'
'April In Paris'
'The Lady Is A Tramp'
'Bows'
''Monologue and Band Introductions'
'All The Way'
'Chicago'
'I Could Have Danced All Night'
'Bows (Closing)'
Frank Sinatra With All God's Children, 1962
Sinatra In Israel, 1962
Perugina Commercials, 1962
'Night And Day'
'My Funny Valentine'
'I've Got You Under My Skin'
'Moonlight In Vermont'
'I Love Paris'
'Come Fly With Me'
'My Blue Heaven'
'Chicago'
'Imagination'
'Witchcraft'
'A Foggy Day'
'The Lady Is A Tramp'
Format:
UK English