Supreme Temptations On 'The Early Motown EPs Volume 2'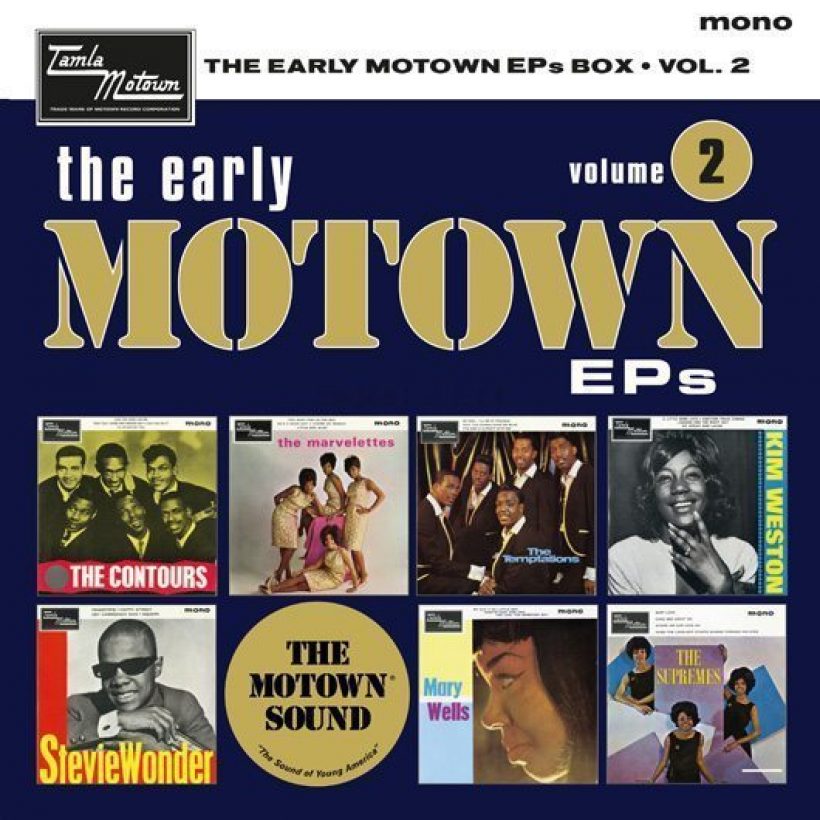 1965 was a banner year for Motown. Building on the success of the label's first UK No.1, The Supremes' 'Baby Love', Berry Gordy's Detroit-based imprint went all-guns-blazing into the new year, releasing a total of 199 singles in the US and UK combined, plus a string of EPs that gathered several choice A- and B-sides together on one disc. Giving Mary Wells' 1964 Billboard chart-topping single 'My Guy' another airing, alongside floor-fillers the likes of The Contours' 'Can You Jerk Like Me' and Stevie Wonder's 'Fingertips', and the unimpeachable US No.1, The Temptations' 'My Girl', the EPs came in mouth-watering picture sleeves that ensure the discs remain highly collectable among Motown fans.
The Early Motown EPs Volume 2 gathers together seven of the imprint's most sought-after EPs, with replica original artwork, making it a collector's dream. Featuring some of the label's finest outings by the likes of The Marvelettes, Kim Weston and Stevie Wonder, and with the original pressings now nearly impossible to find in any condition, these seven discs will fill your heart without emptying your wallet.
The Early Motown EPs Volume 2 is out now. Scroll down to read the full tracklist, and order the box set here.
Click here to follow the Motown playlist, which features hits by The Marvelettes, Steve Wonder and The Supremes, along with many other classics from the Motown roster.
The full The Early Motown EPs Volume 2 tracklist is:
EP1: The Contours
'Can You Jerk Like Me'
'That Day When She Needed Me'
'Can You Do It'
'I'll Stand By You'
EP2: The Marvelettes
'Too Many Fish In The Sea'
'He's A Good Guy (Yes He Is)'
'You're My Remedy'
'Little Girl Blue'
EP3: The Temptations
'My Girl'
'I'll Be In Trouble'
'(Girl) Why You Wanna Make Me Blue'
'The Girl's Alright With Me'
EP4: Kim Weston
'A Little More Love'
'Another Train Coming'
'Looking For The Right Guy'
'Go Ahead And Laugh'
EP5: Stevie Wonder
'Fingertips'
'Happy Street'
'Hey Harmonica Man'
'Square'
EP6: Mary Wells
'My Guy'
'Oh Little Boy (What Did You Do To Me)'
'What's Easy For Two Is So Hard For One'
'You Lost The Sweetest Boy'
EP7: The Supremes
'Where Did Our Love Go'
'Baby Love'
'Come See About Me'
'When The Lovelight Starts Shining Through His Eyes'
Format:
UK English