Alan Jackson Performs At Historic Ryman Auditorium For 'Where Have You Gone' Video
'I started just wanting to make music I love and I know most of my fans love,' says Jackson.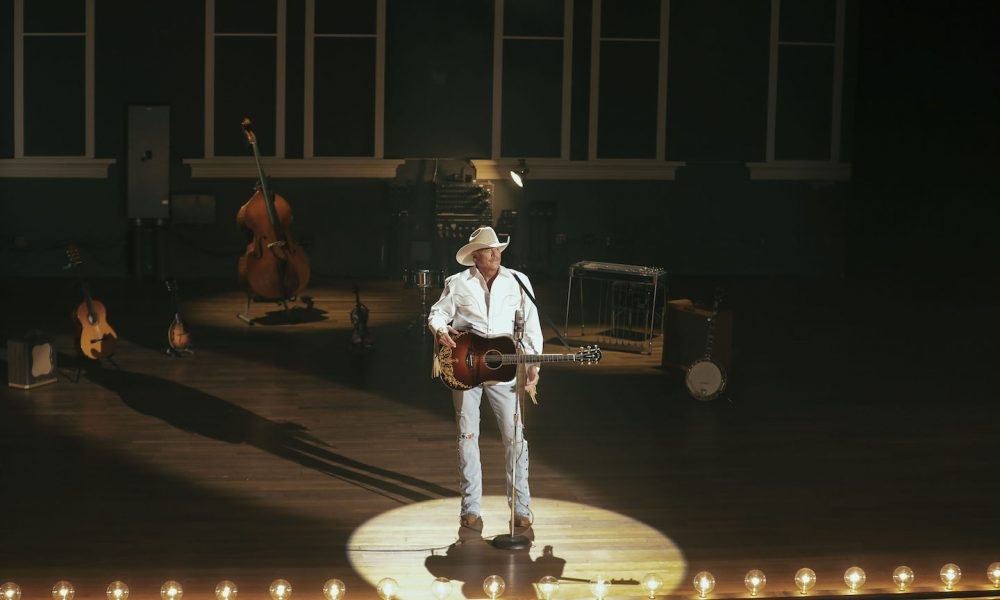 Country music superstar Alan Jackson has released a music video for "Where Have You Gone," the title track from his acclaimed new album.
Nashville's historic Ryman Auditorium provides the setting for the Peter Zavadil directed video. Filmed in black-and-white, creating an instantly dramatic and cinematic feel, Jackson can be seen alone on the stage of Country Music's most famous venue. The Country Music Hall of Famer is surrounded by instruments – a fiddle, steel guitar, banjo, upright bass, acoustic guitar, simple drums – all just waiting to be played.
Alan Jackson - Where Have You Gone (Official Music Video)
"This is Alan's idea…capturing all of this incredible history that's happened here," Zavadil shares. "The goal was to make the Ryman as much of a character in this as Alan is the artist onstage," he adds. "This is a magical place."
"The song kind of starts out like it's a lost love," Jackson says. "I love what I call 'real country music,' and I just see it fading away more than I ever have," he explains. "I just wanted to say that."
The lone figure strums his favorite guitar as he sings the mournful lament on the famous stage, his eyes drawn to the light from windows high above the building's pews. As the song unfolds, Jackson is joined behind the Ryman's footlights by the ethereal-but-very-real images of bonafide legends who made history on that very same stage: Johnny Cash, Patsy Cline, Merle Haggard, George Jones, Hank Williams and Tammy Wynette.
Back in May, Jackson made a special appearance on Apple Music's Essentials Radio in support of Where Have You Gone.
Jackson joined host Kelleigh Bannen to take a deep dive into his life and career, culminating in a conversation surrounding his first set of new music for six years.
"I started just wanting to make music I love and I know most of my fans love," Jackson tells Bannen in the interview. "And that's what I wanted to do on this record."