Beyond Black: Amy Winehouse Retrospective Opens At The Grammy Museum
Her friend Catriona Gourlay and personal stylist Naomi Parry who curated the collection share their personal memories of Amy.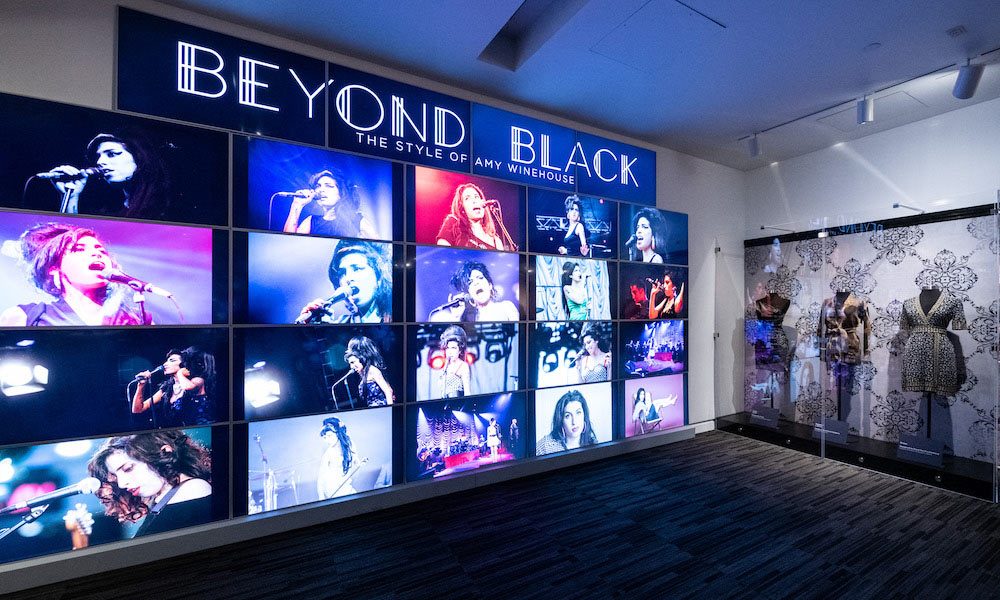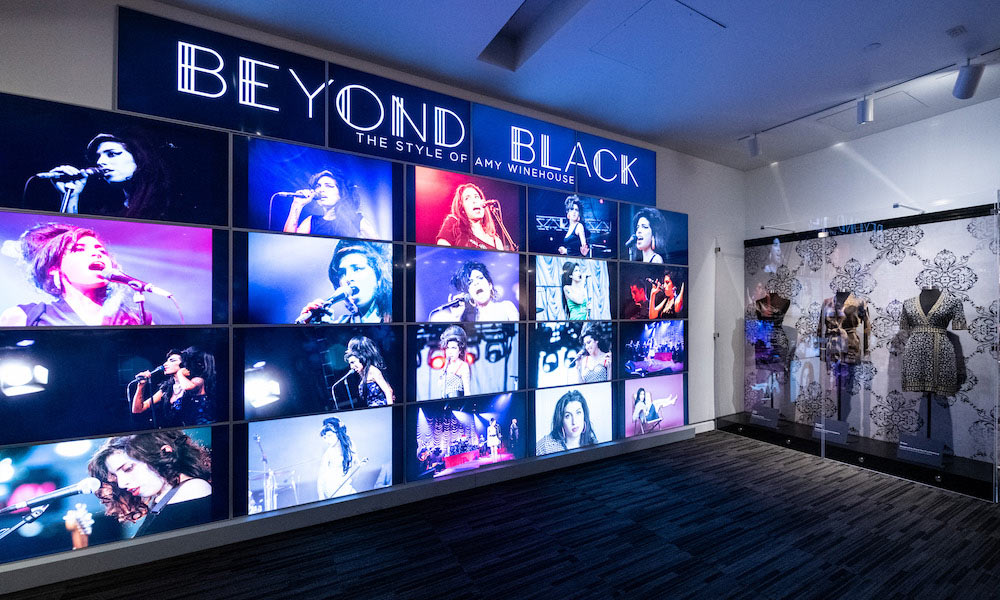 Amy Winehouse was a musical force and style icon. Her towering bouffant was just as large as her legacy and now all of her signature looks are on display at the Grammy Museum in Los Angeles as part of their new exhibit, 'Beyond Black: The Style of Amy Winehouse', which runs through 13 April.
The collection is impressive to say the least, there's the black Dolce & Gabbana dress she wore in 2008 when she collected five Grammys via satellite, the yellow Preen dress and heart-shaped Moschino purse she wore to the 2007 Brit Awards and many of her sky-high heels (and famous ballet slippers).
Alongside her many stage costumes, home videos and Grammy Awards, the exhibit also includes personal handwritten notes and lyrics, her perfume, record collection and the pieces from the exclusive line she designed for Fred Perry.
The opening night also featured an intimate conversation with Amy's close friend Catriona Gourlay and her friend and personal stylist, Naomi Parry, who shared fond stories about their time living and working with Winehouse.
With the help of the family, Parry and Gourlay helped to curate the exhibit, the first of its kind in the US, that sheds a more personal light on the late singer and her passions and influences.
Both Gourlay and Parry met Winehouse when they were young women, Gourlay through mutual school friends and Parry at a bar when the two realised they might be kindred spirits after clocking each other both backcombing their hair in the bathroom.
The evening felt less like a panel and more like a late-night chat session, as the two friends reminisced about their memories with Amy.
Meeting Amy
"It's one of those series of events that you look back on your life later on and think, 'Had that small chance thing not happened…'" Gourlay recalls. The two were inseparable and living together soon after they met.
"She asked me to be her stylist and I went with her everywhere, on tour, hanging out, and our friendship developed from there," Parry shared.
Living together
"It was the best of times and the worst of times," Gourlay recalled. "We terrorised every single man living in Camden. Particularly if you were in an indie band, your number was up," she joked.
Gourlay also talked fondly about Amy writing her personal notes and how it felt to hear her singing in the house throughout their time living together.
Amy's style
"She had a really strong sense of her own style," Parry said. "I think the reason why she asked to work together is that we were friends and she trusted me to almost be her eyes, to go out and find her stuff. She didn't do fittings, so I'd just have to kind of wing it."
From the waist-belts to head scarfs and 50s-style dresses, part of what made Winehouse's style so popular was its accessibility. She'd mix high street finds with up-and-coming designers like Preen for a look that was wholly her own, Parry explained. Winehouse also worked with Gourlay at in Camden at Stables Market, where she found a lot of her inspiration.
"It developed over time and she was also inspired by the girls we were hanging out with," Gourlay recalled. "A lot of us had the big hair and head scarfs, the cat eye-liner, which then turned into something that was synonymous with her."
Also on display is a tiny gold dress designed by Dolce & Gabbana with a frayed hem, which immediately catches the eye.
As time went on the dresses got shorter and shorter, Parry explained. Winehouse would either hike them up or ask Parry to shorten (or in this case) cut the hemline straight off.
"I hacked the bottom of this dress off, but now it's out there with its wonky hemline." Parry said.
One of the highlights of this exhaustive exhibit is a line of custom dresses that Parry designed and created in a mere 8 weeks for Winehouse's 2011 tour. Parry was only 19 when she was dressing Amy at the BRIT Awards and continued to style her as Winehouse's star began to rise exponentially.
What inspired her
While many attribute Winehouse's style to 60s starlets and girl groups, both Parry and Gourlay explained she was more heavily influenced by the 50s, greaser culture and later, grindhouse films like Sin City, Planet Terror and Quentin Tarantino's Death Proof.
Gourlay shared an anecdote about sitting around their flat one night watching Sin City for the hundredth time when Winehouse went upstairs for a while and return to play them a new song, 'Love Is A Losing Game', for Gourlay and company.
"She had this ability to suddenly turn something into pure gold," Gourlay said.
While there have been many documentaries, biographies, think pieces written about the late soul singer since she died on 23 July 2011 at the age of 27, this is the first time the two have shared their personal stories about Winehouse.
"Today is the first day I've ever spoken about her publicly," Gourlay said. "I've never given an interview, I wasn't involved in the film, neither was Naomi. Our relationship with her was so tight, and so personal and that's why we've never done any of this. That is the thing that is most important to me."
'Beyond Black: The Style of Amy Winehouse' is on display at the Grammy Museum in downtown Los Angeles through 13 April.
Format:
UK English