Ariana Grande Releases Live Performance Of 'Off The Table' With The Weeknd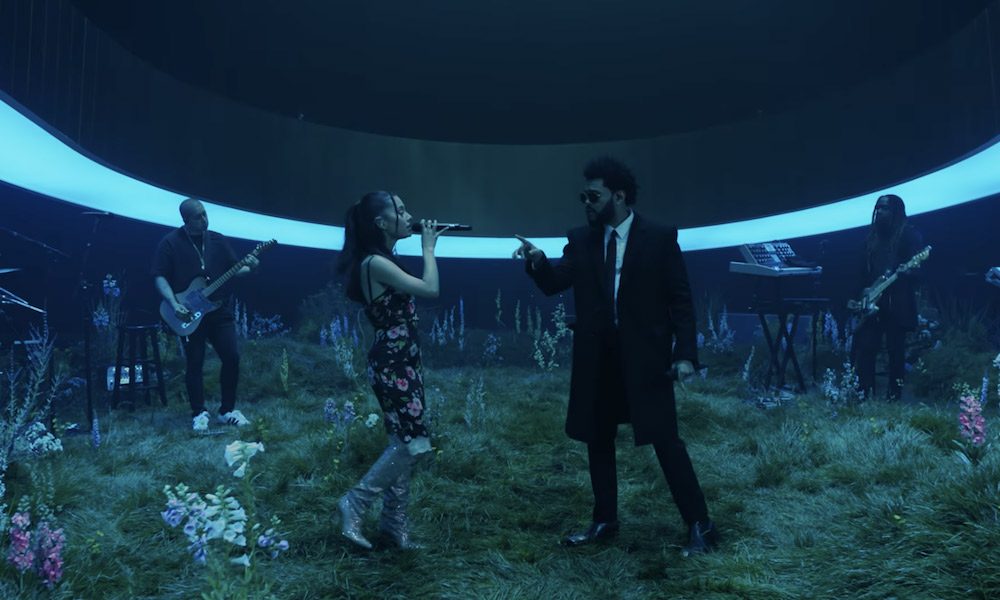 Ariana Grande has released another video in her ongoing series with VEVO. Today, she recruited The Weeknd for an exhilarating performance of their collaborative track "off the table." The track is from her 2020 smash, Positions.
In the video, Ariana and Abel perform in a studio accented by grassy fields and colorful flowers. Her backing band provides a solid groove atop which she flexes her vocal muscles. The performance follows renditions of "pov," "safety net (feat. Ty Dolla $ign)," "my hair," and "34 +35."
Regarding the series, VEVO said: "If our Official Live Performances of 'pov' and 'safety net' reveal anything, it's that Ariana Grande excels at her job because she's so passionate about the results. You don't hit the high notes, you don't exude candor, and you don't make pop music as moving as she does without crossing the T's and dotting the I's. A very cool Cali session with the look and feel of a cozy little meadow was a perfect place to turn some of the best tunes on Positions into utterly memorable performances. Go Team Ari. The Weeknd showed up to assist his pal with the dreamy mood of 'off the table.' As proven previously on tracks such as 'Love Me Harder" and 'Save Your Tears,' their chemistry is deep. The two stars glide through the song, helping each other reveal the nooks and crannies that are only obvious to accomplished musicians."
Positions was originally released on October 30, 2020 and peaked at No.1 on the Billboard 200 albums chart on November 13. Spending 15 weeks in the top spot, the album was an international success, topping the charts in Argentina, Canada, Ireland, Lithuania, New Zealand, Norway, and the United Kingdom. Since Grande debuted in 2008, the singer has gone from strength to strength with her music receiving numerous accolades and awards, in 2020 Billboard named her the greatest pop star of 2019.