Watch New Video For The Beach Boys' Festive 'The Man With All The Toys'
Serving as a Christmas card from the group, the clip ends with the message 'Merry Christmas from the Beach Boys.'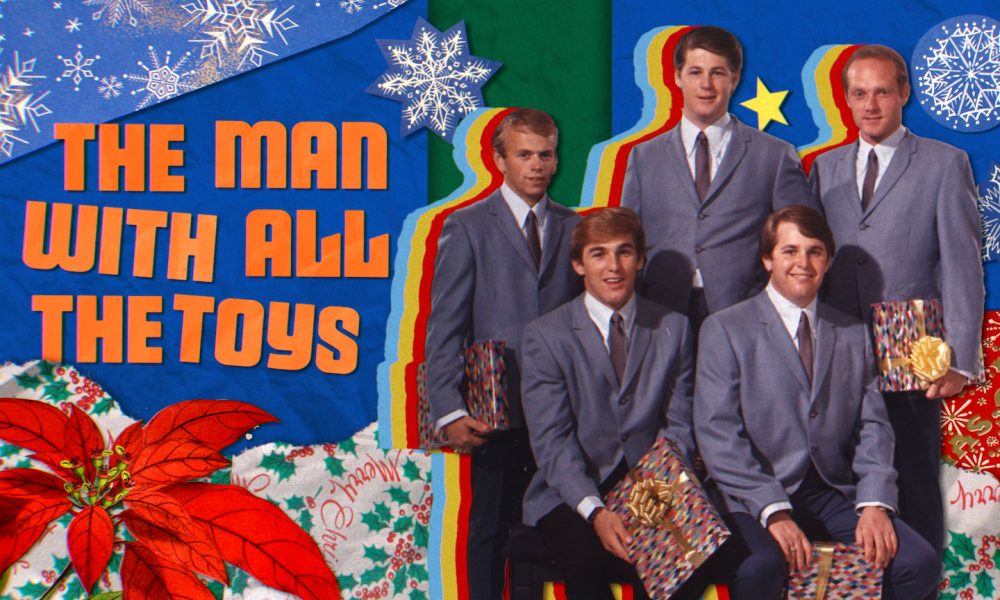 A brand new video has been shared today (26 November) for one of the best-loved holiday songs by the Beach Boys featuring their classic 1960s sound, "The Man With All The Toys."
The colorful clip features the lyrics of the song along with period images of the storied group, relaxing on surfboards, motorbikes and in other scenes, together with suitably festive imagery. Serving as a Christmas card from the group and a fond evocation of their youthful brilliance, it ends with the message "Merry Christmas from the Beach Boys."
"The Man With All The Toys" was on The Beach Boys' Christmas Album, which was released in November 1964. The holiday collection was already their seventh studio LP, in a period of just over two years since their first, Surfin' Safari. The song was written by Brian Wilson and Mike Love, who shared lead vocals, as one of five originals in the collection.
The Beach Boys - The Man With All The Toys (1991 Remix / Lyric Video)
The album also featured the single, the celebrated Beach Boys number also written by Wilson and Love, "Little Saint Nick." It came out as a 45 in early December 1964, while the group were still charting in the US with "Dance, Dance, Dance." It made the Cash Box singles chart and Billboard's holiday listings.
The Beach Boys' Christmas Album also featured Brian and Mike's new songs "Santa's Beard," "Merry Christmas, Baby," and Wilson's solo composition "Christmas Day." It also featured their distinctive versions of the perennial "Frosty the Snowman," "We Three Kings of Orient Are," "Blue Christmas," "Santa Claus Is Comin' to Town," "White Christmas," "I'll Be Home for Christmas," and "Auld Lang Syne."
The album made the Billboard Christmas charts in 1964, peaking at No.6, and returned to the Top 10 on that listing in 1965, also achieving lower peak positions in 1966, 1967, and 1968. It was certified gold for US shipments of half a million copies in 1982.
Buy or stream the Beach Boys' Feel Flows – The Sunflower and Surf's Up Sessions 1969-1971.