Watch Billie Eilish And Finneas Perform Haunting Acoustic 'Your Power'
The clip, directed by Kyle Goldberg, has Eilish's brother Finneas on acoustic guitar and backing vocals.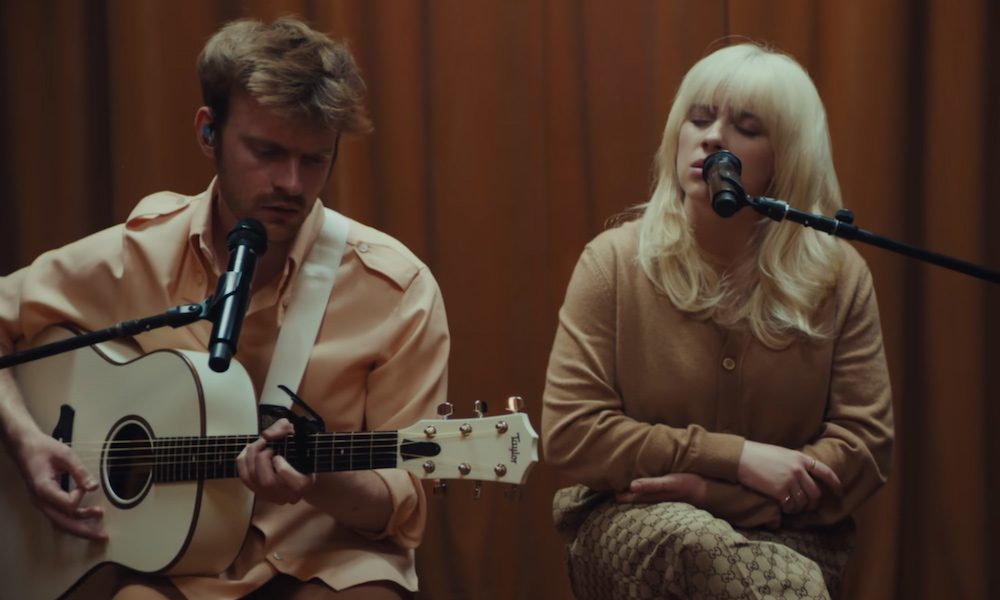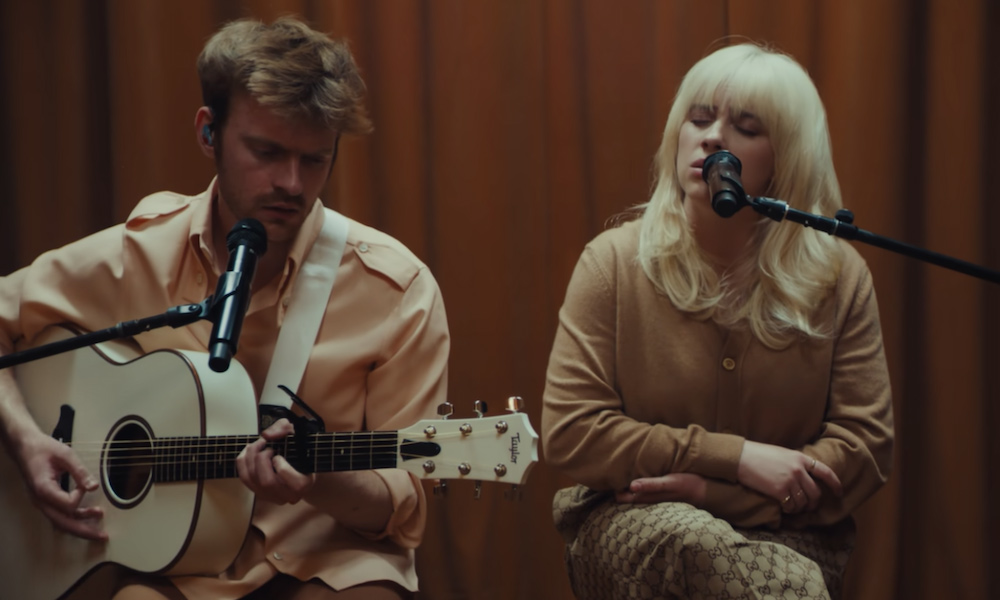 Billie Eilish has continued to set the scene for her second studio album Happier Than Ever by sharing a live acoustic version of "Your Power" with her brother and collaborator Finneas O'Connell. The clip, directed by Kyle Goldberg, has the pair at the end of a narrow corridor of curtains, sitting on stools, with Finneas providing acoustic guitar and backing vocals to the haunting song.
The album will be released globally by Darkroom/Interscope Records on July 30, and the new acoustic rendition of "Your Power" arrived yesterday (18), some five months after the studio version of the folk-flavored song, written by the pair, was released as a preview single.
It was preceded by "My Future," which appeared in July 2020, and "Therefore I Am," released last November. "Lost Cause" then came out in June and "NDA" earlier this month, with all five tracks due to appear on the 16-track sophomore set.
Billie Eilish - Your Power (Official Live Performance) | Vevo
Writing about "Your Power" on her Instagram account when the studio version was released in the spring, Eilish said: "This is one of my favorite songs i've ever written. I feel very vulnerable putting this one out because i hold it so close to my heart. This is about many different situations that we've all either witnessed or experienced. I hope this can inspire change. Try not to abuse your power."
NME described the studio recording as "another example of Eilish's remarkable talents. In keeping things stripped back the song draws you into an intimate space, as its creator confronts you with her haunting voice and uncomfortable tales."
Eilish's Happier Than Ever – The World Tour is now due to begin on September 18 at the iHeartRadio Music Festival in Las Vegas. After a number of other dates in September and October, it recommences in February 2022 with a 32-date North American arena run before a European leg from June 3.
Pre-order Billie Eilish's Happier Than Ever, which is released on July 30.