Listen To 'Nobody Like U,' Billie Eilish and Finneas' Song For Pixar's 'Turning Red'
The film gets released on Disney+ on March 11.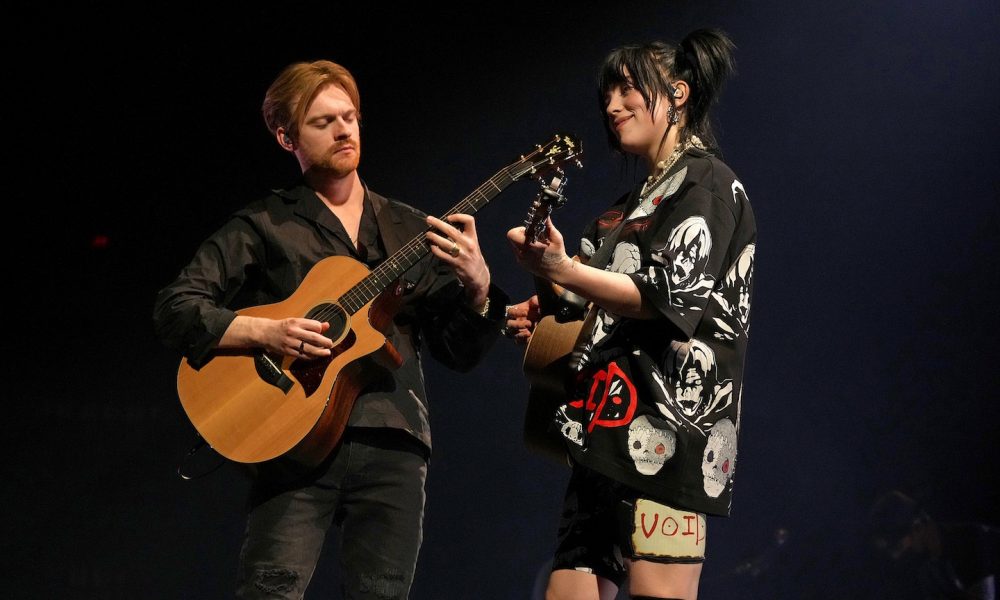 Billie Eilish and FINNEAS have written "Nobody Like U," which is set to be featured in the forthcoming Disney and Pixar movie, Turning Red.
The film gets released on Disney+ on March 11. The movie features a fictional boy band called 4*Town, whose members include Finneas. In addition to being a band member, Finneas produced 4*Town's new song "Nobody Like U." The movie is scored by Ludwig Göransson, who is also credited as a recording arranger of "Nobody Like U."
Nobody Like U (From "Turning Red"/LyricVideo)
Turning Red (Original Motion Picture Soundtrack) is out March 11. The album will include two more songs penned by Finneas and Eilish: "1 True Love" and "U Know What's Up." In 4*Town, Finneas voices a character called Jesse. His bandmates are: Robaire (voiced by Jordan Fisher), Aaron T. (voiced by Topher Ngo), Tae Young (voiced by Grayson Villanueva), and Aaron Z. (voiced by Josh Levi).
Last month, Eilish wrapped up her series with Vevo with a live performance visual for Happier Than Ever deep cut "Billie Bossa Nova." The Grammy Award-winning musician first kicked off the quartet of performances with live renditions of "Lost Cause," "Male Fantasy," and "Your Power."
The official "Billie Bossa Nova" live performance finds Eilish back in the familiar grace of the Crystal Ballroom at the Biltmore Hotel in Los Angeles. The smoldering record thrives in the atmosphere of the venue as the singer is locked at the center of the elegant room, accompanied by FINNEAS.
"Billie Eilish's trademark whisper has gained more and more emotional power in the last four years. The secret-sharing sense of intimacy contained in the pop phenom's voice brims with the kind of textural qualities that pull fans deep into the story she's telling in any given song," VEVO writes of the performance. "Sometimes dreamy, sometimes fierce, always fetching."
They continued: "The visual setting, designed after brainstorming creative sessions between the singer and our production team, is simple but rich in texture, too – just like Billie's voice…. 'Lost Cause' had a little more grandeur. And 'Billie Bossa Nova,' our final performance of this series, added a touch of sultriness and more than a touch of vintage jazz vibes to these hotel chronicles. We saved the coolest for last."
Listen to the best of Billie Eilish on Apple Music and Spotify.