Billie Eilish Teams Up With VEVO For 'Lost Cause' Live Performance Visual
The song appears on Eilish's recently released sophomore album 'Happier Than Ever.'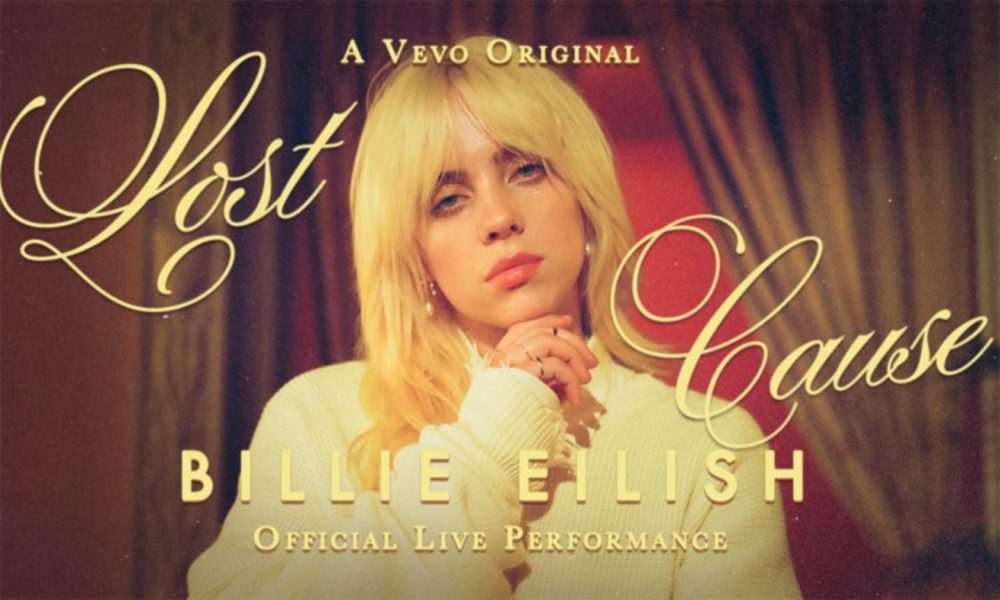 In the third installation of Billie Eilish's live performance video series with VEVO, the singer has delivered a new rendition of the Happier Than Ever single "Lost Cause." The visual was shot in the Crystal Ballroom of the Biltmore Hotel in Los Angeles starring Eilish with her brother and collaborator Finneas on guitar and a drummer tucked away beneath a balcony.
The VEVO original performance follows Eilish's live renditions of "Your Power" and "Male Fantasy" delivered in similarly elegant settings. The visual was directed by Kyle Goldberg and features the singer zig-zagging between the gold-trimmed balconies of the ballroom and the red-hued hallways that surround them.
"Billie Eilish's trademark whisper has gained more and more emotional power in the last four years. The secret-sharing sense of intimacy contained in the pop phenom's voice brims with the kind of textural qualities that pull fans deep into the story she's telling in any given song. Sometimes dreamy, sometimes fierce, always fetching," VEVO shared in the description of the performance. "'Lost Cause' has a little more grandeur. Finneas swaps six strings for four, laying down a deeply hypnotic bassline while Billie excoriates the cause of her ire. The same intimacy is there, but this one really shows you who's in charge."
This new rendition of "Lost Cause" presents the song in a new light as it shifts away from the humorous tone set in the slumber party-themed music video it initially arrived with. Each performance set was designed through a collaborative process between the VEVO production team and Eilish herself, who usually directs her own music videos but handed over the reins for the series of visuals.
Eilish recently performed Happier Than Ever in its entirety for the live concert film Happier Than Ever: A Love Letter To Los Angeles, currently streaming on Disney+, while paying homage to her hometown. In 2022, the singer will embark on a sold-out world tour in support of the album.