Blossoms Announces New Album 'Ribbon Around The Bomb' And Shares Title Track
The Stockport band's fourth album centers around a character called 'The Writer.'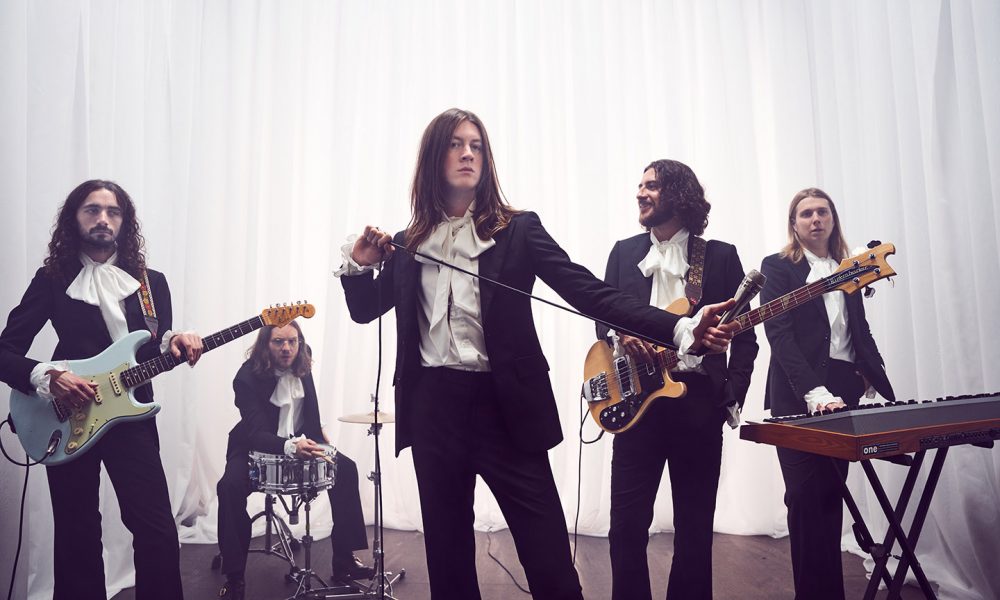 Blossoms has announced its fourth album, Ribbon Around The Bomb, and shared the title track from the record.
The follow-up to 2020's Foolish Loving Spaces was inspired by frontman Tom Ogden's visit to Frida Kahlo's house in Mexico in 2019. "Looking at her paintings on show, someone had described one of them as being like a 'ribbon around a bomb'," he said.
"I immediately thought that it was a great title for a song and album because of the imagery that it evoked in my mind. I thought about how lots of things in life could be described as being a ribbon around a bomb in the sense that as people we often dress things up which have a darkness lying beneath them."
The album will be released on April 29 and will be centered around a character called 'The Writer'. Ogden explained that as work on the record progressed, he realized that the figure was, in fact, himself. "Having been so busy for the past eight years I and the band have never really had the chance to step back and reflect on what we've achieved," he said.
"You're so focused on the future; write the next album then tour. Your life is usually mapped out at least two years in advance."
The video for the title track was directed by Edwin Burdis, who also serves as Arctic Monkeys' creative director and worked on Tranquility Base Hotel & Casino and AM for the Sheffield band. It features a rhythmic gymnast performing a routine with a gymnastics ribbon in a dimly-lit restaurant.
Ribbon Around The Bomb was produced by Blossoms and its longtime collaborators James Skelly and Rich Turvey.
Last year, Blossoms was involved in the UK music industry's efforts to find safe ways of reopening following the coronavirus-enforced lockdown in the country. The band performed at a pilot concert in Liverpool to 5,000 fans, where attendees had to provide a negative lateral flow test result to gain entry.
The Stockport band has long cemented their status as one of Britain's best bands, reflected in the response to their vivid catalog. Foolish Loving Spaces secured the group its second No.1 album in the UK following the chart-topping self-titled 2016 debut record, while Blossoms has also earned nominations at the prestigious likes of the BRIT Awards and the Mercury Music Prize.
Pre-order Ribbon Around The Bomb here and see the full tracklist below.
1. The Writer's Theme
2. Ode To NYC
3. Ribbon Around The Bomb
4. The Sulking Poet
5. Born Wild
6. The Writer
7. Everything About You
8. Care For
9. Cinerama Holy Days
10. Edith Machinist
11. Visions
12. The Last Chapter