Bob Marley's Family Mark His 77th Birthday With Concerts, Exhibition, More
Events include live tributes, a web series, and the latest in the 'Legacy' documentary series.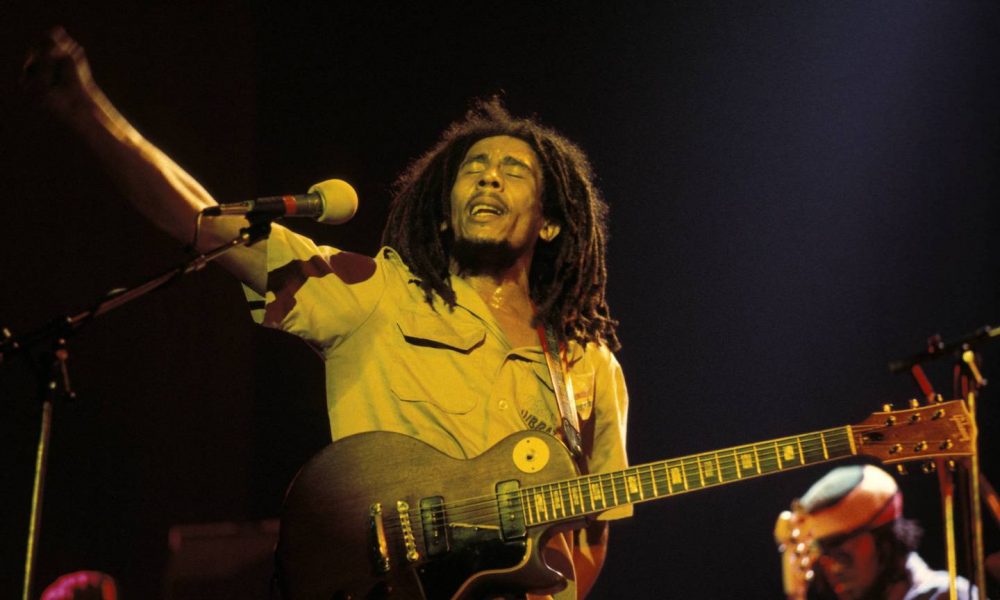 Today's release of the ninth episode of the Legacy documentary series is part of a sequence of seven MARLEY77 events over seven days, to mark what would have been the 77th birthday of Bob Marley.
The Marley Family and UMe will return to his roots to honor his life, legacy, and music with an array of in-person, virtual, and philanthropic events, culminating on Sunday (6). Marley was born on February 6, 1945.
The scheduled events have been curated to give back to the community in his home country of Jamaica in observance of Marley's birthday. They include a Back To Our Roots beach cleanup and concert and a newly-curated exhibition at the Bob Marley Museum. The 7 Roots of Bob Marley's Livity features the work of young, up-and-coming artists.
A new web series of that name is to premiere on Tuff Gong TV, exploring the reggae legend and his enduring influence on Jamaica and the world. On Sunday, Marley's Earthstrong festivities culminate with a limited capacity concert celebration at Tuff Gong International in Kingston, Jamaica, live-streamed on Bob's official YouTube channel. The same day, a Lion's Den Concert from Miami by his son Stephen Marley will also premiere on February 6. The festivities can be seen here.
Bob Marley: LEGACY "Dreams Of Freedom"
The ninth episode of the Webby-nominated 12-part documentary series Legacy, titled Dreams Of Freedom, premiered at 7am PT/10am ET, also on Marley's YouTube channel, and is live now. It highlights his aspirations for Tuff Gong International to become the "Motown of reggae" and his spirit of self-reliance.
The ninth instalment in the series features Marley's voice as well as interviews with his wife and the matriarch of the Marley family, Rita Marley. Children Cedella, Ziggy, Julian, Rohan, Ky-Mani, and Damian feature along with granddaughter Donisha Prendergast, I-Threes members Marcia Griffiths and Judy Mowatt, and more.
Marley Brothers reunite
Tomorrow (4) sees the release of a cover of Bob's "Cornerstone" by the Marley Brothers (Ziggy, Stephen, Damian, Julian, and Ky-Mani Marley), releasing music together for the first time in over a decade. It arrives the day before the brothers headline the CaliVibes Festival in Long Beach, California to celebrate their father's birthday. "Cornerstone" will be available via Ziggy Marley's Tuff Gong Worldwide and Stephen Marley's Ghetto Youth labels.
Ziggy will also offer an exclusive livestream of his special tribute concert of May 30, 2021 at Petco Park in San Diego. This will be available to stream on Friday, February 11, and details are at ziggymarley.com.
Bob Marley's Tuff Gong Radio, on SiriusXM channel 19, will air the Bob Marley Roots 77 Birthday Concert, recorded at Tuff Gong International Studios in Kingston, Jamaica. Airing live on February 6, it will then be available on the Sirius app from the 7th. It stars reggae, roots, and dancehall legends and contemporary stars such as Marcia Griffiths, Bugle, Amanyea, Tony Rebel, Gyptian, Queen Ifrica, and Black Am I, all paying tribute.
Also newly announced is the Marley: A Family Legacy exhibit at the Grammy Museum in Los Angeles. It tells the story of a new artistic generation of the family, with highlights including custom-made Catch A Fire clothing outfits by Cedella Marley, Ovation guitars from Ziggy and Ky-Mani Marley and Julian Marley's Dashiki top as worn on the cover of his As I Am album. There's Damian Marley album proof for Distant Relatives, an I-Threes dress and wrap from Rita Marley, and a custom Bob Marley tribute edition Gibson guitar.
Visitors will also have the chance to participate in an interactive drum lesson and "Learn How to Play Reggae Drums With Santa Davis." The great reggae drummer has worked with Bob Marley, Augustus Pablo, Peter Tosh, and many other Jamaican reggae artists. He's drummed with Ziggy Marley and his band since 2003 and is one of the innovators of the uniquely Jamaican drum style.
Watch every episode of the Legacy video series on Bob Marley's official YouTube channel.