Brian May Introduces Star Fleet Project Band In Part Two Of Mini-Series
May says watching Eddie Van Halen was 'a bit like seeing Jimi Hendrix for the first time.'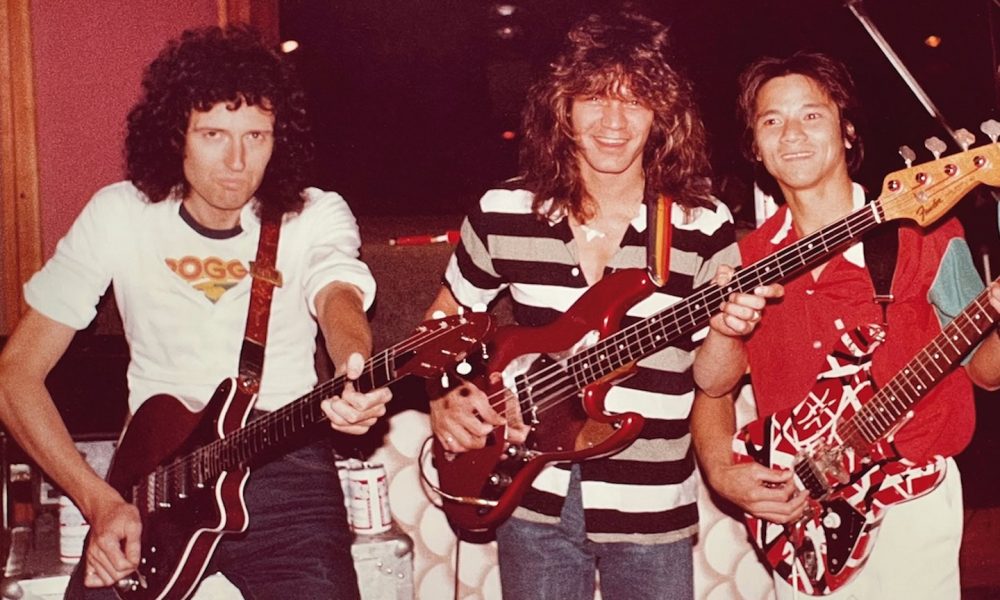 Brian May says that his first introduction to fellow guitar hero Eddie Van Halen was "a bit like seeing Jimi Hendrix for the first time" in the new, second part of the Brian May: Star Fleet Sessions mini-series.
The films are being shared ahead of the July 14 release, the third in his Brian May Gold Series, of the complete Star Fleet Sessions of 1983 in an extensively revisited and expanded 2-CD, vinyl single and LP deluxe edition boxed set. The set forms a complete document of the two days of sessions, on April 21 and 22, 1983, that May spent at the Record Plant in Los Angeles with Van Halen on guitar) Alan Gratzer on drums, Phil Chen (bass) and Fred Mandel (keyboards).
Brian May - Star Fleet Sessions: Meet The Band (Episode 2)
The second part of the series is called Meet The Band, and features May's memories of his fellow players in this remarkable and unique line-up. The sessions came about when Queen were on a break in the first part of that year, and May, in Los Angeles, decided to use that down time to call his musician friends and invite them to gather for the recordings, which became a mini-album at the time and will now be vastly augmented for this 40th anniversary reappearance.
"Ed Van Halen was a phenomenon," says May in the clip. "I met him for the first time through Tony Iommi, my great friend from Black Sabbath. Van Halen were opening up for Black Sabbath. I'd never seen Van Halen. And I was just like, 'Wow, what is this? What is this guy? What is he doing? I can't even begin to figure out how his fingers are moving.' It was a bit like seeing Jimi Hendrix for the first time. I'm like, 'How does anyone do that? What has he got that is so magical that we've never seen before?'"
Of the other members of the spontaneously-assembled band, he adds: "Phil Chen was a great character. Full of sunshine, full of life, and as a bass player, full of a kind of tautness and humour, he played with great kind of panache. Alan Gratzer, the drummer for REO Speedwagon. Alan hits the drums pretty much harder than anyone I've ever known. He hits them with big fat oak sticks, I think they're oak, turned the wrong way round.
"And Fred Mandel, well Fred is a character, Fred is a is a one-off stand-up comedian who just happens to be a virtuoso keyboard player." You can watch the first part of the mini-series here.
Pre-order Brian May & Friends: Star Fleet Project.