Brian May Announces Expanded Boxset Edition Of 'Star Fleet Project'
Featuring an all-star cast including the legendary Eddie Van Halen, the original 1983 mini-album now includes a wealth of rare material.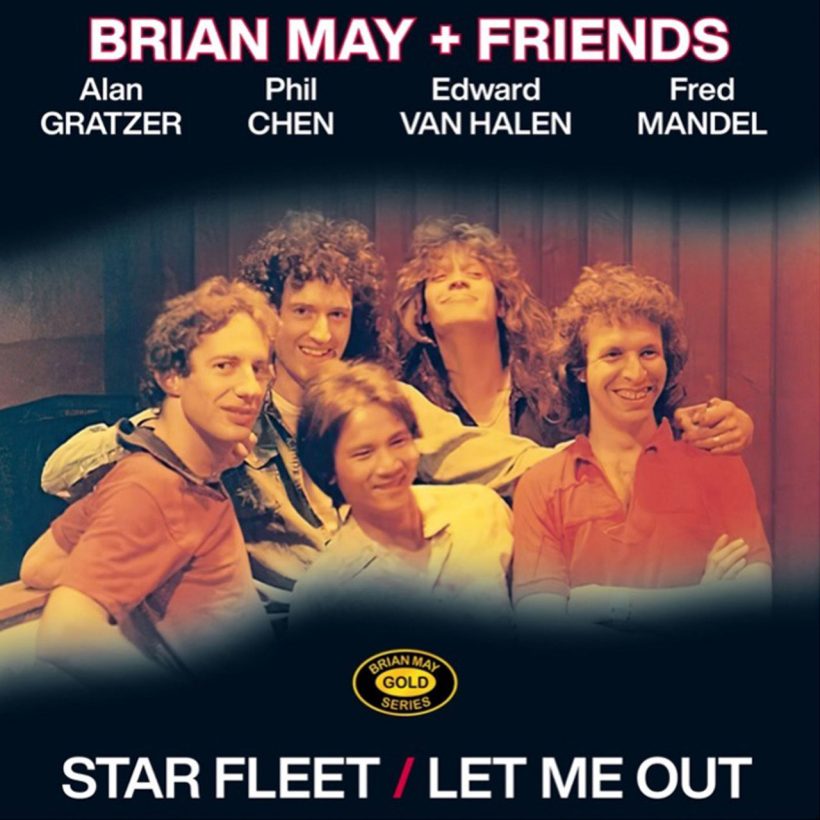 This third release in the "Brian May Gold Series" offers an extensively revisited and expanded boxset edition of the Queen guitarist's now legendary Brian May + Friends: Star Fleet Project sessions. The set is a complete document of the two days, April 21 and 22, 1983 that May spent in the Record Plant, Los Angeles accompanied by top rock music luminaries Edward Van Halen (guitar), Alan Gratzer (drums), Phil Chen (bass) and Fred Mandel (keyboards). The box set includes a spectacular 23-track CD filled with previously unreleased material.
Containing 2 CDs, 1 vinyl LP, and a vinyl single, as well as other collectors items, Brian May + Friends: Star Fleet Sessions will be launched as a Deluxe Edition box set worldwide on July 14. A separate exclusive 7" double A side single, also available on CD will also be released on the same day, featuring newly mixed single versions of "Star Fleet" and "Let Me Out." A special red vinyl version will be available exclusively through the official Queen Online store.
The July 14 box set release is ushered in with a special stand alone digital single, "Star Fleet (Edited Single Version)" which is available today.
May recalls the making of this unique mini-album in the introductory sleeve notes in the box set: "We are going to give you everything. Every take of every song. The things that went wrong, the laughing, the finding new things to do. But it won't be just a remaster – we've rescued everything from the original multitracks, every detail magnificently remixed, and more! You'll hear every take from the historic 1983 sessions plus fragments of conversations, out-takes and musical experimentation."
The original 3-track edition of Star Fleet Project, issued on October 31,1983, featured a full-length take of "Star Fleet," May's hard rock reimagining of the signature tune from the Japanese-made kids science fiction series of the same name. The program was compulsive regular viewing for Brian and his 4-year-old son Jimmy on Saturday morning TV, inspiring Brian's attachment to its title song, written by English musician Paul Bliss. The album also featured "Let Me Out", including extensive opportunities for May and Van Halen to solo, and "Blues Breaker" a 13-minute piece of completely spontaneous improvisation from all members of this 'supergroup' of musicians.
May recalls: "If Paul hadn't written a very catchy song as the theme tune for that kid's TV science fiction drama series, things would have been different. The signature tune began to stick in my head, and I could hear my own arrangement of the tune developing in my mind. But how to record it?"
"So, one morning, I woke up in Los Angeles, on a break from activities with Queen, and made some phone calls. I've told the story of what happened next in the material you will find in this box. The outcome was something I will forever treasure."
"We did a little preparation, on the phone and at home with tiny Rockman amps and earphones. Then we went in. The tapes rolled. My LA neighbour Alan Gratzer beat the Hell out of his kit with the fattest, heaviest drum sticks I had ever seen. Phil Chen, a friend I had met when he played with Rod Stewart, brought his unusual style of funk-orientated rock playing to the party, along with his sunny Caribbean energy and humour. And Fred Mandel, one of the classiest keyboard players I have ever met, tickled both the ivories and some very technical synth patches to bring the spacey riffs to life.
"Ed (I can still never call him "Eddie Van Halen" because he more than once told me he found it annoying!) played the guitar as if it were a piano … tapping and snapping, and sliding and skipping around the fingerboard like an electric sprite – always with a cheeky smile. If anything he did was difficult for him, he never showed it. A total original. Pure joy. What an everlasting privilege to play with him."
Star Fleet Project was initially issued on 20 October 1983 as a set of blistering guitar work, rock' n' roll spontaneity and vibrant melody, infused with a palpable chemistry and respect between the players. Spawning a single with its the title-track, the mini-album reached topped the UK's 'Kerrang' rock charts.
The record now stands in part as a celebration of those we've lost: a chance to reconvene with great, much-missed talents. As Brian puts it, "It's been very exciting to open up the vault to find these tapes where, in the blink of an eye, I'm trading licks with my friends, including the fantastic Ed Van Halen. It's highly emotional, especially since Ed is sadly no longer around. We have since also lost Phil – so the rest of us cherish these fleeting moments together."
The troupe also worked on an earlier May song, the bluesy "Let Me Out," while the set closes with the titanic "Blues Breaker," almost 13 minutes of scorching guitar interplay between Brian and Edward: not so much duelling as sharing ideas and passions.
The Queen star explains "It was inspired by John Mayall's Blues Breakers, the album with Eric Clapton reading The Beano on the front cover. Edward said, 'This is great for me, I haven't played like this in years. This is where I come from! I didn't come up doing tapping and all the fireworks. I grew up doing blues, wanting to be like Eric Clapton and do something melodic."
"There was a lot of ebullience, a lot of exploration, discovery and astonishment," Brian adds. "And some truly magical moments when everything gelled together – a fusion of energies!"
Across two CDs, a 12" vinyl LP, a 7" vinyl single, the 'Star Fleet Sessions' box set houses the proof. Presented in 180g transparent red vinyl, the original LP issue has been treated to a full new mix, executed by Queen sound engineers Justin Shirley-Smith and Kris Fredriksson under Brian's direction at his Surrey studio from the original multitrack tapes and, says Brian, "cut at half-speed for maximum fidelity."
The single features two tracks. The A-side is an edited version of "Star Fleet", with brand-new intro guitar harmonies from Brian. The B-side mirrors the original B-side "Son of Star Fleet" which Brian explains "was a way of including the rest of the original long version of the recording on a 7" record; effectively the whole recording is split between the two sides."
CD1 Star Fleet Project + Beyond features the single version of the title track alongside full-length album versions of "Let Me Out" and "Blues Breaker". Also included is an interview with Cynthia Fox conducted on Los Angeles radio station KMET in October 1983, on the day of the single release, and a Rockline interview with Bob Coburn.
A live version of "Let Me Out" from the Palace Theatre in LA follows, segueing into "We Will Rock You" and a reworking of the same song's adored fast rendition. The line-up of May, powerhouse drummer Cozy Powell, bassist Neil Murray, guitarist Jamie Moses, keyboardist Spike Edney and backing singers Cathy Porter & Shelley Preston finds The Brian May Band on fire. Finally, CD1 closes with the full LP version of "Star Fleet", "just as the day it happened," says Brian, "as if we were in the room."
In addition, CD2 Star Fleet – The Complete Sessions rounds up 23 tracks that go deeper into that room. The disc boasts a newly-created mix from the entire original analogue session tapes, featuring songs in the process of evolution (some with guide vocals) plus discussion, banter, laughs and, says Brian, "some 'mistakes', if there are such things". Amps blow, mics break, strings snap – the results take you as close as it is possible to get to the Record Plant in April 1983.
For Van Halen fans, the "Star Fleet" takes feature eight Edward guitar solos, "never quite treading the same path twice," says Brian. "Ed was a wonderful soul. Listening to him and me, I feel completely outclassed by him in the studio. But in a very pleasant way – what a joy for me to be around a guy who could do all that. Such a privilege.
"So, you'll hear us in the studio trading licks," adds May. "We've cleaned up the mix and now EVH's sound is larger than life. You'll hear the development of his solo, which I always thought was one of the greatest things he did… a real immortal classic of Ed Van Halen pieces."
Complete with a digital recreation of the original 1983 source material's artwork, Star Fleet Sessions doesn't just gleam anew. Across 136 minutes of audio, the box set takes the listener right behind the curtain, highlighting the electricity that made the project such a special chapter in Brian's life and career.
May says "It's all here. ALL of it ! Every note we played on those two unforgettable, exhilarating days is right here, on show for the first time. Hearing these sessions, especially through the new restoration and mixes we've now produced, still sends shivers up my spine," he says. A time capsule of an unrepeatable moment, this much-anticipated, lovingly curated box set proves why."