The Cadillac Three Share Video For 'Get After It'; Announce UK & Ireland Tour
The Nashville roots-rockers' dates begin in Manchester on 1 December.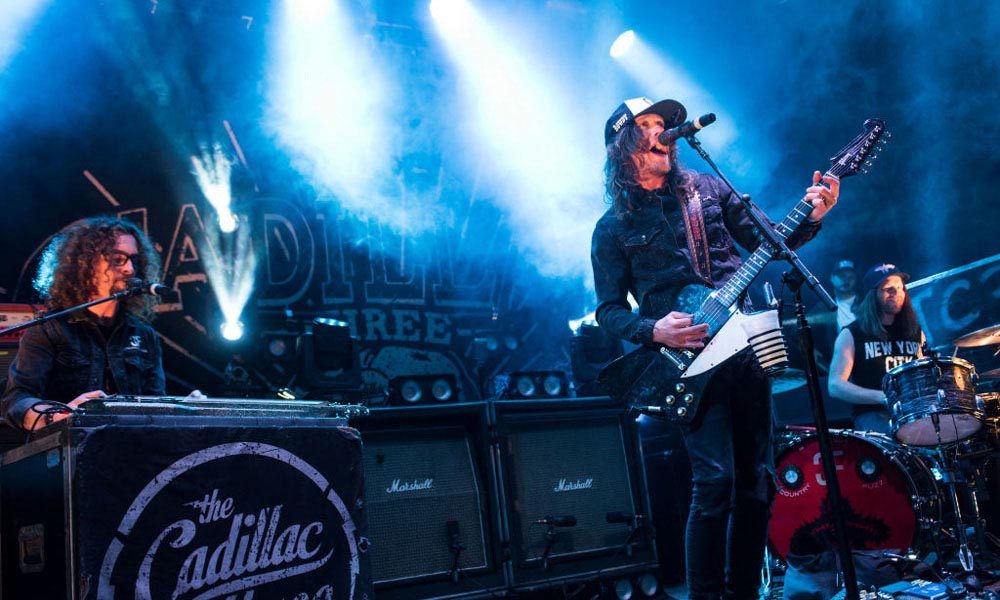 Nashville Americana rockers The Cadillac Three are to celebrate their tenth anniversary with a December UK tour. And to get everyone in the mood, the trio have paired this announcement with the release of a hard-stompin' new single, "Get After It." You can check it out below.
The new video for "Get After It" is apparently a collaboration with a well-known amplifier manufacturer and a new range of high-end German motorcycles. Eagle-eyed readers might be able to forensically study the band's new promo photo for a hint of a clue as to their new corporate partners. The Head of Marketing and Product Management at the luxury motor vehicles company thinks the new TC3 track is "awesome", incidentally.
Earlier this summer, the Southern rockers released a video for "Bridges" from their latest album, Tabasco & Sweet Tea. The video was shot at Nashville venue EXIT/IN, where the band built a private pop-up skate park and held some socially distanced skating sessions while they performed.
"I was extremely into skateboarding when I was a teenager growing up in Nashville," explained Cadillac Three frontman Jaren Johnston, "but there were literally no public skate parks. We had to brave the Capitol or Legislative Plaza downtown in hopes that we could get a good day in without getting arrested.
"It was amazing to team up with Red Bull and the EXIT/IN and build a skate park during the pandemic. Even cooler to play "Bridges" in a video with incredible skaters including pro Jake Wooten. What an experience!"
Meanwhile, Jaren Johnston's band will bring their songs of the South back across the Atlantic from December 1 through to December 13, doubtless airing choice tracks from their brace of 2020 albums, Country Fuzz and Tabasco & Sweet Tea.
The Cadillac Three play the following UK and Ireland dates:
Dec 01: Academy, Manchester
Dec 02: O2 Academy, Leeds
Dec 03: O2 Institute, Birmingham
Dec 05: Rock City, Nottingham
Dec 06: O2 Academy, Newcastle
Dec 07: O2 Academy, Glasgow
Dec 09: Roundhouse, London
Dec 11: Great Hall, Cardiff
Dec 12: Whelans, Dublin
Dec 13: Limelight, Belfast.