Def Jam Recordings Celebrates Iconic Female Artists And Executives At 'The Women Of Def Jam' Event
The label's new signing and star of 'Bel Air' Coco Jones gave a live performance at the Beverly Hills gathering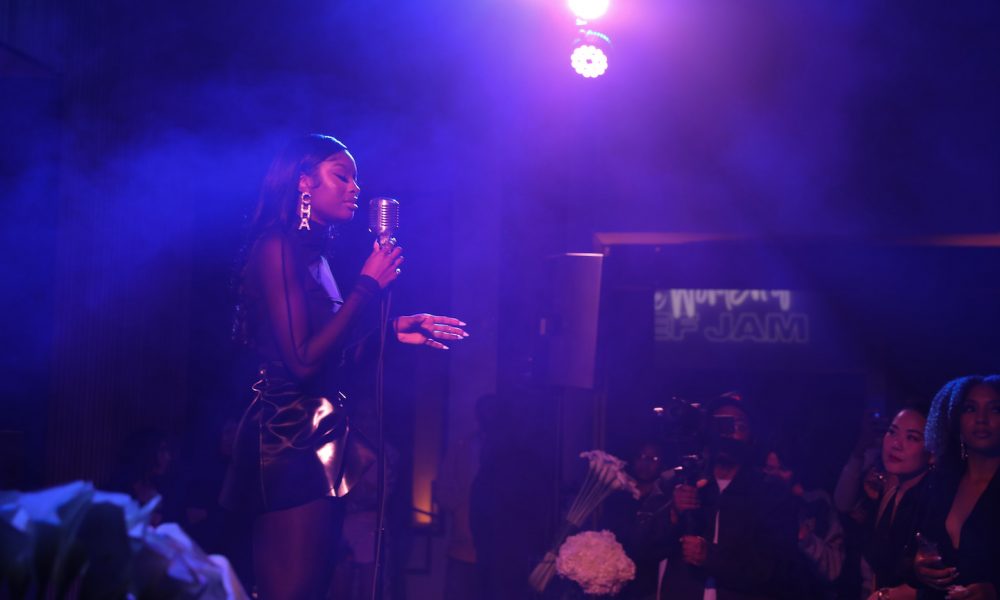 Def Jam Recordings hosted 'The Women of Def Jam' last night (March 28), a celebration honoring its female executives and the musical legacy of its iconic female artists.
The event also marked Women's History Month and was held at LUCID's Beverly Hills Studio, where the label's entire female executive team, staff, and VIP guests gathered to honor their incredible contributions to the company and the industry at large. At every level, the Def Jam team is comprised of one of the most inclusive and diverse groups of female executives in the music industry today.
New signing and Bel Air star Coco Jones provided a stunning event-closing performance of her new single "Caliber," while DJ Rosegold soundtracked the party with music from Def Jam's deep catalog of hits. Kaash Paige took part in a "Future Leaders" panel moderated by Variety editor Shirley Halperin, alongside some of the label's youngest and brightest staff and acts. Kendra Jae, DaniLeigh, Pap Chanel, Nevaeh Jolie, and Ilham were among those to participate with Paige.
Def Jam is virtually unique in the industry for the inclusivity and diversity of its female staff. Over half of the employees are women, including seven women of color in senior executive positions. Two of the three executive leaders are women and eight out of 10 department heads are women. In addition, for the first time since 2007, Def Jam has an all-female marketing staff, while the label has never had as many women on its A&R team as it does today.
The accomplishments of Def Jam's female figures were also celebrated earlier this month with the release of The Women of Def Jam – a 24-track compilation showcasing some of the greatest female artists in the label's storied history. Across the record, legendary, lauded, multi-platinum-selling, and Grammy-winning artists rub shoulders with each other, from Nikki D., Foxy Brown, Boss, and Ashanti, to Amerie, Teyana Taylor, Alessia Cara, Rapsody, Jhené Aiko, and many more.
The Women of Def Jam is available as a collector's edition triple-LP box set and is the first time the women whose music has dominated hip-hop and R&B since the 90s have been paid tribute to in this way.
"There are so many amazing stories to tell about Def Jam today and how women have been positioned across the company," Tunji Balogun, Chairman & CEO, Def Jam Recordings, said. "There is a lot to celebrate at Def Jam for Women's History Month."
Def Jam EVP/GM Nicki Farag and Def Jam EVP/President 4th & Broadway LaTrice Burnette added: "We're incredibly proud of this dynamic group of leaders and future leaders. Def Jam has always been about setting the tone and leading the culture. The women of Def Jam are doing that every day."