Def Leppard Share Behind-The-Scenes Footage From 'Bank Of Dave' Film
The legendary rockers perform three songs in the new Netflix movie, filmed in the north of England.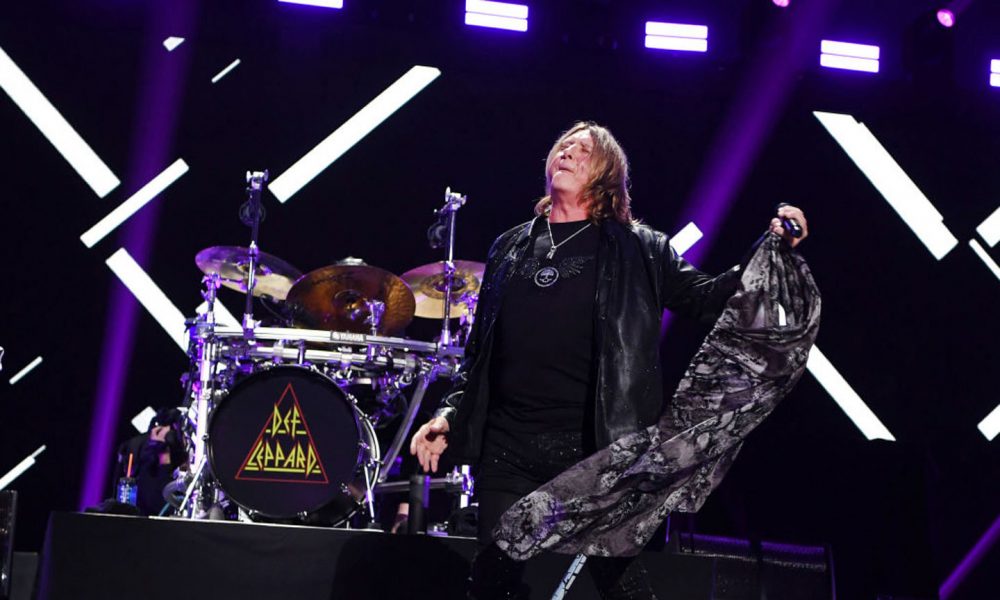 Behind-the-scenes footage from Def Leppard's appearance in the new Netflix movie Bank Of Dave can be seen in the video below.
According to reports in regional publication Lancashire Telegraph, Def Leppard filmed its segment for Bank Of Dave last March in Burnley, U.K.
Shop the best of Def Leppard's discography on vinyl and more.
Vocalist Joe Elliott told Planet Rock about his band's involvement with the film: "Bank Of Dave is kind of like the new Full Monty, the new Amongst Giants or the new Brassed Off. It's one of those classic British low-budget but really cool movies. A true story about a gentleman in Burnley, who was not having much joy with a bank, so he decided to start his own bank. It's only like 12 years ago that this happened and he's a bit of a Def Leppard fan."
DEF LEPPARD - "Bank of Dave" (Netflix Film) Behind The Scenes Vlog
He continued: "What they did is they kind of wrote us into the story, and they've obviously enhanced the story somewhat because our part in the movie didn't really happen. One of his mates, the character of one of his friends, knows me for 30 years and says, 'I think I might be able to get Def Leppard to do a fundraiser for you.' So, long story short, we do this fundraiser at Turf Moor (Burnley's football stadium) to raise money so he can start this bank and help out all the locals that were getting no help from the banks."
Elliott added: "We got to perform three songs in this movie. I don't know how many will survive or hit the cutting-room floor, but you always over film so that they've got enough. We all really thought it was a cute thing."
A feel-good romantic comedy, Bank Of Dave was written by Piers Ashworth (Save The Cinema, Blithe Spirit) and was directed by Chris Foggin (Fisherman's Friends). It stars Joel Fry, Phoebe Dynevor and Rory Kinnear. Netflix acquired U.K. and Irish rights and WME Independent, the international film financing and distribution arm of talent agency WME, is handling the rest of worldwide sales.
Based on the true-life experiences of Dave Fishwick, The Bank Of Dave tells the story of how a working class Burnley man and self-made millionaire fought to set up a community bank so that he could help the local businesses of Burnley not only survive, but thrive. In his bid to help his beloved community of Burnley, he has to take on the elitist financial institutions of London and fight to receive the first, new banking license to be issued in over 100 years.
Listen to the best of Def Leppard on Apple Music and Spotify.