"We Were Going In The Right Direction": Joe Elliott On Def Leppard's Early Years
Proving that they learned their craft in record time, Def Leppard's early years saw the group quickly evolve beyond their NWOBHM roots.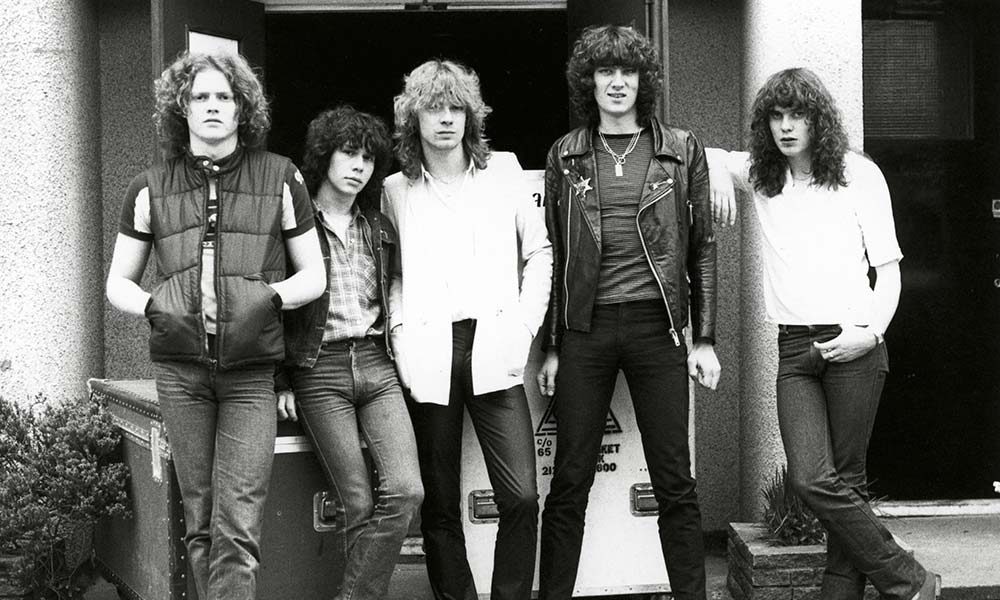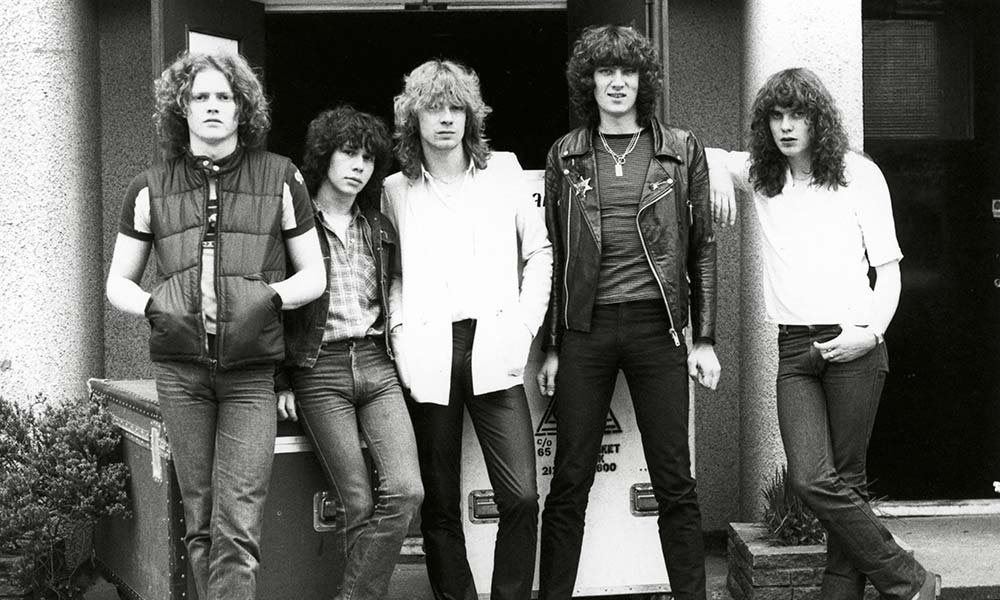 When it comes to sustaining success, few bands can hold a candle to Def Leppard. Still regularly packing out stadiums with their high-octane live shows, the seemingly invincible British rockers have sold over 100,000 million records and were inducted into the hallowed Rock And Roll Hall Of Fame in 2019. The band's new 5CD archival collection, The Early Years 79-81, however, offers an insight into how they got a foot on the ladder in the first place, starting the climb that has seen them reach rock's highest peaks.
Listen to The Early Years 79-81 on Apple Music and Spotify.
Leading lights of the NWOBHM
Comprising Leppard's first two albums, On Through The Night and High'n'Dry in full, along with a wealth of rarities, including BBC Radio 1 sessions and an incendiary, previously unreleased live concert recorded at Oxford's New Theatre on the band's 1980 UK tour, The Early Years 79-81 is an treasure trove for fans. Its tracklist takes us all the way back to 1979, when the fledgling Def Leppard were first building their loyal fanbase and were considered one of the leading lights of a new grassroots movement known as the New Wave Of British Heavy Metal.
Usually shortened to the acronym NWOBHM, this term was first coined by music journalist Geoff Barton in a May 1979 issue of UK rock weekly Sounds. It was intended to describe the emergence of a new breed of heavy metal bands in the late 70s: the period when punk was declining and a wealth of new musical styles were on the rise.
The NWOBHM spawned numerous hard rock and metal bands, but only a few survived to enjoy longevity. Of all those earmarked as contenders, only Iron Maiden and Def Leppard became international stars, though a few of their contemporaries, such as Diamond Head and Venom, remained underground and were later cited as influences by stellar metal outfits such as Metallica and Megadeth.
"None of that has ever stuck"
"Even after all these years, the British media still try to lump us in with the NWOBHM, whereas the American media still try to pigeonhole us as a 'hair metal' band, but none of that has ever stuck because we became established as a standalone band," Def Leppard vocalist Joe Elliott tells uDiscover Music.
"The fact of the matter is, only two bands of note survived the NWOBHM tag – that's us and Iron Maiden, and we're vastly different bands. Def Leppard are where we are now – playing stadiums and beyond, and inducted into the Rock And Roll Hall Of Fame – because of who we are rather than because we were part of a movement."
Nevertheless, Def Leppard's association with the NWOBHM helped spread the word that they were a quality act in the making. Aided by their burgeoning live reputation and patronage from BBC Radio 1 DJ John Peel, the band signed a major deal with Phonogram/Vertigo, leading to the release of their debut album, On Through The Night, in March 1980.
"We were like kids in a candy store"
Leppard were paired up with Black Sabbath/Judas Priest producer Tom Allom for the On Through The Night sessions, which were recorded at Tittenhurst Park in rural Berkshire. Originally owned by John Lennon, Tittenhurst was where the former Beatle famously shot the video for 'Imagine'. By the time the band arrived, Lennon had sold Tittenhurst to Ringo Starr, who had gone to live in Los Angeles, leaving the place to function as a residential studio in his absence.
"It was a wonderful experience. We were all in our late teens, we'd signed to the same label as Thin Lizzy and Elton John, and I was given what used to be John Lennon's bedroom for a month, so we were like kids in a candy store," Elliott chuckles.
"It was just brilliant, because there we were riding bikes around John Lennon's garden and drinking red wine and having big meals with Tom Allom. It was a fantastic time."
Rock Brigade (Early Version)
When they got down to work, though, the band rattled through all the backing tracks in little more than a day, after which Elliott admits they spent too much time on overdubs. In retrospect, he feels On Through The Night would have benefitted from a more disciplined approach.
"It was essentially a document of who we were in 1979," he considers. "It was never going to be a groundbreaking debut in the same way the first Boston or Van Halen albums were.
"What it was, though," he continues, "was a great launch pad for us, so I've a lot of affection for On Through The Night and we all really enjoyed working with Tom Allom. Working with Mutt Lange, however, was a totally different kettle of fish."
"We couldn't have asked for a better tutor"
Almost Def Leppard's unofficial sixth member, South African-born producer Robert John "Mutt" Lange would have an enormous influence on the band's future, later helming their signature smash hit albums, Pyromania and Hysteria. His first full-length production for Leppard was High'n'Dry, the second studio album contained in The Early Years 79-81. Joe Elliott was convinced Lange was just the man his band required.
"Collectively, we'd become aware of him from AC/DC's Highway To Hell, but I'd been well aware of him before then," the singer recalls.
"I'd loved his work with The Motors and The Boomtown Rats, and I knew Mutt was like an up-and-coming Bob Ezrin or Ron Nevison – one of the really great producers. I'd actually asked [manager] Peter Mensch if we could get Mutt for On Through The Night, but it didn't happen."
Mensch did, however, persuade Lange to watch Def Leppard when they supported AC/DC at Stafford's Bingley Hall in 1980. Suitably impressed, the producer said Leppard were "a very rough diamond, but there is a diamond in there" and agreed to produce High'n'Dry after hearing the record's initial demos. Compared to Tom Allom's relaxed approach for On Through The Night, Lange's diligent methods involved months of pre-production, during which time nearly all High'n'Dry's songs were taken apart and radically re-arranged.
"It had more power, more balls"
"The first thing Mutt told us was not to get too precious about any of our ideas, because we were going to build High'n'Dry from the ground up," Elliott reveals. "But it was worth it. When we'd finished the album and the pressure was off, we listened back and it was leagues ahead of On Through The Night. There was just no comparison."
Def Leppard - Bringin' On The Heartbreak (Version 1)
Featuring landmark tracks such as 'Let It Go', 'High'n'Dry (Saturday Night)' and the band's first classic ballad, the MTV-friendly 'Bringin' On The Heartbreak', High'n'Dry was the Sheffield quintet's first truly substantial album. It went Top 40 on both sides of the Atlantic and later went double-platinum in the US – effectively laying the foundation for 1983's Pyromania to promote Def Leppard into rock's big league.
"We were going in the right direction," Joe Elliott confirms. "High'n'Dry had the melodic sensibility of On Through The Night, but it had more power, more balls and much better arrangements – and I was improving immensely as a singer.
"Making High'n'Dry marked a huge change in the way we did things, but it gave us a direction and Mutt made all the difference," he concludes. "He was the professor, but we were willing students. We couldn't have asked for a better tutor!"
The 5CD The Early Years 79-81 box set can be bought here.
Listen to the best of Def Leppard on Apple Music and Spotify.
Format:
UK English