Def Leppard's Joe Elliott Releases Video Tribute To Friend Mick Ronson
'This Is For You' is the track Elliott recorded for the soundtrack of the documentary 'Beside Bowie: The Mick Ronson Story.'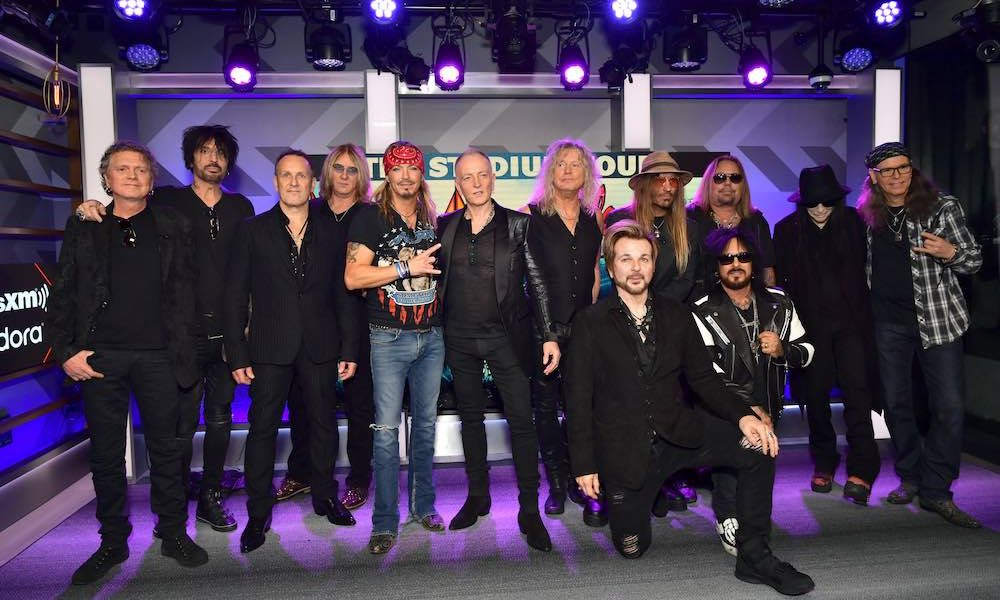 Def Leppard frontman Joe Eliott has released a video that he describes as "My gift to the memory of Mick Ronson," the British guitar hero and member of David Bowie's Spiders From Mars who was Elliott's hero and, subsequently, his friend.
The clip was filmed during Def Leppard's recent sellout tour of North America and features Elliott performing 'This Is For You,' the ballad from Ronson's 1975 album Play Don't Worry. As the video begins, the vocalist is seen singing the track on cinematic footage shown on a film projector. The love song assumes new meaning as a musical dialogue between old friends. 
Elliott's recording of 'This Is For You' was made especially for the soundtrack of Beside Bowie: The Mick Ronson Story, the documentary that was released in June via UMe, after its successful run in theatres last year and the DVD/Blu-ray release. The new rendition featured the last performance, on piano, by frequent Leppard collaborator Dick Decent, who also played with Elliott in their Bowie cover band Cybernauts, which was formed in tribute to Ronson.
"I had an opportunity on a day off on tour to shoot a video…it just seemed rude not to!," says Elliott. "This video is my gift to the memory of Mick Ronson who gave me so much in my youth and then later on when we got to know each other."
"This Is For You" MICK RONSON Tribute By JOE ELLIOTT
The unveiling of the clip on Saturday (25) fell on the 46th anniversary of the filming of the video for 'John I'm Only Dancing' by David Bowie and the Spiders From Mars. That iconic and controversial footage, directed by esteemed rock photographer Mick Rock, was banned by the UK's chart show Top Of The Pops as the song climbed into the top 20, and was never released in the US, adjudged by the record label to be too risqué. 
"I just wanted to give something back," Elliott told Salon earlier this year, "because I was the kid that when I was 12 years old, staring at the inside sleeve of Ziggy Stardust, four squares of Bowie and the Spiders, I would be staring at Mick as much as I was staring at Bowie – it was the Jagger-Richards thing. It was Page-Plant; it was Perry-Tyler."
Elliott and Ronson met in the early 1980s and became friends. The rock frontman helped the guitarist to record his final album, Heaven And Hull, released in 1994, the year after Ronson's death. He also sang on its tracks 'Don't Look Down' and 'Take A Long Line.'
Beside Bowie: The Mick Ronson Story, the first official career retrospective of the late British hero, includes highlights from his solo records and collaborations with  Bowie, Elton John, Ian Hunter, Michael Chapman and Queen. It can be bought here.
Explore our Def Leppard Artist Page.
Format:
UK English