Dr. Dre And Snoop Dogg's 'Still D.R.E.' Hits One Billion Views On YouTube
Following Dre's debut, '2001' entered the charts at No.2 on the US 'Billboard' 200.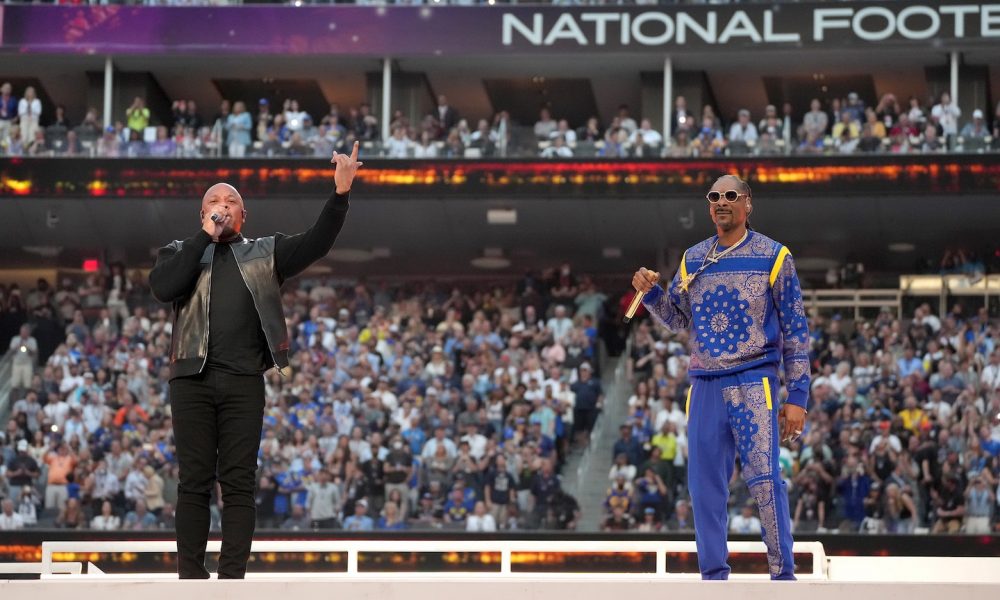 Just one day after closing out the Super Bowl halftime show with "Still D.R.E.," the 1999 hit from Dr. Dre and Snoop Dogg has reached one billion views on YouTube.
The uptick in viewers was surely in part due to the electric halftime show from Dre, Snoop, Mary J. Blige, Kendrick Lamar, and Eminem. Alongside the "Still D.R.E." finale, Snoop performed "The Next Episode," Dr. Dre sang "California Love," 50 Cent surprised with "In Da Club," Mary J. Blige handled "Family Affair" and "No More Drama," Kendrick dropped "M.a.a.D City" and "Alright," while Eminem brought "Lose Yourself" to the electric crowd.
It was widely hailed as a landmark in the history of the game's musical tradition, described by Rolling Stone as "one of the all-time great" halftime shows.
Dr. Dre - Still D.R.E. ft. Snoop Dogg
Following Dre's debut, 2001 entered the charts at No.2 on the US Billboard 200 and remains one of the best-selling hip-hop albums of all time. Though it was only Dre's second studio album, for 16 years, it felt like it would also be his final one. After years (and years) of teasing an album called Detox – rap's equivalent of Chinese Democracy – Dr. Dre released his third album, Compton, coinciding with the release of NWA's biopic, Straight Outta Compton.
The album featured hits like "Forgot About Dre," which not only showcased Em's killer verses, hooks, and the stylistic flair he brought to the song, it served as a corrective to any of those who dared take Dre's musical clout for granted. A few months later, "The Real Slim Shady" would feel like a spiritual sequel. After 2001 hit, Eminem went on to become the best-selling rapper of all time.
Compton was a victory lap; a statement and a celebration of the collaborators Dre had worked with throughout his storied career – a career that is most often defined by the first entry in Dre's trilogy, The Chronic. But, a few decades later, it's easy to see that 2001 was just as impactful, if not more forward-thinking than its predecessor, future-proofing itself to be a timeless hip-hop album.
Listen to the best of Dr. Dre on Apple Music and Spotify.