Dre, Snoop, Eminem, Mary J. Blige, Kendrick Lamar Bring Hip-Hop Royalty To Super Bowl
Surprise guest 50 Cent also appeared in a set described by Rolling Stone as 'one of the all-time great' halftime shows.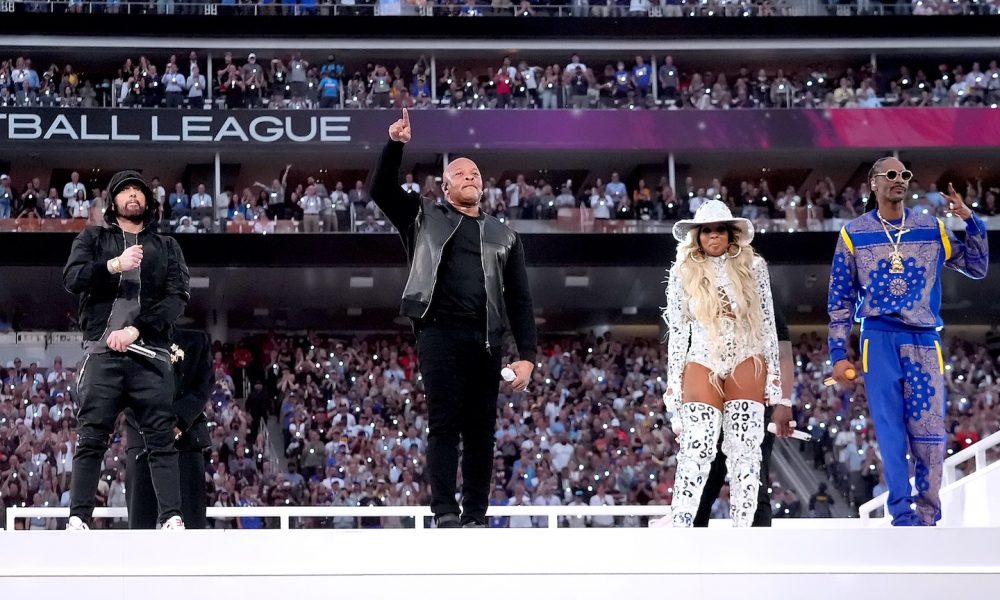 "Hip-hop royalty" arrived at the Sofi Stadium in Los Angeles last night (13) at the much-vaunted halftime performance during Super Bowl LVI. Dr. Dre, Snoop Dogg, Eminem, Mary J. Blige, and Kendrick Lamar performed, as did surprise guest 50 Cent. It was widely hailed as a landmark in the history of the game's musical tradition, described by Rolling Stone as "one of the all-time great" halftime shows.
In the most controversial moment, Eminem concluded "Lose Yourself" on one knee, despite rumored warnings from NFL officials to keep politics out of the event. The New York Times noted that the show was "balancing celebration and protest" and said it "scanned as an oasis of racial comity if not quite progressivism." In the game, National Football Conference champion Los Angeles Rams defeated American Football Conference champion Cincinnati Bengals 23–20, after a late touchdown.
The set for the 12-minute halftime show, which cost a reported $7m and was said to have been funded by Dr. Dre, featured the landmarks of his nearby Compton neighborhood in all white, including the Martin Luther King Jnr monument, Tam's Burger Joint, Dale's Donuts, and the Eve After Dark nightclub. The pitch itself featured a map of Compton, below a set that was seen by millions on TV, and described as the "most-bleeped" in NFL history.
Dre opened a performance that would become a celebration of the history of West Coast rap, positioned at a large white mixing desk, rising from the roof of a Compton home. Snoop Dogg joined him on "The Next Episode," which segued into an excerpt of Tupac's Dre-produced 1995 hit "California Love." The show was taking place 25 years to the day since the release of the late rapper's fourth album All Eyez On Me.
The surprise appearance of 50 Cent centered on his 2003 single "In Da Club," originally produced by Dre, as was Mary J. Blige's "Family Affair," which she performed along with "No More Drama." Kendrick Lama followed with "m.A.A.d City" and "Alright." Eminem then appeared alongside Dre to rap on "Forgot About Dre" before delivering "Lose Yourself" with Anderson .Paak on drums. The halftime show closed with an ensemble "Still "DRE."