Duff McKagan Talks Early Guns N' Roses Years And Solo Album With Henry Rollins
Punk icon Henry Rollins interviews Guns N' Roses bassist Duff McKagan about his new solo record and being in one of the biggest bands in the world.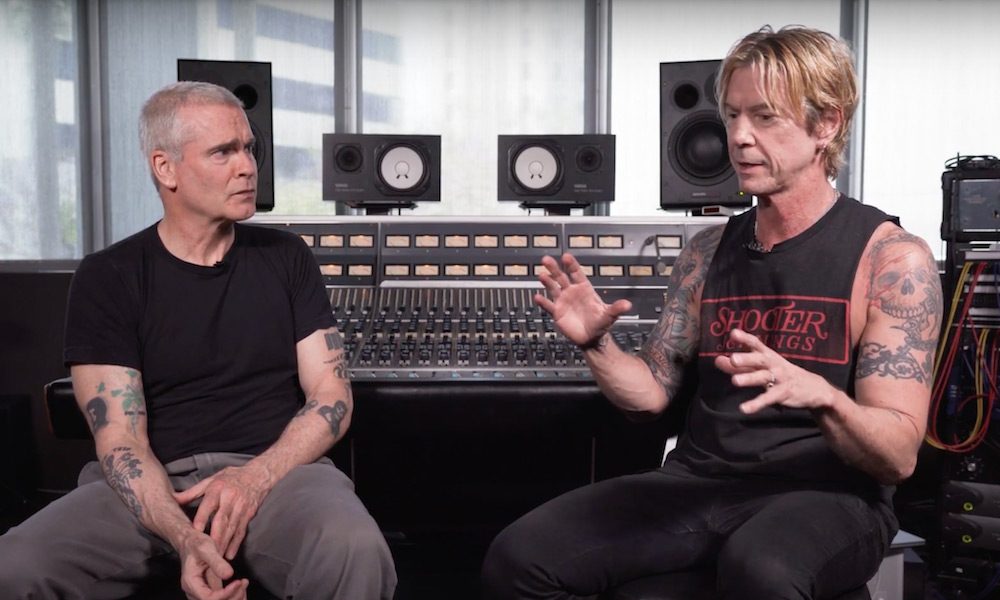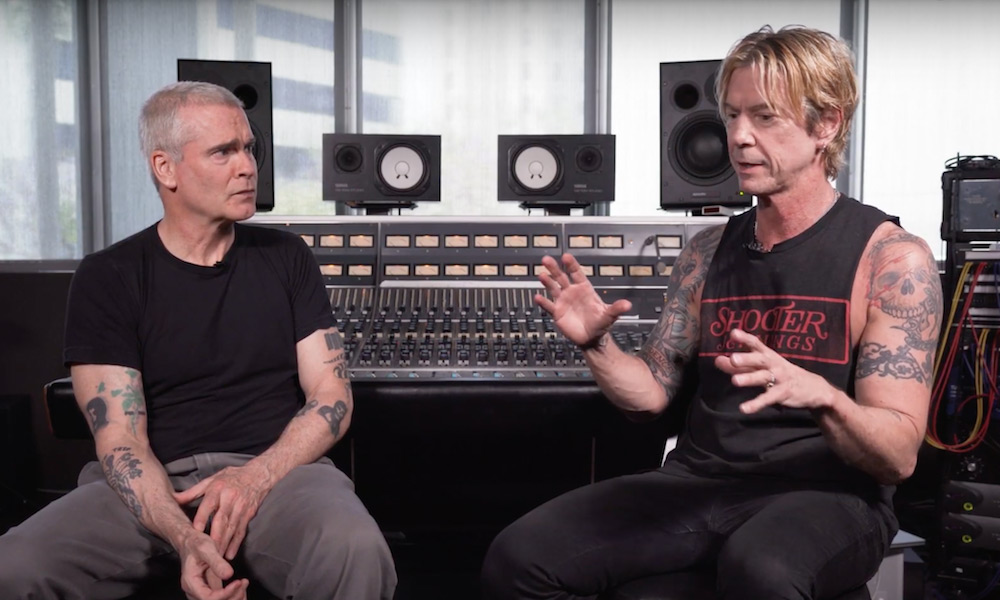 A true renaissance man of rock and Guns N' Roses' legendary bassist, Duff McKagan has lived more than enough lives to fill a book or countless album. Having just released his acclaimed solo album, Tenderness, produced by Shooter Jennings and kicking off the European leg of his tour, McKagan has plenty to talk about in a new interview with punk icon-turned-DJ-historian-and-political columnist, Henry Rollins.
The two rock heavyweights met up at the famous Capitol Tower in Hollywood for an exclusive "rock'n'roll inquisition," as Rollins calls it. But as with anything with Rollins, it's more of an intellectual exercise than a casual interview.
The pair share more than just a fondness for punk records, as McKagan recalls his first gig, opening for Rollins' band Black Flag along his band 10 Minute Warning and being in awe of Rollins performance and dedication to his craft.
Duff McKagan talks to Henry Rollins about Guns N' Roses and writing his solo album, 'Tenderness'
"We never got ready for a show like Henry Rollins got ready for a show," McKagan recalls. "For me it was like, that's how you do it. Now it's time to get serious."
McKagan also reflected on his early days in Seattle's punk scene when kids would get knocked around by venue security just for pogoing at a show.
"I never considered Guns N' Roses a metal band," says Rollins. "To me you were always a rock band with a punk rock sensibility."
After meeting Slash during his first week in LA, McKagan recalls how the two ended up at a LA Guns show where they first witnessed a young Axl Rose performing.
"I don't really remember the music too much, but I remember him coming out like this force," McKagan tells Rollins. "I backed up when he came out on stage, there was this anger, and it wasn't false. I knew how to recognise what real was and that was real. To this day, I love a band that scares me a little bit."
Having toured for multiple decades throughout his life and being in one of the biggest bands in the world, "what has that taught you about humanity?" asks Rollins.
"Back when our band became "that big band," I think I had punk rock guilt and a year or two adjustment to that, wondering where's my place in this thing," McKagan replies.
Having spent a lifetime on the road, McKagan bonded with more than just his bandmates, meeting fans from all over the world and connecting with them on a very human level.
"Talking to fans at shows, you get the full story of their lives," McKagan tells Rollins. "Fans tell you more than they would their therapist or best friend."
McKagan then turned these experiences and observations about the current state of the world into a series of vignettes he wrote while touring with GNR. While he initially sketched out the idea of a book, it quickly evolved into something different, as these stories turned into songs.
After his manager hooked him up with Jennings, son of the legendary country outlaw Waylon Jennings, McKagan and Jennings started recorded the beginnings of Tenderness.
Following the album's release last May, McKagan embarked on a solo tour of North America, playing songs from Tenderness alongside Guns N' Roses' deep cuts. This month he takes the tour to Europe before he joins back up with GNR for a new string of dates on their newly extended Not in This Lifetime tour.
Duff McKagan's European tour includes the following dates:
22nd August: Stodola, Warsaw POLAND
23rd August: Astra, Berlin GERMANY
24th August: Blue Moon Festival, Amsterdam HOLLAND
26th August: Gloria, Cologne GERMANY
27th August: Alte Feurwache, Mannheim GERMANY
29th August: Islington Assembly Hall, London UK
31st August: Electric Picnic Festival, Stradbally, Laois, EIRE
1st September: Manchester Academy 3, Manchester UK
3rd September: Le Trabendo, Paris FRANCE
4th September: Ancienne Belgique, Brussels BELGIUM
6th September: Dynamo, Zurich SWITZERLAND
8th September: Santeria Club, Milan ITALY.
Duff McKagan's solo album, Tenderness, is out now and can be bought here.
Format:
UK English