Eminem And Dr. Dre Albums Fly Up Billboard Charts Following Super Bowl Performance
The two rappers were among the legendary artists to light up this year's halftime show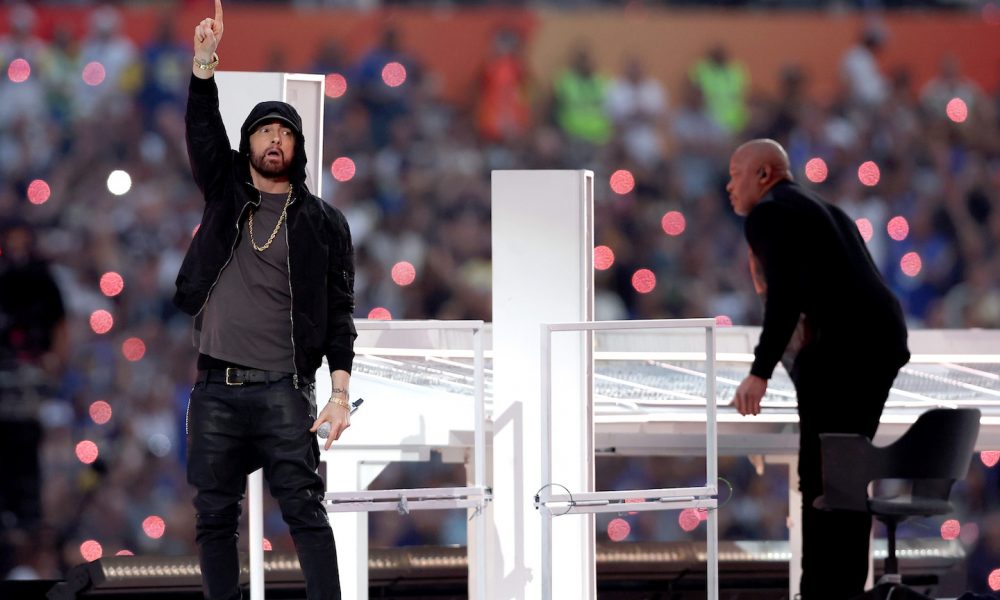 Albums by Eminem and Dr. Dre are flying back up the Billboard charts in the US following the rappers' performances at the Super Bowl halftime show.
The two iconic artists were among the six acts to perform in LA last weekend (February 13), appearing alongside Snoop Dogg, Kendrick Lamar, Mary J. Blige, and surprise guest 50 Cent.
In the days since the much-praised performance, Eminem's 2005 compilation Curtain Call: The Hits has made its way back into the Top 10 of the Billboard 200 chart. It was previously at No.126, but can now be found at No.8 after moving 31,000 equivalent album units.
Dre's seminal record 2001 has also experienced a resurgence, rising from No.108 to No.9 this week. That album's sales rose by 220 percent, scoring an additional 30,500 equivalent album units to help it return to the chart's upper echelons.
This year's Super Bowl musical spectacular was hailed as "one of the all-time great" halftime shows by Rolling Stone. It opened with Dre sitting behind a large white mixing desk from the roof of a Compton home before he was joined by Snoop Dogg for "The Next Episode" and a version of 2Pac's "California Love."
After performances from 50 Cent, Mary J. Blige, and Kendrick Lamar, Eminem delivered renditions of "Forgot About Dre" and "Lose Yourself" with Anderson .Paak on drums.
Meanwhile, last week saw Eminem's Curtain Call become the first hip-hop album to spend 500 weeks on the UK charts. It originally debuted on the Official UK Albums Chart at No.1 upon its release in December 2005 and hasn't left the chart in the 17 years since. More notably, it has largely remained in the Top 50 each week.
Dr. Dre has also continued to rack up impressive achievements of late, with his and Snoop Dogg's 1999 hit "Still D.R.E." reaching one billion views on YouTube following the Super Bowl halftime show.