New Video Hails The Release Of Frank Zappa Collection 'Funky Nothingness'
In the new footage, Joe Travers unboxes the new record, considered the missing link between Zappa classics 'Hot Rats' and 'Chunga's Revenge.'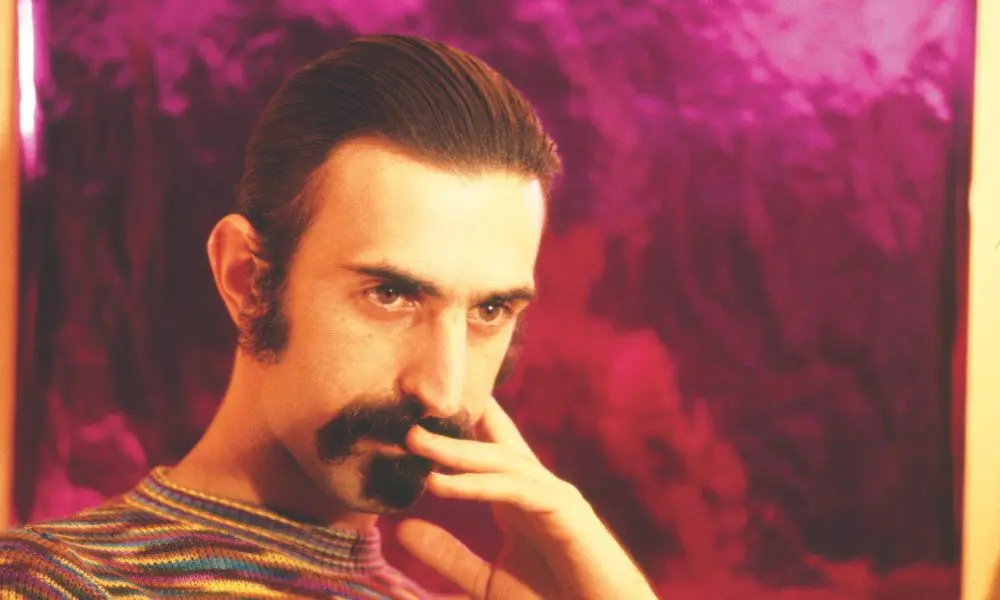 Considered by insiders to be the missing link between Frank Zappa's iconic albums Hot Rats and Chunga's Revenge, Funky Nothingness, out now via Zappa Records/UMe, features 25 unreleased and incredibly rare tracks, recently unearthed from the Vault after more than five decades, recorded shortly after Zappa's groundbreaking debut album, Hot Rats, with several of the same musicians.
Shop the best of Frank Zappa's discography on vinyl and more.
The sessions, which took place primarily in February and March 1970 at the newly opened Record Plant in Los Angeles, included the five-piece band of Mothers member Ian Underwood (keyboard, saxophone, rhythm guitar), violinist and vocalist Don "Sugarcane" Harris, Wrecking Crew bassist Max Bennett, drummer Aynsley Dunbar, who had just relocated to Los Angeles and moved in with Zappa following his invite to join the band after witnessing him play drums at a festival in Belgium, and Zappa on guitar, vocals and percussion as well as production duties.
Together the group recorded hours' worth of original compositions, inspired covers and extended improvisations that drew from Zappa's R&B and blues roots, while blending influences of the emerging jazz fusion scene. Largely instrumental, these recordings showcased the guitarist's virtuosity, while offering what could have easily been the sequel to Hot Rats, had it ever been released.
Early reviews of Funky Nothingness have been effusive with praise. Ultimate Classic Rock declared, "this entry in his posthumous archival series bolsters both the catalog and his legacy" and All About Jazz exclaiming, "This historic discovery of unissued studio performances by Frank Zappa will be on many critics' top ten lists for 2023 and it is highly recommended for anyone who owns Zappa's landmark Hot Rats album."
This highly anticipated entry into Zappa's esteemed catalog is being celebrated and explored with a new short video series. The latest video, out today, features Joe Travers unboxing the vinyl release and discussing the packaging and photography while providing some fascinating background on the recording sessions like only the Vaultmeister can. You can watch the video below.
Frank Zappa - Funky Nothingness Series (Episode 3: Product Reveal with Joe Travers)
Hosted by Travers, the first episode went behind the scenes and captures the vinyl cutting process with Chris Bellman at Bernie Grundman Mastering, and the second episode includes a new conversation between Travers and Ian Underwood who discusses how he met Zappa and became one of his go-to musicians.
While Zappa identified his favorite takes and mixed the tracks for eventual release, the wildly prolific musician's insatiable musical curiosity pulled him in other directions as the year wore on. It's not known exactly why this material was never released but it's possible that upon meeting Flo & Eddie, the comedy rock duo of Mark Volman and Howard Kaylan, shortly after the sessions, Zappa was inspired to work with them and assembled a bigger band and moved away from instrumental compositions and more toward vocally oriented material. Flo & Eddie would join the Mothers for Zappa's Chunga's Revenge album, recorded mostly that summer and released in October of that year. By the end of 1970, Zappa was well into writing and developing his film, 200 Motels and the accompanying soundtrack. All the while this incredible material was put on the backburner.
Listening back to the tapes from these sessions, Zappa Vaultmeister Joe Travers and Ahmet Zappa knew that they had something special. Working with the tracks that Zappa had produced, mixed, and worked on over the years, they compiled an 11-track album, naming it Funky Nothingness after a bluesy, stripped-down piece that the artist had recorded in 1967 at the end of one of the sessions for Uncle Meat.
Originally intended to open an early version of Chunga's Revenge the short, unreleased track "sets the tone for the album," explains Travers. Although the track was recorded a few years before most of the music presented here, Zappa eventually connected it to a build reel, signaling he was planning a release. While a couple recordings from these sessions have been released over the years (fans may remember the 12-minute version of "Sharleena" from 1996's posthumous collection, The Lost Episodes), Funky Nothingness introduces these recordings as a cohesive collection for the very first time.
"Funky Nothingness, as an album, is special in that it features at least three written compositions, three cover versions and multiple instrumental jam-oriented segments, all previously unreleased," Travers explains. "It's very rare to find that amount of music from one set of sessions that has gone unheard for such a long period of time."
Produced and compiled by Ahmet Zappa and Joe Travers, Funky Nothingness is now available in a variety of formats, including a three-disc expanded deluxe edition that presents the 11-track album on disc 1 along with two discs of outtakes, alternate edits, unedited masters of songs from the era ("Transylvania Boogie," "The Clap" and "Chunga's Revenge" among them), plus several epic improvisations, and other "bonus nothingness."
An accompanying 28-page booklet includes photos from the recording sessions by photographer John Williams plus illuminating liner notes and an individual track-by-track by Travers. Disc 1 features Zappa's vintage mixes alongside several modern mixes by Craig Parker Adams who also mixed the bonus material. All audio was mastered by John Polito at Audio Mechanics. In all, the 25-track collection includes 23 unreleased tracks totaling nearly three and a half hours of never-before-heard music. The expanded edition of Funky Nothingness is also available digitally for streaming and download, in both standard and hi-res audio (96kHz/24-bit).
Funky Nothingness is also available as a double LP on both 180-gram black vinyl and limited edition clear violet 180-gram vinyl, pressed at Optimal, with lacquers cut by Chris Bellman at Bernie Grundman Mastering. The vinyl consists of Zappa's vintage mixes of the tracks. The limited edition color pressing, which also includes a collectible guitar pick, is available exclusively at Zappa.com, uDiscover Music and Sound of Vinyl.