Lyric Video Illuminates George Harrison's Previously Unreleased 'Cosmic Empire'
It's one of many previously unissued recordings that will be included on the 50th anniversary deluxe 'All Things Must Pass.'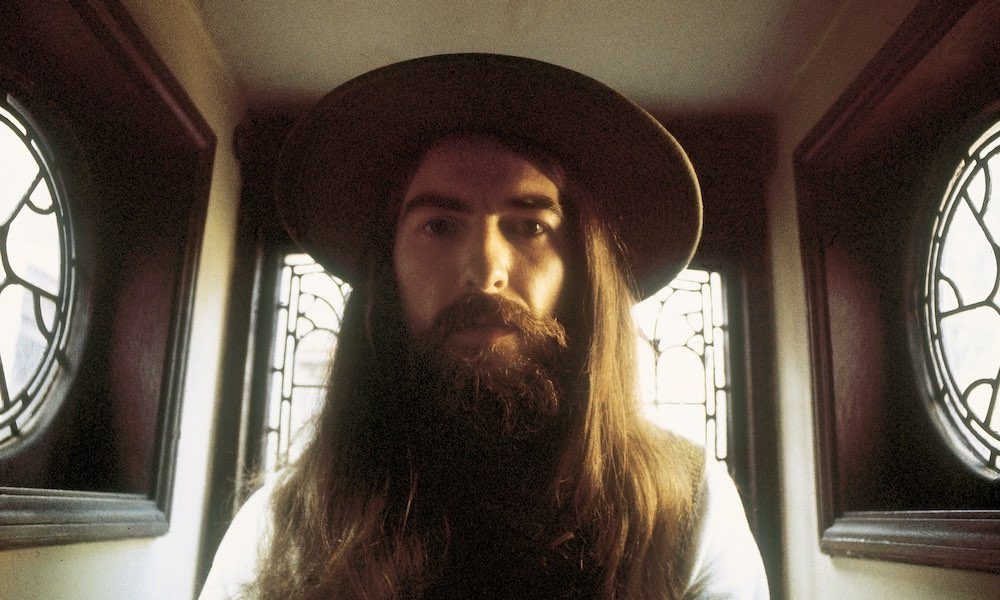 Ahead of the arrival on August 6 of Capitol/UMe's 50th anniversary Super Deluxe Edition of George Harrison's All Things Must Pass, the unreleased "Cosmic Empire" is shared from it today (9), accompanied by a vivid lyric video.
It's one of many previously unissued recordings from the sessions for the revered, landmark album by Harrison, who began work on it just six weeks after the announcement in April 1970 of The Beatles' break-up. He spent two days running through 30 demos for consideration for the new, ambitious project.
George Harrison - Cosmic Empire (Day 2 Demo / Take 1 / Lyric Video)
On May 26, at Studio Three at EMI Studios, Abbey Road, Harrison recorded 15 songs with Ringo Starr and friend and Beatles alumnus Klaus Voormann, beginning with the title song. Fifteen more followed the next day by Harrison solo, for co-producer Phil Spector. Many, but not all, of those songs made the triple LP that was released in late 1970.
The Super Deluxe edition that marks the album's 50th anniversary will, for the first time, make all 30 of those demos available, 26 of them never before officially released, as well as several songs that didn't make the album. These include "Cosmic Empire" itself plus "Going Down To Golders Green," "Dehra Dun," "Sour Milk Sea," "Om Hare Om," Window Window," "Beautiful Girl," "Mother Divine," and "Nowhere To Go."
The newly-available "Cosmic Empire" was captured on the second day of recording and has George accompanying himself on acoustic guitar. The new lyric video, produced by animation house Yes, Please, colorfully animates the natural and cosmic worlds that Harrison describes in the lyrics.
All Things Must Pass 50th Anniversary (Official Trailer)
Lovingly crafted by the Harrison family, All Things Must Pass has been completely remixed from the original tapes and will return in a suite of 50th anniversary releases, sonically upgrade to fulfill George's wishes for the original release. Dhani Harrison serves as executive producer of the new editions, which are mixed by triple Grammy-winning engineer Paul Hicks, with the product produced by David Zonshine.
Pre-order the All Things Must Pass 50th Anniversary Edition.