Ghost Announces 'Reverence & Resurrection' Archival Exhibition
The event is the first pop-up from the popular 'Metal Myths' series.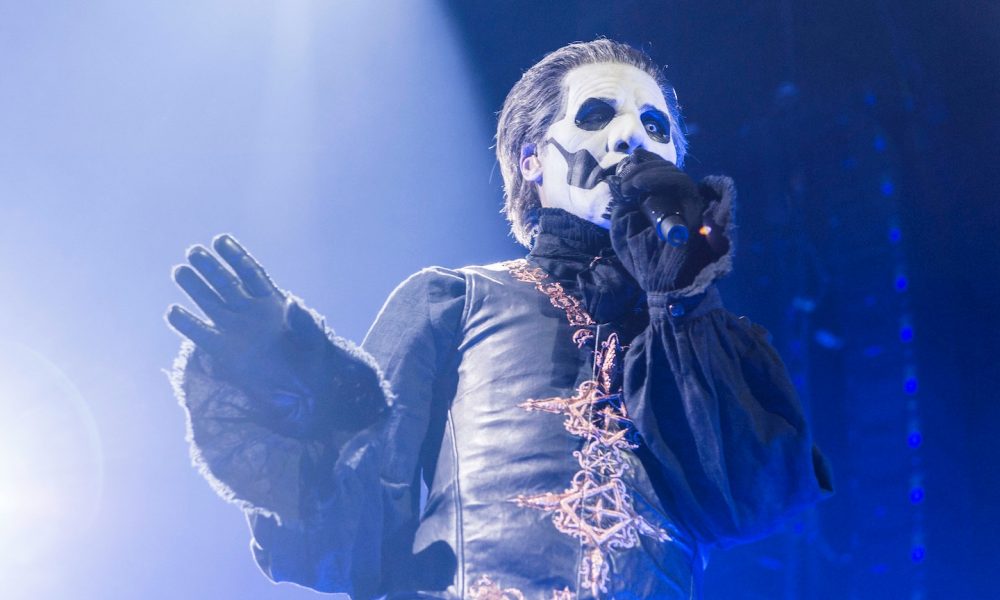 Ghost has announced the first ever pop-up event from "Metal Myths," the show that explores the histories and mysteries of the world's most extreme bands.
For one night only on Wednesday, February 1 at the world-famous Whisky A Go Go in West Hollywood, California, "Metal Myths Presents: Ghost – Reverence & Resurrection" will pay tribute to the classic 1969 era of Ghost, a band that didn't actually form until almost four decades later.
From 4 p.m. until well into the evening, Ghost fans will have the opportunity to check out artifacts from the short-lived but massively influential 1969 iteration of Ghost. Long unseen and never before publicly displayed, these artifacts will include: Ghost's 1969 costumes and ghoul masks on the very same Whisky A Go Go stage where the band performed its now-legendary September 13, 1969 show; rare magazine covers, the only surviving remnants of the mainstream music press coverage of Ghost from that era; and a treasure trove of ephemera on display for the first and possibly only time.
"Ghost – Reverence & Resurrection" will also offer attendees the opportunity to pick up exclusive merchandise and other surprises, including an advance chance to purchase the much-anticipated purple vinyl reissue of Ghost's 1969 seven-inch "Seven Inches Of Satanic Panic," featuring "Kiss The Go Goat" and the song that would land Ghost its first spot on the Billboard Hot 100 "decades" after its original release, "Mary On A Cross." Capacity is limited, so arriving early is highly recommended.
Last week, Ghost's "Spillways" underwent a transfiguration to include guest vocals from rock legend and avowed Ghost fan Joe Elliott of Def Leppard. To witness Joe Elliott's phantasmagorical journey into the world of Ghost, open Chapter 15: (Title TBC). The newest instalment in Ghost's long running series of webisodes, Chapter 15 documents a karaoke session that goes awry in spectacular and supernatural fashion.
The mutual admiration between Ghost and Def Leppard is well documented. Speaking about IMPERA, Tobias Forge said "Going into this record, I thought I would see if I could do it a little more like Def Leppard did it." Joe Elliott told Metal Hammer "I listened to it all, & I thought it was absolutely stunning. It's like a whole new genre of music". Creative kinship like this seemed destined for something special & fortunately for rock fans the world over it comes as a Spillways collaboration.
Visit the Whiskey a Go Go's official website for more information.