Gibson Flying V And Explorer Guitars Flying Again In New Collection
The new models are the culmination of a three-year project by the Gibson Custom Shop.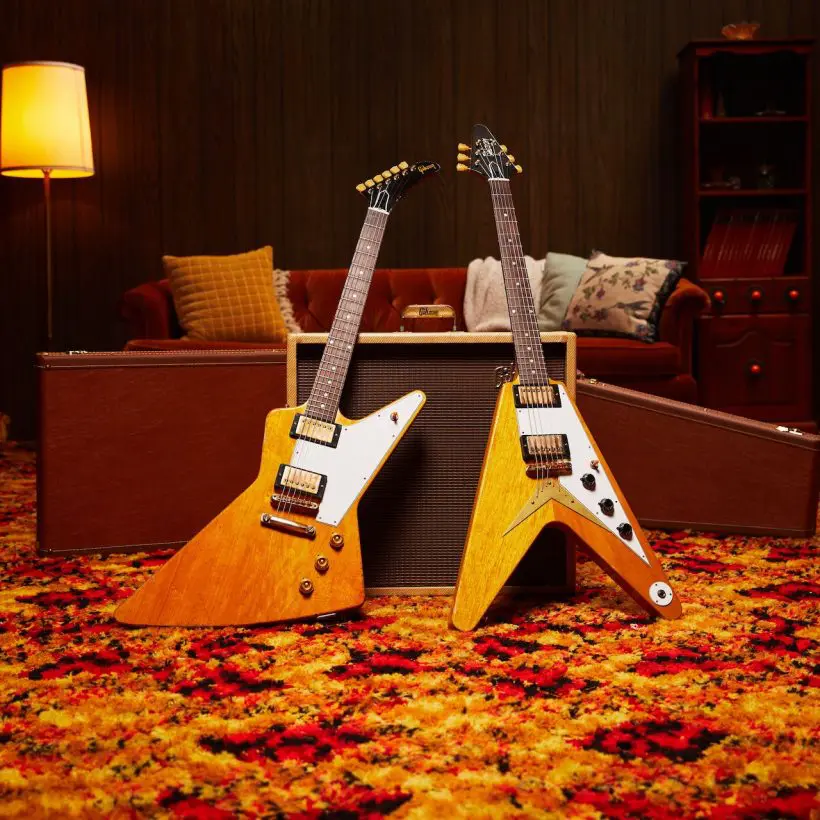 Gibson has released a full new collection of the rare and desirable Flying V and Explorer guitar models. The futuristic-looking instruments soon became highly collectible as, in 1958, the company introduced and shipped just 81 Flying Vs and 19 Explorers.
The Gibson Custom Shop 1958 Korina Flying V and Explorer are available worldwide now at www.gibson.com. They are the culmination of a project that has taken the Gibson Custom Shop team three years to develop. Each of the guitars is made with Korina wood and recreates all of the vintage features on the original Flying Vs and Explorers that made their debut 63 years ago.
Jimi Hendrix, Dave Davies, Albert King, Tom Petty, and Lenny Kravitz have been among the enthusiastic advocates of the Flying V in rock and blues history, as detailed in this dedicated story on the history of the celebrated axe. Fans of the Gibson Explorer, meanwhile, included U2's The Edge, Gary Moore, Metallica's James Hetfield, Matthias Jabs of Scorpions and Foo Fighters' Dave Grohl.
The Gibson 1958 Flying V and Explorer
State of the art technology has helped the Gibson team to create the most authentic, identical clones of the originals that are humanly possible, using 3D scanning technology from multiple original models. Each Flying V and Explorer is available with either a black or white pickguard and includes a historically accurate case with a classic brown exterior and plush pink interior.
Each of the models retails for $9,999.00, and you can view the guitars here. The Flying V reissue features an ABR-1 bridge with a string-through korina body, Custombucker pickups, korina neck, Indian rosewood fretboard, two volume and one tone control with CTS pots and a phone book capacitor, gold hardware, Kluson tuners, and a four-ply pickguard. The specification of the Explorer model is identical with the exception of its Stop-Bar tailpiece.