Scorpions
The German hard rock band have been active for more than fifty years, with worldwide fame and countless hit singles.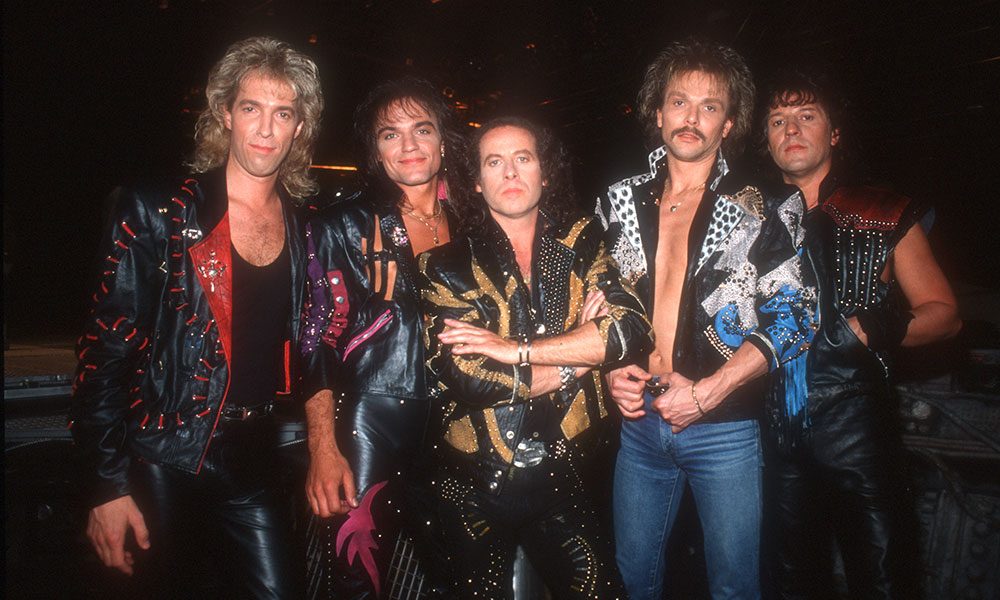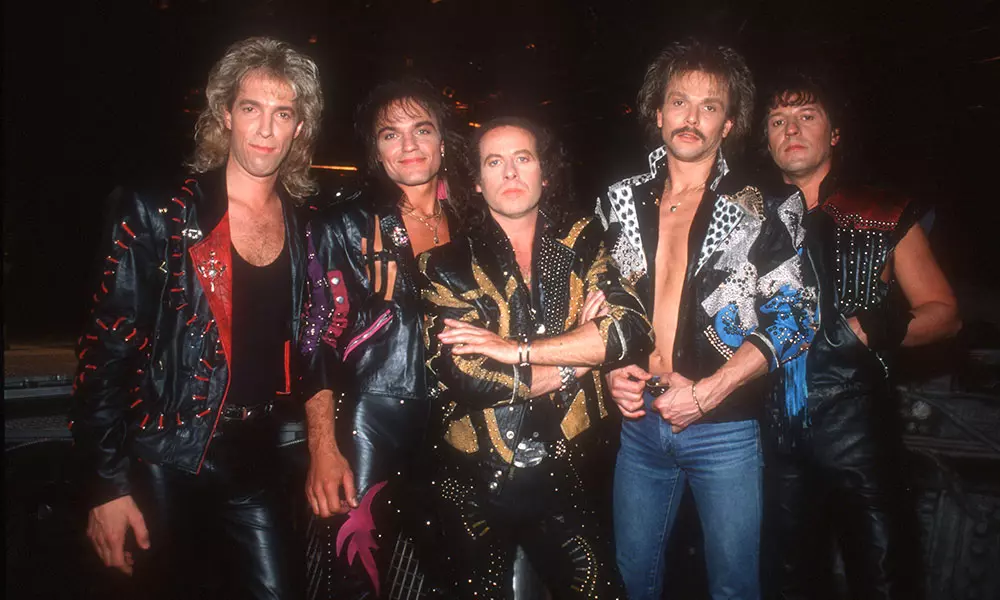 The renowned German heavy metal act and then some, Scorpions have recorded for us over five decades and sold in excess of 75 million albums in between 1972's Lonesome Crow and the most recent Return to Forever (2015). During that time they have also played over 5000 concerts in over 80 countries, the most recent tour being mooted as their finale, though they have since retracted that decision. Hurrah. Consistent and reliably brilliant the band includes long term founding member Rudolf Schenker (guitars and vocals), brother of lead axeman Michael who would participate and then do his own inimitable thing, singer Klaus Meine, Matthias Jabs, guitars, and the rhythm section of James Kottak and Pawel Maciwoda.
While they are rooted in hard rock the Scorpions are hard to categorise at times since they don't conform to the so-called Krautrock style, though they have something in common with the genre, and have also been involved in musical theatre and symphonic work. Their cupboards bulge with awards and honours. The most successful German band of all time, they have performed for world leaders, have streets named after them, appeared on stamps and been given a star on the Hollywood Walk of Fame. Their best-loved songs include the immortal "Rock You Like a Hurricane", "Wind of Change" and "No One Like You". Since 1979 they have never released an album in Germany that didn't make the Top 20 while the double Platinum Crazy World (1990) heralded global stardom. There following is fanatical and can be heard baying approval on six live discs. We also have a selection of many compilations, Best Of's and anthologies like Box of Scorpions to offer a thoroughly comprehensive overview of their spectacular career to date.
Rudolf Schenker actually started the Scorpions in Hannover in 1965 when their sound was British beat influenced. Michael and Klaus changed the focus in 1970 and the debut album Lonesome Crow was recorded with Conny Plank (Can, Cluster, Kraftwerk, Brian Eno, Killing Joke, Moebius, DAF, Eurythmics etc.) at Star Studios, Hamburg for the famed Brain label. Michael left to join UFO shortly afterwards but left the team with a fine disc, full of pulsating rock riffs and psychedelic spin.
Fly to the Rainbow emerges after a hiatus when Rudolf and Klaus perform as Dawn Road but then resume the brand with new guitarist Ulrich Jon Roth. Adding mellotrons and synths to the mix they moved into progressive territory but In Trance (1975) announced their arrival as a fully-fledged hard rock act with classy musicianship, subtle vocals and a crisp sonic atmosphere.
The highly controversial Virgin Killer would become one of their best-loved releases and define their sound, an abrasive metal that will prove influential. The title track and "Pictured Life" are classic Scorpions and surely inspired the next generation of New Wave British Heavy Metal.
Roth left after Taken by Force but again this is a stellar disc whose songs have been covered by Syu, Testament, Yngwie Malmsteen and Helstar. Dieter Dierks production shines here and this disc came to the attention of American management team Leber Krebs, thus opening the door for an assault on the US rock market who would soon surrender to the delights of "Steamrock Fever" and "Born to Touch Your Feelings." The double live Tokyo Tapes sees Roth and his Hendrix influenced guitar work take their leave but not without contributing those immense talents to one of the great on-stage Scorpions testaments from Nakano Sun Plaza.
As word spread Lovedrive provided the impetus for much bigger sales. Michael Schenker returns to add guitars to three cuts and Matthias Jabs handles the Fender like a champ elsewhere, bringing a whiff of Van Halen to the new big sound.
Ensuring they moved the formula forward the splendid Animal Magnetism contains the brooding metal burlesque cut "The Zoo"; this will become a lynchpin number of their live act and is especially popular in the UK. Suitably energised by international acclaim Scorpions eighth studio album, Blackout receives stunning reviews and wins plaudits for the brilliant "No One Like You".
Love at First Sting (1984) took a while to appear but utilises the emerging digital recording technology to full effect. Standout cuts here are "Rock You Like a Hurricane" and "Still Loving You"; the combination of power balladry and memorable riffs shine brightly.
Dierks final disc with his friends is Savage Amusement where they tinker with a more synthesized sound and even move into the dance territory that was becoming so hip in Cologne.
The huge seller Crazy World is co-produced with Keith Olsen who provides a very radio-friendly sheen to the hard rock grooves. Francis Bucholz makes his bass-playing bow here but leaves Scorpions in good shape with the political track "Wind of Change" becoming a slow-burning worldwide hit just in time for the collapse of the Soviet Communist regime.
That move towards social issues and more pointed lyrics continue on Face the Heat, produced by the late Canadian board master Bruce Fairbairn (Bon Jovi, Aerosmith, AC/DC) although the more contemporary sound he gave them was soon swapped for the in-house Scorpions thrust of Pure Instinct.
They return to us for 1999's Eye 11 Eye, an album that slipped off the radar somewhat but is well worth rediscovery now. Guests here include Mick Jones (Foreigner) and James Ingram. The noted producer Peter Wolf adds piano and keyboards to a lush and soulful disc.
The new millennium finds Scorpions in carefree mood on Moment of Glory as they team up with the Berlin Philharmonic Orchestra to cover some of their best-loved tracks, also a version of Diane Warren's "Here in My Heart". Ray Wilson (Genesis) and Zucchero add vocal polish to this EXPO 2000 extravaganza and emotional Hannover homecoming.
After political constructs, the occasional concept and strings it's back to hard-rocking business as usual on Unbreakable but experimentalism is always in their arsenal and so the collaboration with Desmond Child on Humanity: Hour 1 envisages a Science Fiction future where man and robots are in conflict.
That audacious disc is chased down by the acclaimed Sting in the Tail (2010). "The Good Die Young" recorded with Finnish metal opera star Tarja Turunen and the epic "Raised on Rock" delighted fans who appreciated Scorpions ability to maintain an incredibly high standard of writing and performance.
For something completely different try Comeblack as the band re-record some older classics and revisit their beat origins with covers of Beatles, T. Rex, Small Faces, Kinks and Rolling Stones oldies but goldies. It's an esoteric mix but it works very well. Discovery of this 2011 disc is highly recommended.
We also have Return to Forever, the aptly named new disc. Schenker, Meine and company celebrate both their 50th anniversary and their partnership as a long-lasting institution. As Rudolf explains: "We're living a Gypsy Life, all our life, fifty years and longer". This is available in standard format and Limited Deluxe and iTunes Editions as well as a heavyweight double vinyl pressing and a collector's box set with extra goodies and memorabilia. A fine thing.
For extra listening seek out the World Wide Live or Live Bites and bolster your interest with any of the compilations, such as Best of Rockers n' Ballads, Still Loving You or the handy Big City Nights. Bad for Good: The Very Best of Scorpions contains two unreleased cuts from 2002. The Platinum Collection spans their career with well-chosen items on 3-CDs, as do Box of Scorpions and Gold.
There is much to discover and admire and with these veteran rockers in such fine fettle today it seems likely there is more on the way.
Words: Max Bell