Stax Figurehead Isaac Hayes Celebrated With 'The Spirit Of Memphis' Set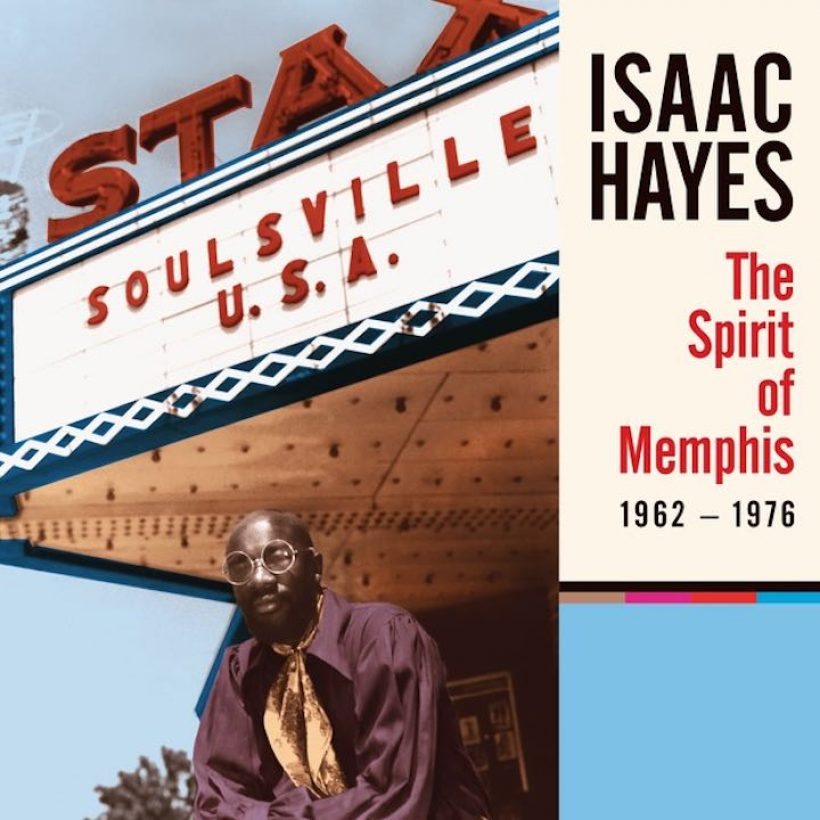 The influential and wide-reaching career of soul original Isaac Hayes will be anthologised by Craft Recordings via Concord with The Spirit of Memphis (1962-1976), a box set due for release on 22 September in the US and 20 October worldwide. Hayes would have turned 75 on 20 August.
The 4CD set will highlight the various chapters of Hayes' long career, with an in-depth examination of his seminal contributions to the development of Stax Records and to the wider music world. It features his emergence as a foundational writer-producer at Stax, with an opening disc of recordings by the likes of Booker T and the MGs, Johnnie Taylor, William Bell and many more. 
The set then depicts the artistic metamorphosis that turned Hayes into one a global R&B figurehead. Disc two puts the emphasis on Hayes as a solo artist, from his Volt and Enterprise singles to his breakthrough version of Jimmy Webb's 'By The Time I Get To Phoenix,' as well as the world-famous 'Theme from Shaft.'
Disc three, Cover Man, celebrates his interpretative powers on the songs of other writers, while the fourth disc, Jam Master, has extended jams from Hayes' classic albums, including an epic, 33-minute freeform psychedelic Bar-Kays jam on 'Do Your Thing.'
Also on this final disc is an unreleased, work-in-progress version of 'You've Made Me So Very Happy,' Bill Withers' 'Ain't No Sunshine' and a newly-unveiled piece written for the Shaft soundtrack, 'Black Militant's Place.' The Spirit of Memphis, which will also include a replica 7" vinyl single of his first commercially-released recordings, 'Laura, We're On Our Last Go-Round' and 'C.C. Rider.' 
The retrospective is housed in a 60-page hardcover book, offering a wealth of archival photos and ephemera and an essay by author Robert Gordon (Respect Yourself: Stax Records and the Soul Explosion). Gordon's text includes new interviews with Stax luminaries Deanie Parker and Jim Stewart. There are also contributions in the package from Floyd Newman, Mickey Gregory, Sam Moore of Sam & Dave and Joe McEwen, the compilation's producer.
Click here to explore hip-hop's debt to Isaac Hayes, via Who Sampled's interactive history of his work.
The Spirit Of Memphis (1962-1976) is out in the US now, and will be available worldwide on 27 October. Scroll down for the full tracklist, and purchase the box set here.
The full The Spirit Of Memphis (1962-1976) tracklist is:
*Denotes previously unreleased material
CD1: Soul Songwriter, Soul Producer
1. Floyd Newman – Sassy
2. David Porter – Can't See You When I Want To
3. Carla Thomas – How Do You Quit (Someone You Love)
4. Booker T and the MGs – Boot-leg
5. The Astors – Candy
6. Danny White – Can't Do Nothing Without You
7. Johnnie Taylor – I Had A Dream
8. Sam & Dave – Hold On! I'm A Comin'
9. Ruby Johnson – I'll Run Your Hurt Away
10. Carla Thomas – Let Me Be Good To You
11. Mable John – Your Good Thing (Is About To End)
12. Homer Banks – Fighting To Win
13. Carla Thomas – B-A-B-Y
14. William Bell – Never Like This Before
15. The Mad Lads – Patch My Heart
16. Johnnie Taylor – Little Bluebird
17. Charlie Rich – When Something Is Wrong With My Baby
18. Charlie Rich – Love Is After Me
19. Judy Clay – You Can't Run Away From Your Heart
20. Sam & Dave – Soul Man
21. The Charmels – As Long As I've Got You
22. Sam & Dave – I Thank You
23. The Soul Children – The Sweeter He Is (Parts I & II)
24. Billy Eckstine – Stormy
25. David Porter – Can't See You When I Want To
26. The Emotions – Show Me How
CD2: Volt & Enterprise Singles
1. Sir Isaac and The Do-Dads – The Big Dipper
2. Sir Isaac and The Do-Dads – Blue Groove
3. Isaac Hayes – Precious, Precious
4. Isaac Hayes – By The Time I Get To Phoenix
5. Isaac Hayes – The Mistletoe & Me
6. Isaac Hayes – Winter Snow
7. Isaac Hayes – I Stand Accused
8. Isaac Hayes – The Look Of Love
9. Isaac Hayes – Never Can Say Goodbye
10. Isaac Hayes – Theme From "Shaft"
11. Isaac Hayes – Do Your Thing
12. Isaac Hayes – Let's Stay Together
13. Isaac Hayes and David Porter – Ain't That Loving You
(For More Reasons Than One)
14. Isaac Hayes and David Porter – Baby I'm-A Want You
15. Isaac Hayes – Theme From "The Men"
16. Isaac Hayes – Rolling Down A Mountainside
17. Isaac Hayes – Joy (Part 1)
18. Isaac Hayes – Wonderful
19. Isaac Hayes – Someone Made You For Me
20. Isaac Hayes – Title Theme (From "Three Tough Guys")
21. Radio Spot – "You Gotta Have It To Really Be In"
22. Radio Spot – "The Rapper Is Back"
CD3: Cover Man (all tracks by Isaac Hayes)
1. When I Fall In Love
2. Walk On By
3. I Just Don't Know What To Do With Myself
4. Man's Temptation
5. Never Gonna Give You Up
6. Windows Of The World*
Recorded live at Operation PUSH Black Expo, International Amphitheatre, Chicago, IL – October 1, 1972:
7. The Ten Commandments of Love*
8. Just Want To Make Love To You / Rock Me Baby*
9. Stormy Monday*
10. I Stand Accused*
11. If Loving You Is Wrong
12. His Eye Is On The Sparrow
CD4: Jam Master
1. Ike's Mood I
2. You've Made Me So Very Happy*
3. Black Militant's Place*
4. Ain't No Sunshine*
5. Hung Up On My Baby* (Extended Jam)
6. Groove-A-Thon* (Extended Jam)
7. Do Your Thing (Extended Jam)
7" Single
A-side: Laura, We're On Our Last Go-Round
B-side: CC Rider
Format:
UK English