Joe Walsh Hopes To Heal With Music On New Collaborative 'Prayers' EP With Amjad Ali Khan
For those who associate Joe Walsh only with high spirits and fast lanes, this is heady stuff indeed. But as he told us recently, it all flowed happily and naturally.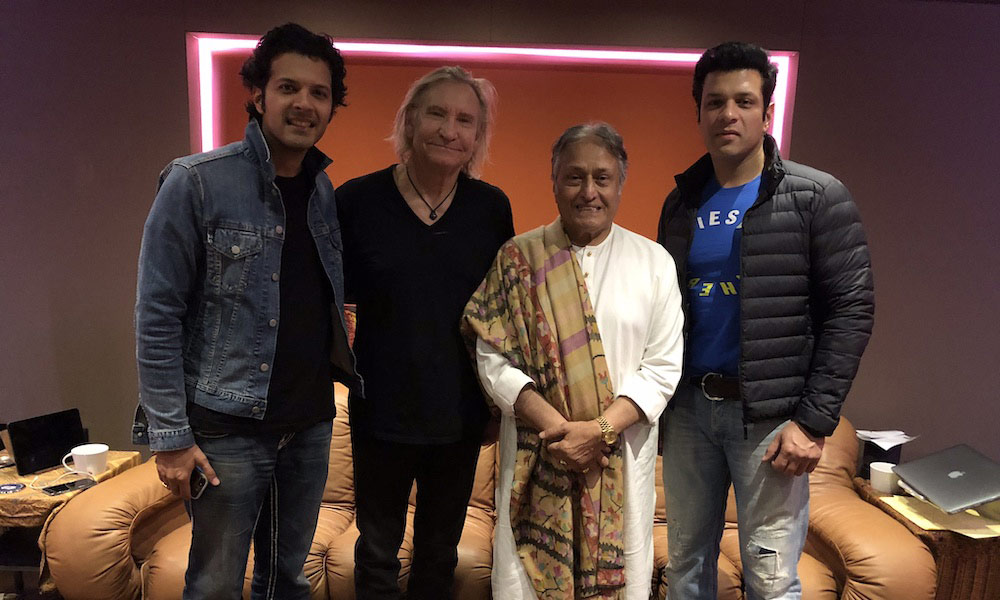 If ever two musicians came from entirely different worlds, it's Joe Walsh and Amjad Ali Khan. Walsh is of course the guitar slinger who made power trio history with the James Gang and has been a solo artist and full-time Eagle for the past four decades. Khan is one of the finest living sarod players, and one of India's most renowned classical players. Both have toured internationally since the 60s, but their styles of music have been well apart.
Yet the two struck up a friendship at a wedding a few years back, and musical friendships inevitably lead to jamming. When the jam happened under shutdown last year, both were in the mindset to do something spiritually positive during a dark time. Khan brought his two sons Amaan Ali Bangash and Ayaan Ali Bangash to play, and Walsh called in an A-list of players including drummers Stewart Copeland (The Police), Jim Keltner, and Joe Vitale. The resulting music is not Indian classical and not rock, but something new and organic.
The music of Prayers is largely elegant and acoustic, with the spiritual feel always evident: One track ("Goddess") salutes womanhood, another ("Healing Love") is dedicated to frontline workers and a third, "Hope" incorporates "We Shall Overcome" as a tribute to Black Lives Matter. For those who associate Walsh only with high spirits and fast lanes, this is heady stuff indeed. But as he told us recently, it all flowed happily and naturally.
The collaborators joined us for a transatlantic chat recently, with Walsh zooming in from Los Angeles and Amjad Ali Khan and Ayaan Ali Bangash waking up at 5 am to join us from India.
Listen to Prayers on Apple Music and Spotify.
When you first met socially, did the idea of a musical collaboration come up right away?
Joe Walsh: Not immediately, no. We met each other and didn't have a lot of time to compare notes. But [our first] meeting went well enough so that we decided to get together as soon as possible. We didn't know what to think of each other because we come from two different worlds but shared a lot in common about things we liked and didn't like. But once we realized that we were from the same part of the universe, we decided, let's think about doing some music together not knowing what to expect, not having any plan or anything. So, over the course of a meeting and a couple of visits, we decided to just continue and expand our new friendship.
Amjad Ali Khan: We are from different backgrounds, but we breathe music. Basically, there are two worlds. One is a world of words, language and the other is a world of sound. And sound is very pure. Sound is very innocent and very sacred. Because through sound, I cannot manipulate. If I'm out of tune, you will come to know. But through language, the world is manipulating and trying to do whatever they want. In our country, in India, we say music is God, that music connects you. And people all over the world worship through sound, through music, through piano and organ. So we are very happy that we met.
Ayaan Ali Bangash: The first time my brother and I met maestro Walsh was when he wanted to own a sarod. So it was basically a presentation of that sarod, which turned out to be a jam session between us. Little did we know that, in the time to come, that sarod would come to the rescue. At the first recording session when we reached LA, we were coming from Vancouver Islands and none of our instruments arrived. So all the artists were in the studio and we were just supposed to start recording. So that instrument, which maestro Walsh had taken a few years ago, came to our rescue. That instrument makes a debut as well in this EP.
You can hear some Indian influence in your music, going back to early James Gang tracks like "Take a Look Around." Was that always an interest you've had?
Joe Walsh: I suppose there was a little bit of that in all of us, ever since George Harrison started using Indian music in some of The Beatles' songs. That's how so many musicians in America came across it. I had always been hesitant about Indian music because it seemed so vast, complex, and hard to understand in terms of, "How do I play guitar to some of this?"
But sitting down with Amjad and playing music and talking, he was very patient with me. And we found some similarities between the sarod and the guitar – they're both plucked, stringed instruments. I was fascinated that he had no frets, and he was fascinated that I plugged into an amp. And so, from there we thought, "Wouldn't it be cool to get together and play and see what happens?" I decided we should do that in a studio in case something happened that was special. I had a hunch that it would.
Aside from yourselves, there are some stellar players on this EP. How did they become involved?
Joe Walsh: There's a community of A-plus musicians in Los Angeles and they're go-to guys. I needed help and wanted to get guys that stood a pretty good chance of being able to relate to what we were doing. So I rounded up some friends that I thought were top quality and would be able to jump in the middle of it and add something rather than sit there with a legal pad and try to figure out what it is. None of us had done anything like that before. And now there's a bunch of talk in Los Angeles, "Hey, we got to do that again. When are you doing that again, Joe?" And that's a good sign.
Amjad Ali Khan: Maestro Joe Walsh is an inspiration and his persona, his personality, and his way of playing, everything began with that. But in our Indian music, right from our childhood, we are taught how to sing also. Because through my instrument, I am singing. So we enjoyed a song like "We Shall Over Come." We have great regard for Dr. Martin Luther King Jr. and Mahatma Gandhi, the father of our nation. He became a symbol of peace, non-violence and this is such a universal melody. We have a song in Hindi that they are using in early morning school assemblies for children [that is related to] "We Shall Overcome."
The EP has a dedication to Black Lives Matter, and there is a lot of spiritual thought in this music.
Joe Walsh: I'll start by saying it is a strange time. There's a lot of disagreement these days and there doesn't seem to be much of a middle ground. But we know (and it is part of why we do it) that if we play music and people – who normally don't like each other – come and sit together, that none of that matters. They come to hear music. When we play, there are no problems, and everybody goes home happier. That's a very healing thing.
We wanted to heal with the music we put out. We dedicated it to the front-line workers, all the people who helped save lives and didn't necessarily get paid for it, or, in some cases, not even thanked. But that kind of human spirit, that compassion and that care for other human beings, is short now in everyday life. So I think music, especially live music, is really going to help heal and put people more at ease being around each other.
When you do a rock album there's usually a lot of humor and high spirits, but this project shows a more serious side. Do you think we'll be seeing more of that?
Joe Walsh: The experience of this project has made me a much better musician and I think a better person, and just comprehending Indian music and what it's all about. Amjad is a great teacher of all things. I think, yes, it will definitely show up in my future music. I don't know what rock is really. I don't know what an album is really because albums have a side B, so some of our definition of what's going on now needs to be updated. I'm not sure what rock is anymore, but I'm not done yet making music. We'll see where it goes, but I'm not afraid to take chances having done that with this project and having it work so well.
All of the artist proceeds from the album will benefit global health nonprofit Intrahealth International, a global non-profit that aids health workers.