Watch The New Trailer For Justin Bieber's 'Our World' Documentary
The film will premiere on Amazon Prime Video later this month.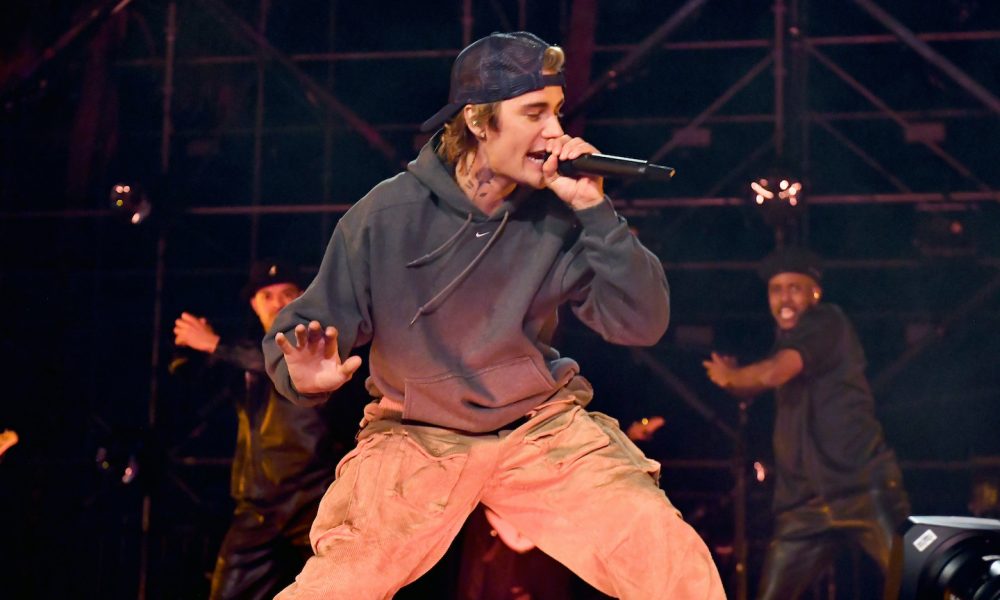 A new trailer for Justin Bieber's upcoming documentary Our World has been released, giving a look into the preparation for his 2020 New Year's Eve concert.
The Grammy-winning pop star held a special show at Los Angeles' Beverly Hilton Hotel on December 31, where he performed to an in-person audience of only 240 people, while millions livestreamed the concert from their homes around the world.
In the trailer for the 90-minute, Michael D. Ratner-directed film, Bieber says of the event: "I just wanted to create a night that was gonna bring people together and people could just let go and enjoy themselves."
Justin Bieber: Our World - Official Trailer | Prime Video
He is also seen rehearsing for the show, taking time out with his wife Hailey ahead of the concert, and performing on stage surrounded by fireworks. "I'm excited to get back on that stage, make people smile, make people happy," he says.
The film will also explore the challenges of putting on an iconic concert during the restricted times of the COVID-19 pandemic. Justin Bieber: Our World will premiere on Amazon Prime Video on October 8.
"Performing live and connecting with my fans through music is deeply meaningful to me. Especially during the past year, being able to provide a service and share my gifts to bring some happiness to people during such a sad and scary time has meant the world to me," Bieber said in a statement when the documentary was announced earlier this month.
"This film documents an intense and exciting time, preparing for a return to the stage during this season of real uncertainty. Coming together with my team, overcoming the obstacles, and delivering a special show, surrounded by friends and family; it's all here."
Justin Bieber: Our World follows previous Bieber documentaries, including the YouTube Originals series Seasons and its follow-up Next Chapter, both of which were executive produced by Ratner. In 2011, the 27-year-old was also the subject of Never Say Never.
Listen to the best of Justin Bieber on Spotify and Apple Music.