Kacey Musgraves Announces New Album and Film 'Star-Crossed'
The album is set to be released on September 10.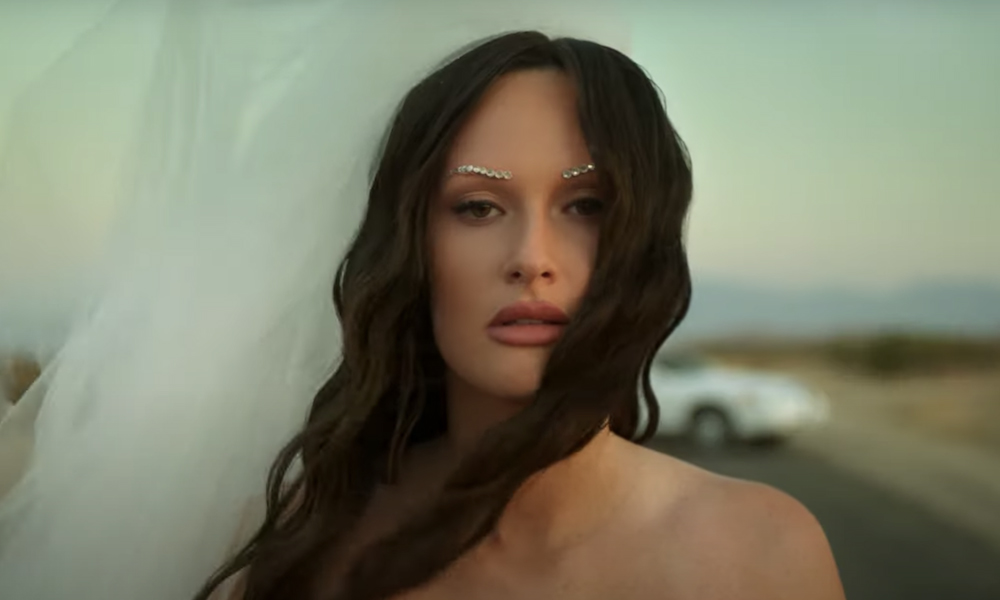 Kacey Musgraves has announced her new album Star-Crossed. The follow-up to 2018's smash hit Golden Hour is out September 10 (via Interscope Records and UMG Nashville).
Musgraves produced the album-opening title track with Daniel Tashian and Ian Fitchuk, the writing/production team on Golden Hour. The single is out now.
KACEY MUSGRAVES | star-crossed (official lyric video)
Musgraves will release a 50-minute Star-Crossed film on Paramount+ on September 10. The film is directed by Bardia Zeinali and stars Musgraves, with cameos from Eugene Levy, Princess Nokia, and others. "We wanted it to feel cinematic and epic without compromising the heart and the emotion," Zeinali said in a statement, "to feel fantastical and heightened and tell her story through the lens of art and fashion."
According to Pitchfork, Musgraves recorded Star-Crossed in Nashville earlier this year in just under three weeks. The album is described as "a modern-day tragedy in three acts" that "tells an extremely personal journey of heartache and healing."
Musgraves, who won the 2019 Album of the Year GRAMMY for Golden Hour, tapped into the sorrow and trauma of her divorce and found the process of writing about it cathartic. "The word tragedy just popped into my mind. And I was like, 'Whoa, what if the album was formulated like a modern Shakespearean or Greek tragedy?'", she said in a profile with Elle Magazine. "At the time, I didn't quite understand it. It's still pretty heady, the 'old English' and all that. But it's themes that we're still familiar with today. They're just wrapped up in a different way. Those things will carry on forever, as long as humans are living, breathing, crying, loving, dying, fighting, all of that."
Musgraves, despite the thematic heaviness, will once again be showcasing her ability to blend humor, wit, and clever lyrics with a relatability tied to catchy hooks and strong melodies. She told Elle that while recording the new album, artists that influenced the project include Bill Withers, Daft Punk, Sade, The Eagles, and Weezer.
Star-Crossed Tracklist:
01 Star-Crossed
02 Good Wife
03 Cherry Blossom
04 Simple Times
05 If This Was a Movie…
06 Justified
07 Angel
08 Breadwinner
09 Camera Roll
10 Easier Said
11 Hookup Scene
12 Keep Lookin' Up
13 What Doesn't Kill Me
14 There Is a Light
15 Gracias a la Vida